Blog entry
Posted May 23, 2018

According to scientific studies, blues, turquoise and teals have been found to be some of the most relaxing colors, both mentally and physically, especially the lighter shades. Peaceful, calm and gentle, these colors have tremendous power to manage stress. They are very soothing colors that help calm the mind, slow down the heart rate, lower blood pressure and reduce anxiety. From home decor to clothing to jewelry, the colors are favorites.
Today's Wonderful Handmade Wednesday on Indiemade features beautiful items created by handmade artists in the three colors: blue, turquoise and/or teal. I hope you enjoy these choices . . . and feel a bit more relaxed after looking (and perhaps purchasing)!
» Tagged:
African
,
artisan
,
baby dress
,
blue
,
boho
,
bones
,
Buddha
,
copper components
,
crochet
,
dichroic glass
,
dog bandana
,
earrings
,
gemstones
,
handmade
,
Indiemade
,
knitted
,
magnesite
,
necklace
,
neckwarmer
,
paw prints
,
pendant
,
Shadow Dog Designs
,
ShadowDogDesigns
,
Southwest
,
teal
,
tie dye
,
turquoise
,
vintage
Posted February 21, 2018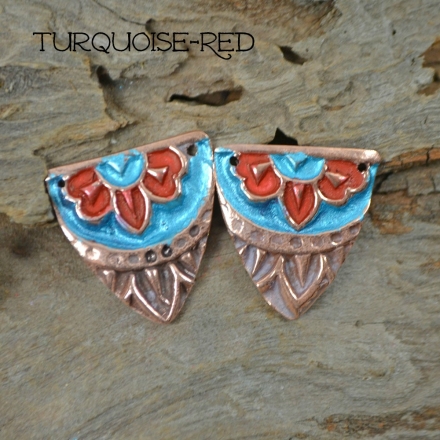 Since I live in the Desert Southwest, turquoise is a definite favorite of people, both the gemstone itself and the color. Turquoise is a shade of blue that lies on the color scale between blue and green. It has psychological characteristics associated with both of those colors: the calmness of blue and the growth that is represented in green. Turquoise is said to be a color that balances blue, green and yellow, linking it to emotional balance. It is a color promotes a feeling of serenity and stability. I don't know about you, but whenever I work with turquoise, I do feel a great sense of peace and calmness.
Terrific Turquoise is the theme of today's Wonderful Handmade Wednesday on Indiemade blog. Each artisan handmade item selected uses the color turquoise (or even the gemstone itself) as a major part of the design or as a beautiful accent. Most of these beauties are one of a kind designs and all are made from the heart. I hope you enjoy these handmade creations using the color turquoise.