It's Still Not too Late!
Use Coupon Code
H
OLIDAYS10
for
10% Off
at Checkout
with
FREE SHIPPING
!
(Free Shipping U.S. Only)
Blog entry
Posted November 8, 2018
According to the calendar, we're about ½ way through autumn, the favorite time of year for many people. I live in the Desert Southwest and most people don't associate the desert with fall color. But we have it! Granted not as eye catching as the forests in along the East Coast or the aspens in many places in the Rockies. Color is here, nonetheless: glowing yellows and reds and purples of the deciduous trees. And my amazing cosmos are looming up a storm with carmine reds, pale pinks and glowing white. The hummingbirds left about a month ago (always sad to see them go) but new migrant birds are showing up, especially the cheerful little juncos. Am waiting for the beautiful blue scrub jays with their raucous calls and jaunty attitudes to show up under the bird feeders.
» Tagged:
agate
,
amber
,
artisan
,
autumn
,
baby
,
beret
,
bracelet
,
brown
,
burgundy
,
earrings
,
fall
,
fingerless gloves
,
flowers
,
gemstones
,
gift ideas
,
gloves
,
handmade
,
hat
,
infant
,
jasper
,
jewelry
,
MagdaleneKnits
,
necklaces
,
Om
,
pearls
,
PrettyGonzo
,
red
,
red creek jasper
,
Shadow Dog Designs
,
ShadowDogDesigns
,
Swarovski crystals
,
sweater
,
tai chi
,
tea tins
,
toddler
,
Tree of Life
,
Victorian
,
vintage
,
wood
,
yoga
Posted October 28, 2018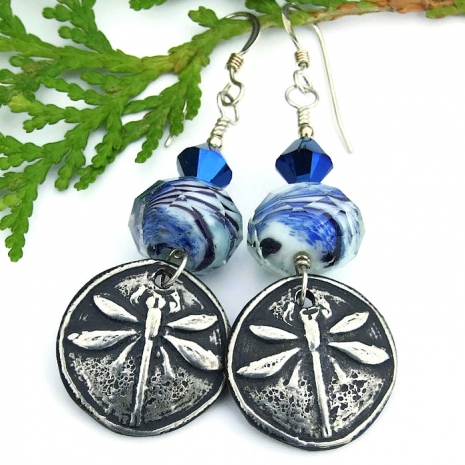 The Christmas shopping season will soon be here (if you haven't already begun your list making and your shopping!). I've been working hard to list new pairs of earrings and necklaces in my Shadow Dog Designs handmade jewelry shop and wanted to share the new creations with you. Each piece is a perfect gift for the discerning woman who enjoys wearing truly unique artisan handmade jewelry. With the exception of two of the Christmas earrings at the end of the post, all of the jewelry designs are one of a kind pieces. Just think - you or a loved one will be the only person in the universe wearing that particular piece when purchased!
» Tagged:
African green opal
,
amber
,
amethyst
,
artisan
,
Australia
,
black
,
blue
,
bone
,
Christmas
,
Christmas trees
,
copper
,
Czech glass
,
deer
,
dove
,
dragonflies
,
earrings
,
flowers
,
gemstones
,
gift ideas
,
Halloween
,
handmade
,
icicles
,
lampwork
,
necklaces
,
opals
,
owls
,
pearls
,
pendant
,
pewter
,
red creek jasper
,
Santa
,
Shadow Dog Designs
,
ShadowDogDesigns
,
snowmen
,
St Francis
,
sugar skulls
,
Swarovski crystals
,
vintage
,
Wurre