*** FREE SHIPPING ***
(First Class Mail - U.S. Only)
Blog entry
Posted July 25, 2019

A couple of days ago, while I was picking up some veggies and fruit from our local Whole Foods, I keyed in on a song that was playing in the background - a song I loved waaaaay back when. When I got home, I looked it up on YouTube, played the video and then let the mix of music from the mid-60's to early 70's continue playing. Brought back to many happy, and some sad, memories. One of the songs that played was Donovan Leitch's "Colours," a song I adored then and still adore now. I get lost in the peaceful lyrics, the lovely simplicity of the folk guitar accompaniment and Donovan's hauntingly beautiful voice. The song was released in 1965 and, 54 years later, is still a classic. I have played it over and over since "rediscovering" it. The lyrics are shared near the end of the post.
Here's a link to the YouTube video (version without harmonica):
And here's an incredible live version of the song with Pete Seeger sitting in on banjo:
» Tagged:
aragonite
,
artisan
,
Aum
,
beach
,
blue
,
boho
,
boho chic
,
brass
,
Colours
,
Donovan
,
earrings
,
gemstones
,
great blue heron
,
green
,
handmade
,
jewelry
,
lampwork
,
leather
,
loquats
,
miracle beads
,
necklace
,
note cards
,
Om
,
original
,
owls
,
painting
,
palm trees
,
PrettyGonzo
,
recycled tin
,
Shadow Dog Designs
,
ShadowDogDesigns
,
silver
,
song
,
Tree of Life
,
truth
,
watercolors
,
watercolorsNmore
,
yellow
,
yoga
,
yoga jewelry
,
yoga necklace
Posted October 12, 2016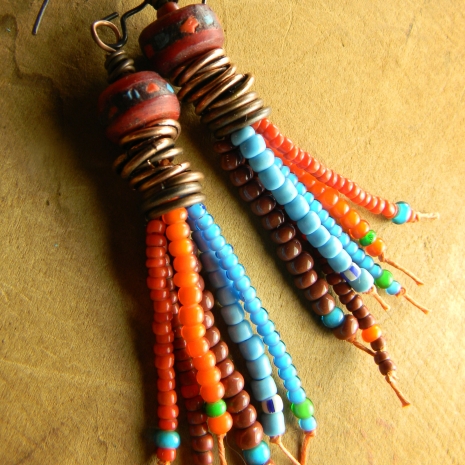 Recently, I have become enamored all over again with many of the songs I grew up with from the 60's. One of the artists I have always loved was a Scottish singer / songwriter / poet from Scotland, Donovan Leitch who is better known as simply Donovan. Donovan is widely regarded as one of the most influential songwriters and recording artists - and is still active in music today. Even the Beatles acknowledged that Donovan influenced them greatly on their ground breaking Sgt Pepper's Lonely Heart's Club Band album and the White Album with his finger style guitar playing and many of his unique chord patterns. While I love most of his songs, I have been listening more to his earlier works that have their roots in folk music. One of them, a sweet, simple and beautiful song, Colours, is the inspiration for this week's Wonderful Handmade Wednesday post.