*** FREE SHIPPING ***
(First Class Mail - U.S. Only)
Blog entry
Posted January 17, 2020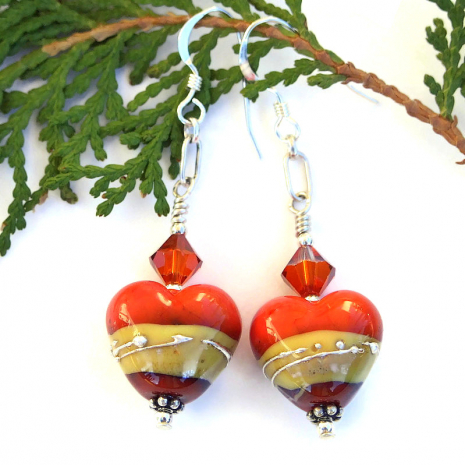 Valentine's Day is rapidly approaching, less than a month away! Now is the time to start thinking about / purchasing Valentine's gifts for the ones you love. How about giving a one of a kind, handmade piece of jewelry this year? My Shadow Dog Designs shop is filled with unique necklaces and earrings, each one carefully handmade with quality artisan components and other top notch items, such as gemstones and Swarovski crystals. Some of these designs are brand new and some have been in the shop for a bit. You'll find many hearts featured in the designs, but each one can be worn year round and can't be pegged just as "Valentine's jewelry." If something catches your eye and you want more information, please click the picture or the link to be taken to the listing. Enjoy!
» Tagged:
affirmation
,
bear
,
chakra
,
copper
,
coral
,
daisy
,
dog earrings
,
dog rescue jewelry
,
enamel
,
flowers
,
Frida Kahlo
,
gemstones
,
gift ideas
,
hearts
,
Kahlo
,
lampwork
,
love
,
necklace
,
owls
,
paw prints
,
pink
,
poppies
,
purple
,
red
,
red creek jasper
,
red poppies
,
red roses
,
religious
,
roses
,
Sacred Heart
,
Shadow Dog Designs
,
ShadowDogDesigns
,
skulls
,
Swarovski crystals
,
Tree of Life
,
turquoise
,
Valentine's Day
,
Valentines earrings
,
Valentines jewelry
,
Valentines necklaces
,
Valentines Valentines gifts
,
voodoo
,
voodoo skulls
,
white
,
word
Posted August 15, 2019

"More smiling, less worrying. More compassion, less judgment. More blessed, less stressed. More love, less hate."



In these days which seem filled with words of hate and division, it's sometimes hard to remember that there is MUCH more good in this world than there is bad. We just have to be aware of it. The smile of a friend or stranger. An unexpected helping hand. A kind word. Being strong in the face of adversity. That's why I love the quote above . . . and sometimes use it as my mantra while doing some deep breathing to slow down my sometimes very active monkey mind.
» Tagged:
affirmation
,
African
,
artisan
,
boho
,
bracelets
,
breast cancer awareness
,
ceramic
,
chaplet
,
Christmas beads
,
courage
,
earrings
,
handmade
,
inspiration
,
jewelry
,
life message
,
love
,
Namaste
,
necklaces
,
palm wood
,
pink
,
PrettyGonzo
,
robintheraven
,
rosary
,
rosewood
,
rudraksha
,
salwag
,
Shadow Dog Designs
,
ShadowDogDesigns
,
soul
,
spiral
,
St Agatha
,
St Francis
,
still we rise
,
Swarovski crystals
,
trade beads
,
Virgin Mary
,
yoga
,
Zen