Valentines Gifts: Handmade Jewelry by Shadow Dog Designs
Posted January 17, 2020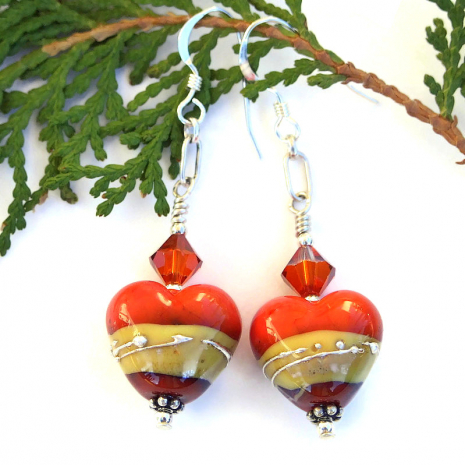 Valentine's Day is rapidly approaching, less than a month away! Now is the time to start thinking about / purchasing Valentine's gifts for the ones you love. How about giving a one of a kind, handmade piece of jewelry this year? My Shadow Dog Designs shop is filled with unique necklaces and earrings, each one carefully handmade with quality artisan components and other top notch items, such as gemstones and Swarovski crystals. Some of these designs are brand new and some have been in the shop for a bit. You'll find many hearts featured in the designs, but each one can be worn year round and can't be pegged just as "Valentine's jewelry." If something catches your eye and you want more information, please click the picture or the link to be taken to the listing. Enjoy!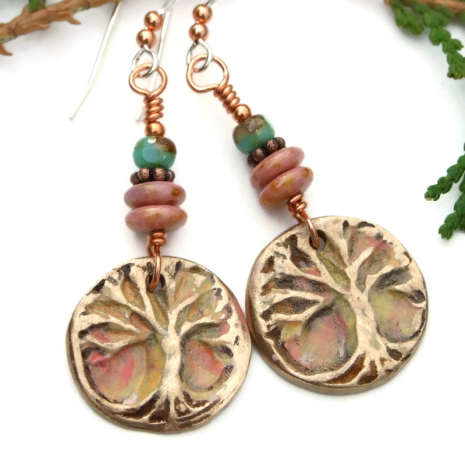 FIRST LIGHT OF DAY - Tree of Life Yggdrasil Earrings, Painted Bronze Handmade Jewelry Gift - $40.00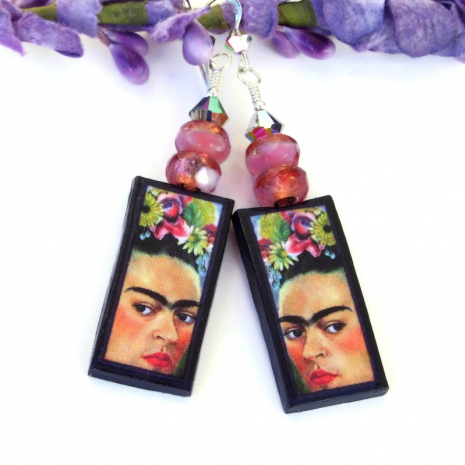 FRIDA ENCANTADA - Frida Kahlo Flowers Earrings, Polymer Clay Pink Handmade Jewelry Gift - $35.00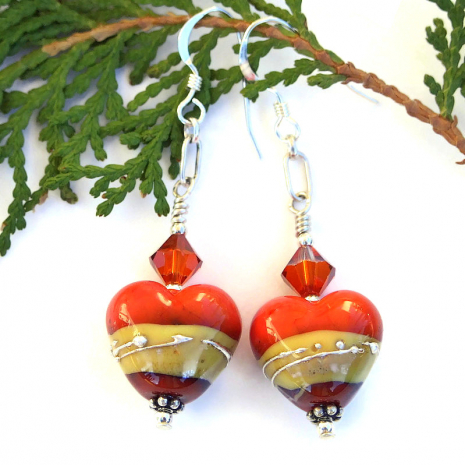 CORAZONES PRECIOSAS - Valentines Heart Earrings, Lampwork Swarovski Handmade Jewelry Gift - $30.00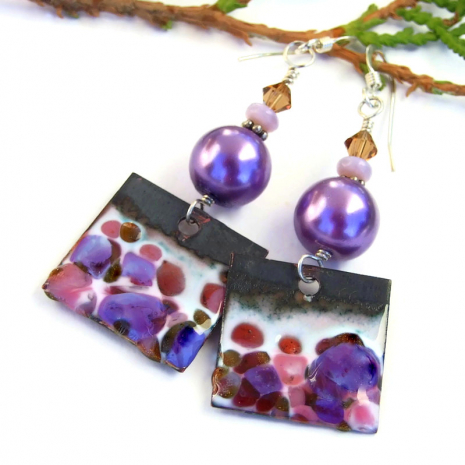 BONHEUR - Purple, Pink and White Enamel Earrings, Swarovski Pearls Handmade Jewelry - $40.00
CHAKRA BEAR - Chakra Zuni Spirit Bear Necklace, Red Creek Jasper Rainbow Jewelry - $65.00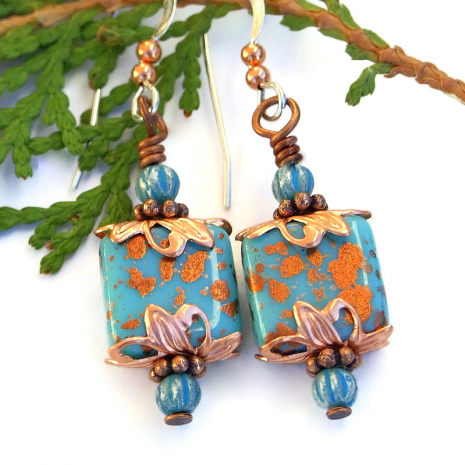 TURQUOISE TREASURES - Turquoise Copper Dangle Earrings, Czech Glass Handmade Jewelry Gift - $20.00
LOVE OF MY LIFE - Dog Lover Paw Print Hearts Earrings, Copper Aqua Handmade Jewelry Gift - $40.00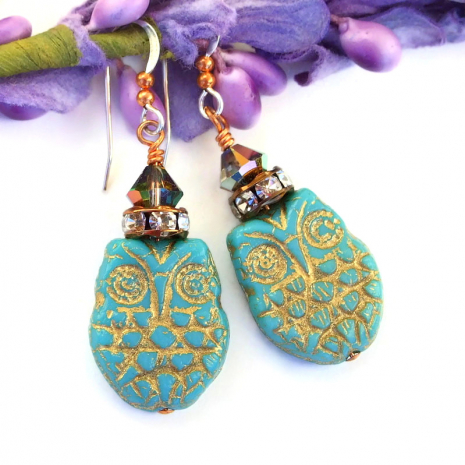 TURQUOISE HOOTIES - Turquoise and Gold Owl Earrings, Swarovski Crystals Handmade Jewelry - $25.00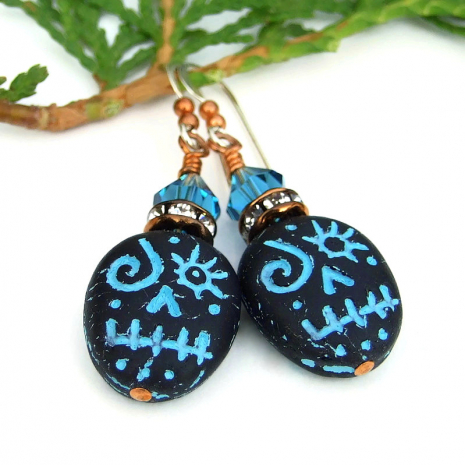 VOODOO SKULLS - Voodoo Skull Halloween Earrings, Black Turquoise Handmade Jewelry Gift - $20.00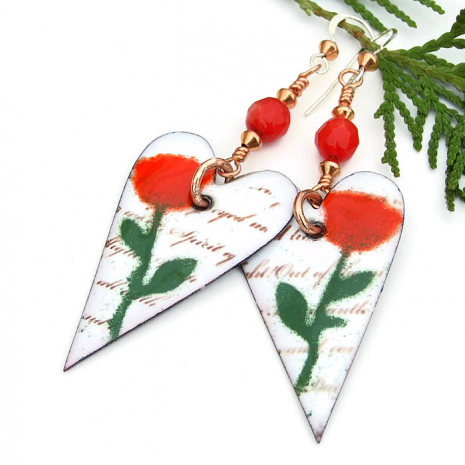 ROMANCE - Red Roses White Hearts Earrings, Valentines Day Handmade Jewelry Gift - $40.00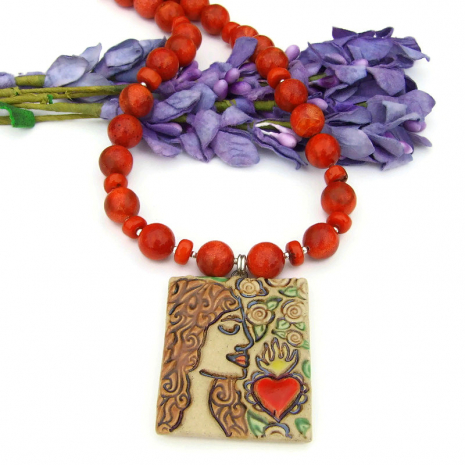 HOLY FIRE - Sacred Heart and Woman Pendant Necklace, Coral Religious Handmade Jewelry - $70.00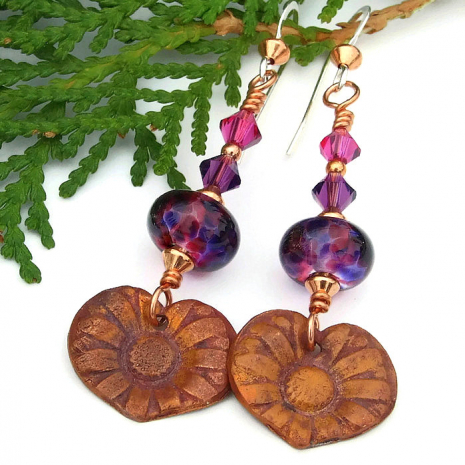 BONJOUR - Daisy Flower and Hearts Valentines Earrings, Copper Purple Fuchsia Jewelry - $35.00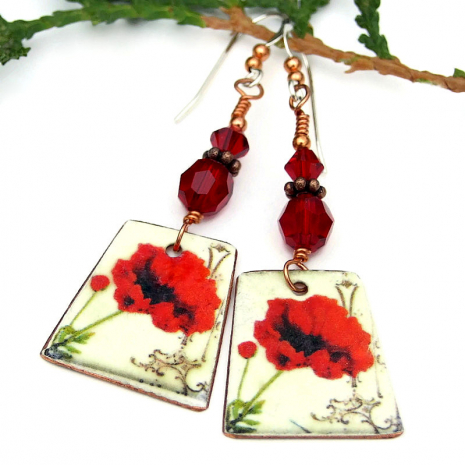 RED POPPIES - Red Poppies Valentines Earrings, Crystals Faux Vintage Handmade Jewelry - $30.00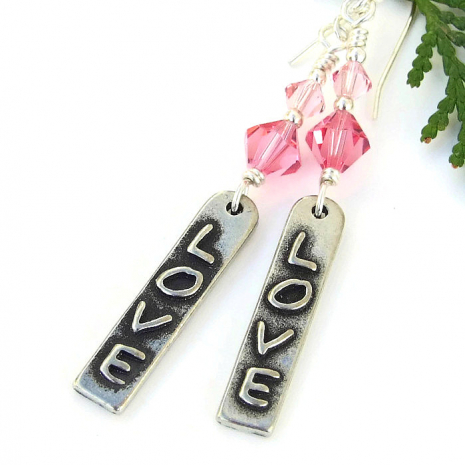 AMADO - Love Valentines Earrings, Pink Crystals Affirmation Jewelry Gift Women - $20.00
I hope you enjoyed each and every one of these unique handmade jewelry creations, any of which will make a perfect Valentine's gift for a loved one. If you would like to make my day, please leave a blog comment. And any promotion you can do will be greatly appreciated. Thanks!
My contact information:


» Tagged:
affirmation
,
bear
,
chakra
,
copper
,
coral
,
daisy
,
dog earrings
,
dog rescue jewelry
,
enamel
,
flowers
,
Frida Kahlo
,
gemstones
,
gift ideas
,
hearts
,
Kahlo
,
lampwork
,
love
,
necklace
,
owls
,
paw prints
,
pink
,
poppies
,
purple
,
red
,
red creek jasper
,
red poppies
,
red roses
,
religious
,
roses
,
Sacred Heart
,
Shadow Dog Designs
,
ShadowDogDesigns
,
skulls
,
Swarovski crystals
,
Tree of Life
,
turquoise
,
Valentine's Day
,
Valentines earrings
,
Valentines jewelry
,
Valentines necklaces
,
Valentines Valentines gifts
,
voodoo
,
voodoo skulls
,
white
,
word
» Share: