*** FREE SHIPPING ***
(First Class Mail - U.S. Only)
Blog entry
Posted June 20, 2019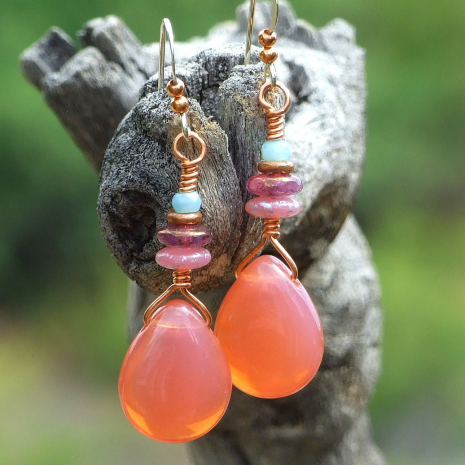 This weeks's Three for Thursday is a melange of items. Since I have an addiction to words, I wanted to give a brief etymology of the word melange. The word, which rolls off the tongue to so beautifully, first is first found in French documents around the comes from the 15th century French word meler, meaning 'to mix, mingle." Meler, in turn, came from the Old French meslance or meslinges (a set of diverse elements). So, according to The Free Dictionary, the modern word means "a collection of various things." Which is the perfect definition of the variety of handmade items I found from artists and am sharing in this post: The items featured are from three handmade artists: beautiful original watercolor paintings from Roxanne of watercolorsNmore; fun and handy to have cards of various types from Jacki of Christie Cottage; and a selection of one of a kind handmade jewelry from me, Catherine of Shadow Dog Designs.
I hope you enjoy these picks. And that you will visit the shops of the artists for more handmade beauties.
» Tagged:
art
,
artin
,
beach
,
bougainvillea
,
bronze
,
butterflies
,
butterfly
,
cards
,
chalcedony
,
Christie Cottage
,
ChristieCottage
,
Czech glass
,
earrings
,
enamel
,
floral
,
Florida
,
flower
,
gemstones
,
gift cards
,
handmade
,
jewelry
,
journal
,
lampwork
,
lotus
,
lotus blossom
,
melange
,
necklace
,
paintings
,
pink opal
,
saw blade
,
Shadow Dog Designs
,
ShadowDogDesigns
,
Swarovski crystals
,
teardrop
,
thank you cards
,
Three for Thursday
,
watercolor
,
watercolorsNmore
Posted April 4, 2018

Behold, my friends, the spring is come; the earth has gladly received the embraces of the sun, and we shall soon see the results of their love! Sitting Bull
With spring definitely here in the Borderlands, I have been thinking about colors quite a bit as the brown of the desert bursts into so many glorious shades of green. The white and pink fruit trees have pretty much quit blooming, so the various shrubs, hardy trees, ocotillo, cactus and poppies will add their beautiful spring colors: yellow, pinks, oranges, reds, purples and others all against the huge dark blue sky. My soul revives!
» Tagged:
black eyed susans
,
blue
,
ceramic
,
chalcedony
,
child
,
copper
,
crochet
,
dichroic
,
dog bandana
,
dogs
,
earrings
,
flowers
,
green
,
hand painted
,
handmade
,
hat
,
jewelry bags
,
knitting
,
Krobo beads
,
lace
,
lilac
,
pendant
,
pewter
,
pink
,
purple
,
scarf
,
Shadow Dog Designs
,
ShadowDogDesigns
,
spring
,
Spring Colors
,
Swarovski crystals
,
turquoise
,
watermelons