Just in Time for
*** CHRISTMAS IN JULY ***
FREE SHIPPING!
(U.S. Only)
Blog entry
Posted September 5, 2019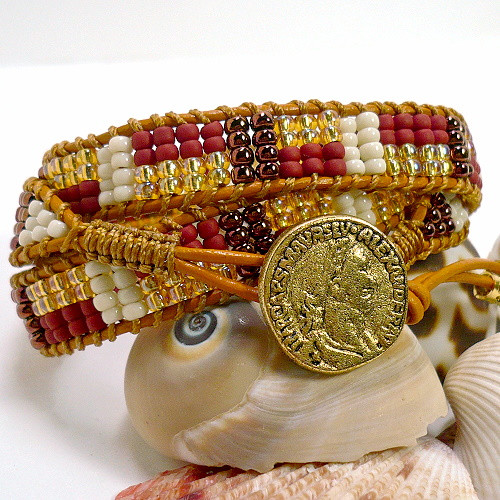 Despite the days still being in the mid- to high-90's here in the Borderlands (unusual here for this time of the year), the last few mornings have had a tinge of autumn in the air. I'm definitely ready for the cooler breezes and being able to leave the windows open. Purple asters will bloom and the cottonwoods will turn a glorious golden yellow. Fall will soon be here (I hope!).
With autumn in mind, I decided to choose handmade beauties in fall colors for this Three for Thursday titles, appropriately enough, Colors for Autumn. The artists today are: Kathy of KatsAllThat; Pamela of MagdaleneKnits; and me, Catherine of Shadow Dog Designs. I hope you enjoy my autumn inspired picks and will visit the shops of the artists for more wondrous handmade fall elegance.
» Tagged:
acorns
,
autumn
,
baby gift
,
beads
,
beret
,
boho
,
bracelet
,
brown
,
burgundy
,
carnelian
,
ceramic
,
citrine
,
Colors
,
copper
,
cranberry
,
crochet
,
Czech glass
,
daisy
,
earrings
,
fall
,
fingerless gloves
,
flower
,
flowers
,
gemstones
,
green
,
handmade
,
infant
,
jasper
,
jewelry
,
KatsAllThat
,
leather
,
MagdaleneJewels
,
necklace
,
orange
,
pink
,
riverstone
,
roses
,
Shadow Dog Designs
,
ShadowDogDesigns
,
Swarovski
,
sweater
,
tea tin
,
Tree of Life
,
Victorian
,
vintage
,
yggdrasil
Posted June 6, 2019

"I must have flowers, always, and always."
I totally agree with Monet. There are a lot of things I can give up in life, but flowers are not one of them. To plant a seed or seedlings into the ground . . . and then a miracle happens. Sometimes slowly and sometimes quickly, the plant grows and flowers emerge. I have been redesigning flower beds here at our house using a wide range of water wise plants: knipofia (called "mango popsicle' - truly well named), several salvias in several colors, a fabulous penstemon; Russian sage, Texas red yucca, gauras and many colors of the workhorse of the desert garden, the glorious lantana. Every plant I chose has to benefit bees, butterflies and/or hummingbirds. I have seen bees and butterflies on the flowers, but the hummingbirds seems to prefer the feeder and the mimosa tree, which is blooming right now. Several times a day, I go out and just look, and am always filled with a sense of wonder and awe at the sheer beauty at what is happening.
» Tagged:
aqua
,
artisan
,
burgundy
,
butterflies
,
copper
,
Czech glass
,
daisies
,
daisy
,
earrings
,
enamel
,
floral
,
flower garden
,
flowers
,
hand painted
,
handmade
,
hearts
,
jewelry
,
lampwork
,
lightweight
,
one of a kind
,
orange
,
pewter
,
pink
,
pink opal
,
polymer clay
,
purple
,
red
,
roses
,
Shadow Dog Designs
,
ShadowDogDesigns
,
stoneware
,
Swarovski crystals
,
tea tins
,
Victorian
,
vintage
Posted November 8, 2018
According to the calendar, we're about ½ way through autumn, the favorite time of year for many people. I live in the Desert Southwest and most people don't associate the desert with fall color. But we have it! Granted not as eye catching as the forests in along the East Coast or the aspens in many places in the Rockies. Color is here, nonetheless: glowing yellows and reds and purples of the deciduous trees. And my amazing cosmos are looming up a storm with carmine reds, pale pinks and glowing white. The hummingbirds left about a month ago (always sad to see them go) but new migrant birds are showing up, especially the cheerful little juncos. Am waiting for the beautiful blue scrub jays with their raucous calls and jaunty attitudes to show up under the bird feeders.
» Tagged:
agate
,
amber
,
artisan
,
autumn
,
baby
,
beret
,
bracelet
,
brown
,
burgundy
,
earrings
,
fall
,
fingerless gloves
,
flowers
,
gemstones
,
gift ideas
,
gloves
,
handmade
,
hat
,
infant
,
jasper
,
jewelry
,
MagdaleneKnits
,
necklaces
,
Om
,
pearls
,
PrettyGonzo
,
red
,
red creek jasper
,
Shadow Dog Designs
,
ShadowDogDesigns
,
Swarovski crystals
,
sweater
,
tai chi
,
tea tins
,
toddler
,
Tree of Life
,
Victorian
,
vintage
,
wood
,
yoga