Blog entry
Posted February 28, 2019

Flowers always make people better, happier, and more helpful; they are sunshine, food and medicine for the soul.
Luther Burbank


I love this quote from Luther Burbank because it's true! For those who are not familiar with Luther Burbank, he was an American botanist, horticulturist and pioneer in agricultural science, developing more than 800 strains and varieties of plants during his lifetime, including the tasy plumcot (fruit trees being a special passion of his, it seems). One of my favorite things to do doing the winter months was to constantly browse through Stark Bro's and Burpee Seed Co catalogues (both companies sold quite a few of Burbanks' seeds and plants after his death), planning my flower beds and vegetable gardens. Looking at the brilliant pictures and dreaming of all the flowers and veggies spring, summer and fall would bring made those winters quite a bit easier to bear. Even now, living in the Desert Southwest where the winters are mild in comparison, I still dream of the promise of flowers.
» Tagged:
art
,
baby shoes
,
beaded
,
bougainvillea
,
copper
,
crochet
,
doily
,
earrings
,
floral
,
flowers
,
gift bags
,
handmade
,
hearts
,
jewelry
,
lampwork. bracelets
,
lotus
,
Luther Burbank
,
magnolia
,
necklaces
,
photography
,
polymer clay
,
poppies
,
postcard
,
Shadow Dog Designs
,
ShadowDogDesigns
,
shamrocks
,
spring
,
summer
,
upcycled
,
vintage
,
watercolor
Posted June 24, 2016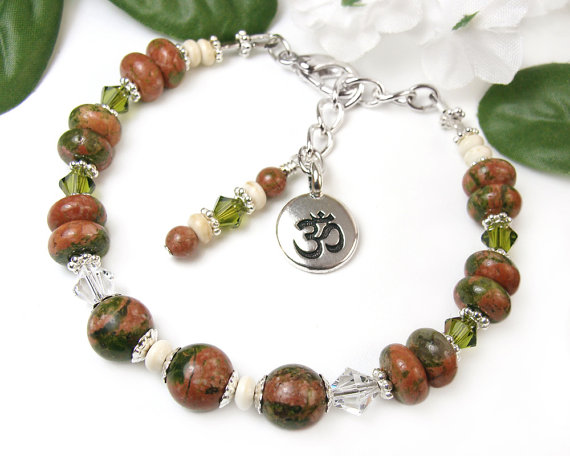 Right behind earrings, bracelets are one of the most popular forms of body adornment. The origin of the term "bracelet" is from the Greek word "brachile" meaning "of the arm." The earliest identified bracelet was discovered in 2008 by Russian archaeologist in Denisova Cave in the Atai Mountains of Siberia. A finger bone fragment was found along with other artifacts, including a beautiful bracelet created from polished green stone. The items were carbon dated to around 40,000 years ago.