*** FREE SHIPPING ***
(First Class Mail - U.S. Only)
Blog entry
Posted February 27, 2020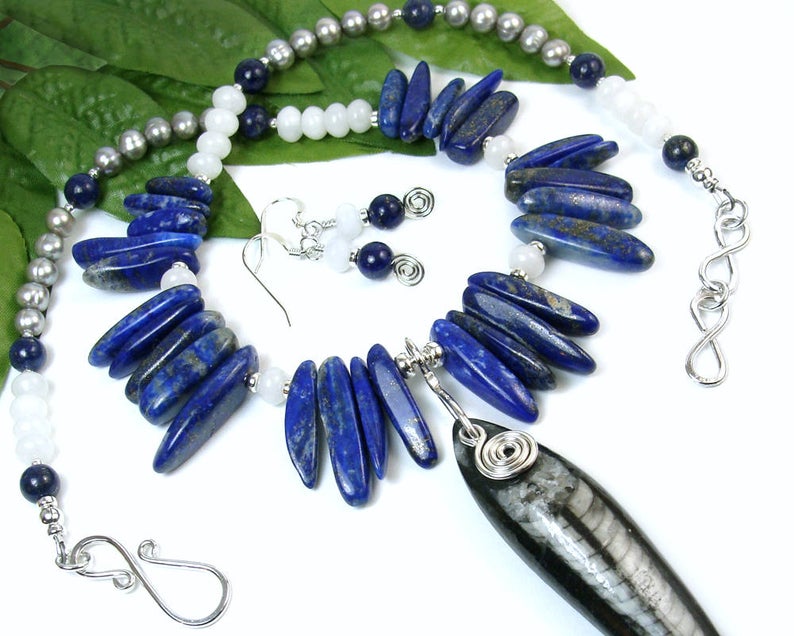 The term "boho" gets thrown around a lot these days, but what exactly does the word actually mean? Short for "bohemian," boho as a style is most closely associated with the free spirits and hippies of the '60s and '70s - but also the pre-Raphaelite women of the late 19th century. It embraces the carefree, the relaxed, and the unique. But, truth be told, it borrows from the fashions of many cultures and time periods through the ages that almost anything can be "boho" if it's styled right.
With that in mind, I decided this week's Three for Thursday would embrace boho," specifically with fun, unique necklaces. Featured in the A LOT of Boho, a LOT Of Fun are three necklaces from three handmade three artists. The artists are: Mary of PrettyGonzo, Jacki of Christie Cottage; and me, Catherine of Shadow Dog Designs. I hope one of these catches your eye! Be sure to visit the shops of the artists for more amazing jewelry.
» Tagged:
African
,
artisan
,
artist
,
batick
,
black
,
blog
,
bohemian
,
boho
,
bone beads
,
carnelian
,
Christie Cottage
,
chunky
,
crocheted
,
fossil
,
gemstones
,
handmade
,
howlite
,
inspirational
,
jewelry
,
lapis
,
leather
,
Mali
,
navy blue
,
necklaces
,
onyx
,
orthoceras
,
pearls
,
pendant
,
PrettyGonzo
,
red
,
red coral
,
Rudraksha seeds
,
Shadow Dog Designs
,
ShadowDogDesigns
,
Southwest
,
teal
,
terracotta
,
Three for Thursday
,
Tibetan
,
truth
,
turquoise
,
vintage
,
white
Posted July 21, 2019

I like for jewelry to tell a story and to be able to tell a story about what I'm wearing. That's more important to me than a name, brand or label - Nikki Reed
I just love this quote because I love jewelry that tells a story, too. And if you look at the jewelry in my Shadow Dog Designs handmade shop, many, many of the pieces have such interesting stories to tell. Why buy mass produced necklaces and earrings when artisan handmade jewelry, often one of a kind pieces,has GREAT stories to tell!
» Tagged:
African beads
,
batik
,
blue
,
boho
,
bone beads
,
calaveras
,
Christmas
,
Czech glass
,
Day of the Dead
,
dia de los muertos
,
earrings
,
faux vintage
,
flowers
,
Frida
,
Frida Kahlo
,
gemstones
,
Halloween
,
handmade
,
Healers Hand
,
hoops
,
Italian
,
jasper
,
lampwork
,
Mykonos
,
Namaste
,
necklaces
,
polymer clay
,
resin
,
Shadow Dog Designs
,
ShadowDogDesigns
,
skulls
,
St. Francis
,
sugar skulls
,
Swarovski crystals
,
terra cotta
,
terracotta
,
tortugas
,
tribal
,
turquoise howlite
,
turtles
,
vintage
,
voodoo