New Jewelry From Shadow Dog Designs - Handmade Earrings and Necklaces
Posted July 21, 2019

I like for jewelry to tell a story and to be able to tell a story about what I'm wearing. That's more important to me than a name, brand or label - Nikki Reed
I just love this quote because I love jewelry that tells a story, too. And if you look at the jewelry in my Shadow Dog Designs handmade shop, many, many of the pieces have such interesting stories to tell. Why buy mass produced necklaces and earrings when artisan handmade jewelry, often one of a kind pieces,has GREAT stories to tell!
Featured below are eleven of my newest earrings and necklace creations. Browse the stories they tell - and one piece may end up with you so you can tell its story!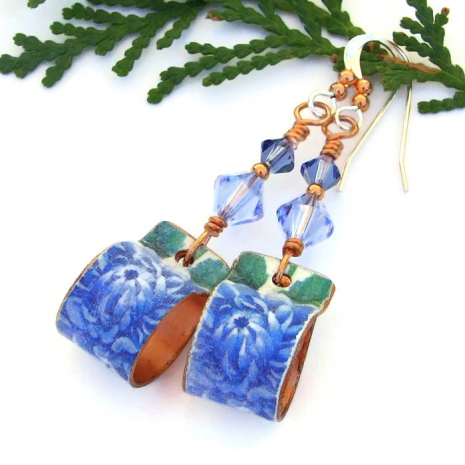 FLORES AZULES - Blue Flowers Hoop Earrings, Chrysanthemums Crystals Handmade Jewelry - $30.00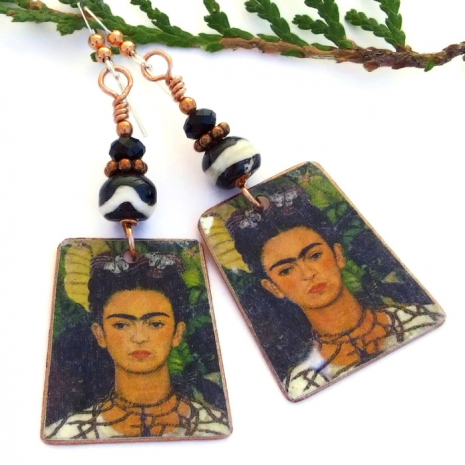 FRIDA KAHLO - Frida Kahlo Earrings, Faux Vintage Rustic Handmade Boho Jewelry Gift - $35.00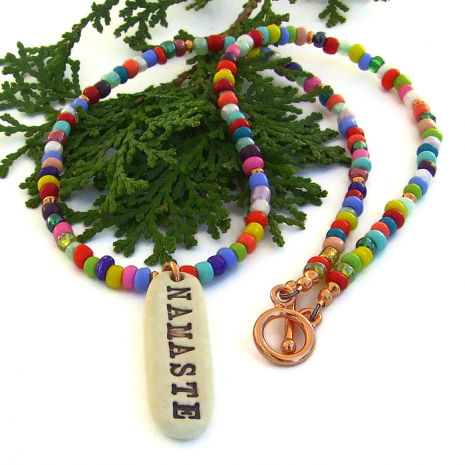 NAMASTE - Namaste Yoga Necklace, African Christmas Beads Handmade Jewelry Gift - $45.00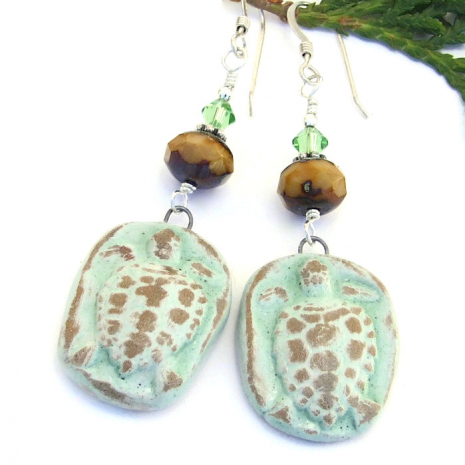 LAS TORTUGAS - Sea Turtle Earrings, Green Tan Terra Cotta Handmade Artisan Jewelry - $30.00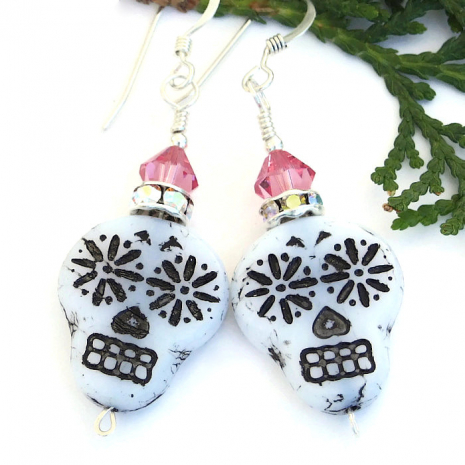 LAS CALAVERAS - Sugar Skulls Earrings, Day of the Dead Halloween Handmade Jewelry Gift - $25.00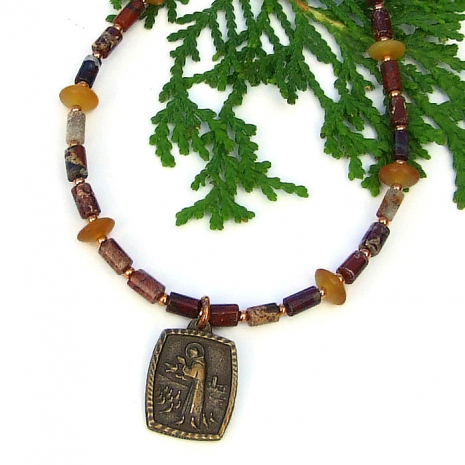 ST. FRANCIS - St. Francis Italian Pendant Necklace, Jasper Handmade Catholic Jewelry - $45.00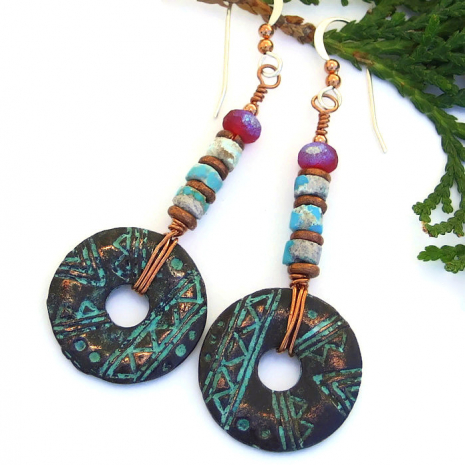 DELOS - Rustic Mykonos Disc Earrings, Turquoise Heishe Boho Tribal Jewelry - $30.00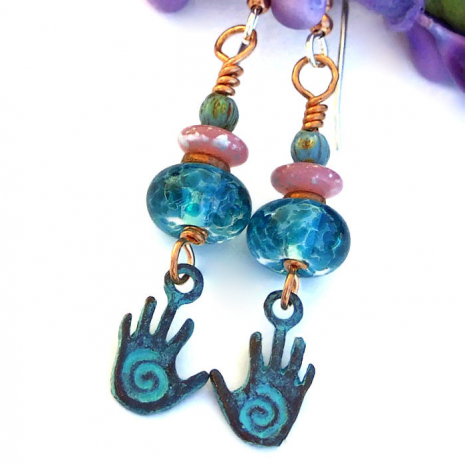 SPIRAL HANDS - Spiral Healers Hand Earrings, Mykonos Aqua Lampwork Handmade Jewelry - $20.00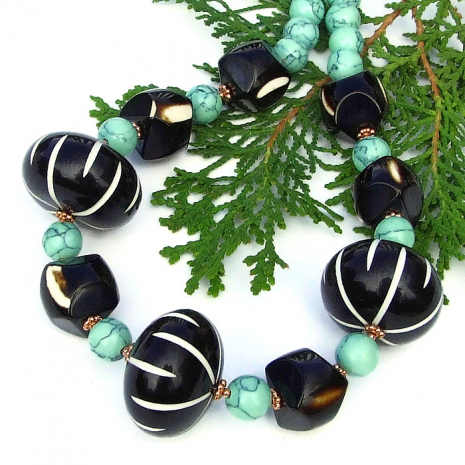 TRIBAL ADVENTURE - Chunky Tribal Necklace, Vintage Resin Bone Howlite Handmade Jewelry - $65.00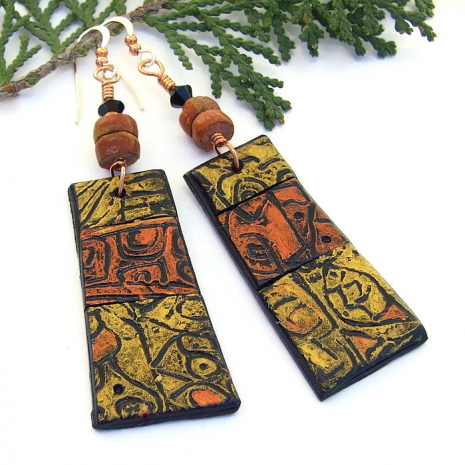 RUSTICA - Mixed Metal Polymer Clay Earrings, Lightweight Boho Handmade Jewelry - $35.00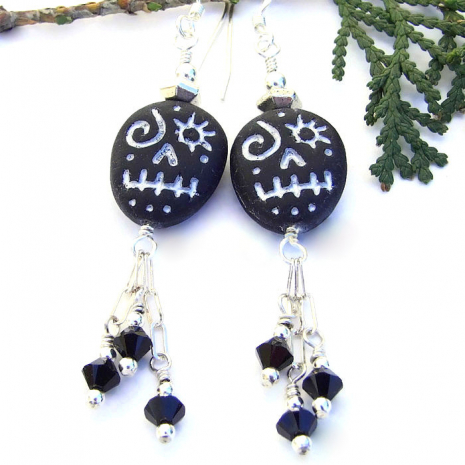 VOODOO SKULLS - Voodoo Skull Halloween Earrings Black Silver Calavera Handmade Jewelry - $20.00
I hope you enjoyed each and every one of these unique handmade creations! If you would like to make my day and the day of the talented artists featured, please leave a blog comment. And any promotion you can do will be greatly appreciated. Thanks!
My contact information:


» Tagged:
African beads
,
batik
,
blue
,
boho
,
bone beads
,
calaveras
,
Christmas
,
Czech glass
,
Day of the Dead
,
dia de los muertos
,
earrings
,
faux vintage
,
flowers
,
Frida
,
Frida Kahlo
,
gemstones
,
Halloween
,
handmade
,
Healers Hand
,
hoops
,
Italian
,
jasper
,
lampwork
,
Mykonos
,
Namaste
,
necklaces
,
polymer clay
,
resin
,
Shadow Dog Designs
,
ShadowDogDesigns
,
skulls
,
St. Francis
,
sugar skulls
,
Swarovski crystals
,
terra cotta
,
terracotta
,
tortugas
,
tribal
,
turquoise howlite
,
turtles
,
vintage
,
voodoo
» Share: