Blog entry
Posted January 31, 2019
If I had a flower for every time I thought of you . . .
I could walk through my garden forever.
Valentines is just a bit over two weeks away, on February 14. It is a day a day filled with pink and red hearts, flowers, cards, candy, and other tokens of love and devotion. With that in mind, I wanted to share a collection of handmade Valentine's Day jewelry, mostly earrings but two necklaces are also included. Some of the jewelry from my Shadow Dog Designs handmade shop are traditional Valentine's Day designs; others are not and can definitely be worn all year long. There are even a couple for a dog lover. I hope you enjoy this beautful collection . . . and maybe one or more of the one of a kind designs will end up with your sweetheart!
» Tagged:
butterflies
,
butterfly
,
coin
,
coin jewelry
,
copper
,
coral
,
Czech glass
,
dog lover
,
earrings
,
enamel
,
flowers
,
glass
,
handmade
,
hearts
,
Kuchi coin
,
lampwork
,
love
,
necklaces
,
paw prints
,
pearls
,
pink
,
poppies
,
red
,
red poppies
,
red roses
,
roses
,
ruby
,
Shadow Dog Designs
,
ShadowDogDesigns
,
Sherpa
,
sterling silver
,
suns
,
Swarovski crystals
,
Thai
,
Valentines
,
Valentines ay
,
Valentines gifts
,
vintage
,
white
Posted January 3, 2019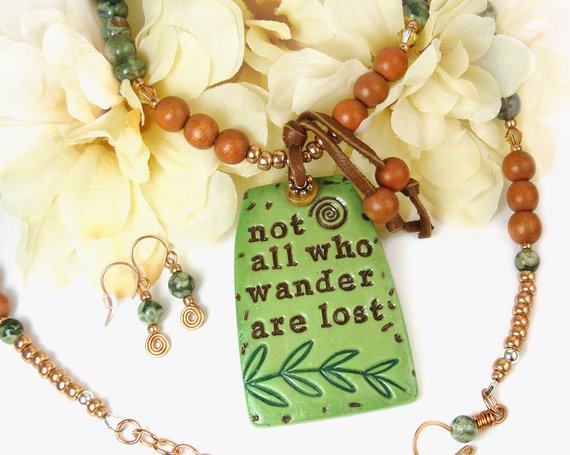 Buy Handmade - Be One in a Million, Not One of Millions
I don't know about you, but I HATE to buy jewelry that everyone else can buy. I don't want to see a stranger three states over wearing a piece of jewelry that I might be wearing. That doesn't happen, however, because I have almost always worn artisan handmade jewelry that is one of a kind, whether the earrings, bracelets or necklace are created by another artist or created by me. There is something so soul satisfying in that, knowing that I'm the only person in the universe wearing a particular design - unless an evil twin in an evil alternate universe is up to her evil copying of designs.
The three handmade artists that are features in this new "Three For Thursday" blog all make one of a kind jewelry designs: Mary of PrettyGonzo; Julie of Blue Morning Expressions; and me, Catherine of Shadow Dog Designs. I hope you enjoy this small sampling of the one of a kind jewelry designs that are in their shops. Please visit each shop for more eye catching and soul satisfying beauty. I hope you enjoy these selections:
» Tagged:
birds
,
blue
,
Blue Morning Expressions
,
boho
,
bracelets
,
chaplet
,
chunky
,
copper
,
coral
,
Czech glass
,
dog
,
dog lover
,
dogs
,
earrings
,
floral
,
flowers
,
gemstone
,
handmade
,
hearts
,
jewelry
,
lotus
,
Mesopotamian
,
necklaces
,
Not All Who Wander
,
owls
,
paw prints
,
pewter
,
polymer clay
,
PrettyGonzo
,
purple
,
red
,
rosary
,
Shadow Dog Designs
,
ShadowDogDesigns
,
St. Francis
,
Swarovski crystals