Enjoy
*** FREE SHIPPING ***
for the Holiday Season!
(First Class Ground Advantage - U.S. Only)
Blog entry
Posted March 17, 2020
Week 2 of the Mother's Day Countdown 2020, hosted by Julie and Harry of Blue Morning Expressions on their the Blu Print blog, quickly came and went. A total of 48 unique items were shared - each one a perfect Mother's Day gift - from 16 handmade artists. Since Mother's Day will be here before you know it - about 9 weeks from now - this is the perfect time to start thinking about and buying a gift(s) for your Mom. Browse all the wonderful handmade shares for Week 2, visit the shops of the artists featured and buy your Mom a beauty that was handmade from the heart.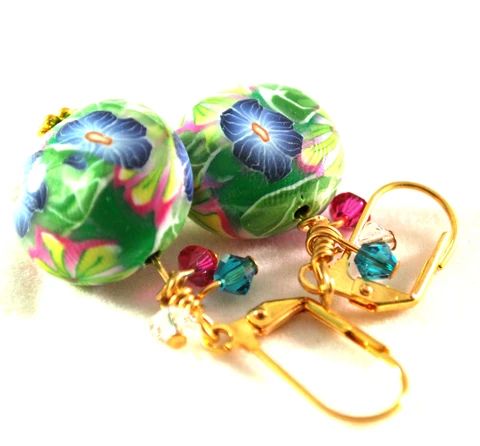 » Tagged:
baby boy
,
blue
,
Blue Morning Expressions
,
BlueMorningExpressions
,
booties
,
bracelet
,
cardinals
,
crocheted
,
earrings
,
encased
,
flowers
,
gifts for Mom
,
glass
,
hand dyed
,
handmade
,
hummingbirds
,
jewelry
,
knitting
,
lampwork
,
lotus flower
,
Mothers Day
,
Mothers Day gifts
,
necklace
,
note cards
,
owls
,
SadowDogDesigns
,
Shadow Dog Designs
,
silk
,
silver
,
Swarovski crystals
,
Swarovski pearls
,
wrens
,
yellow
Posted October 7, 2018

Autumn has finally made its way here to the Borderlands. Am enjoying the cool wind blowing through the window as I sit and type this or as I create new necklaces and earrings. It's wonderful to be able to turn off the AC, open the windows and screen doors and air out the house. Better sleeping weather, too. Autumn is the best!
Speaking of Autumn, the handmade show season continues. My next is the Western Hills Fall Bazaar, a 41 year tradition. It's a new show for me. Am trying it out because other artist friends kept saying how good it was. LOTS of foot traffic, I've been told. Have LOTS of new earrings to take and some new necklaces. We'll see.
Because of shows, I haven't listed a huge amount of new items in my Shadow Dog Designs jewelry shop since the last time I shared, almost a month ago. But here are the handmade beauties: six pairs of new earrings, two new necklaces and two oldies but goodies to make the count an even ten. Enjoy!
» Tagged:
African
,
amber
,
banded eye agate
,
boho
,
Czech glass
,
Day of the Dead
,
dia de los muertos
,
earrings
,
enamel earrings
,
flowers
,
gemstone earrings
,
Halloween
,
handmade
,
jade
,
jewelry
,
lotus
,
lotus flower
,
lotus pod
,
moon rabbit
,
necklaces
,
new jewelry
,
polymer clay
,
red garnet
,
red river jasper
,
Shadow Dog Designs
,
ShadowDogDesigns
,
sugar skull
,
Swarovski crystals
,
thunder egg agate
,
Victorian
,
vintage tin
,
yellow opal
,
zebra