Blog entry
Posted June 20, 2019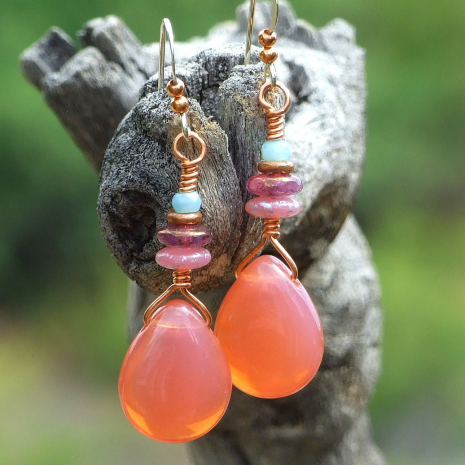 This weeks's Three for Thursday is a melange of items. Since I have an addiction to words, I wanted to give a brief etymology of the word melange. The word, which rolls off the tongue to so beautifully, first is first found in French documents around the comes from the 15th century French word meler, meaning 'to mix, mingle." Meler, in turn, came from the Old French meslance or meslinges (a set of diverse elements). So, according to The Free Dictionary, the modern word means "a collection of various things." Which is the perfect definition of the variety of handmade items I found from artists and am sharing in this post: The items featured are from three handmade artists: beautiful original watercolor paintings from Roxanne of watercolorsNmore; fun and handy to have cards of various types from Jacki of Christie Cottage; and a selection of one of a kind handmade jewelry from me, Catherine of Shadow Dog Designs.
I hope you enjoy these picks. And that you will visit the shops of the artists for more handmade beauties.
» Tagged:
art
,
artin
,
beach
,
bougainvillea
,
bronze
,
butterflies
,
butterfly
,
cards
,
chalcedony
,
Christie Cottage
,
ChristieCottage
,
Czech glass
,
earrings
,
enamel
,
floral
,
Florida
,
flower
,
gemstones
,
gift cards
,
handmade
,
jewelry
,
journal
,
lampwork
,
lotus
,
lotus blossom
,
melange
,
necklace
,
paintings
,
pink opal
,
saw blade
,
Shadow Dog Designs
,
ShadowDogDesigns
,
Swarovski crystals
,
teardrop
,
thank you cards
,
Three for Thursday
,
watercolor
,
watercolorsNmore
Posted June 13, 2019
The first day of summer will be here before we know it. This year, the first day of summer starts here in the Borderlands at 9:54 a.m. MDT on Friday, June 21. Although, by that time, we'll surely have had several days near triple digits or some 100+ degrees. But it's a dry heat and doesn't keep me from doing much outside as long as I have a wide brimmed hat on my head and plenty of water with me.
» Tagged:
baby dress
,
beach
,
beach bag
,
bracelets
,
cards
,
Celtic
,
clock
,
coral
,
crochet
,
dragonfly
,
earrings
,
enamel
,
flamingo
,
Florida
,
flowers
,
garden
,
gemstones
,
gifts
,
gifts for her
,
goddess
,
handmade
,
jewelry
,
Just Beachy
,
knitting
,
lampwork
,
nautilus
,
necklaces
,
ocean
,
ocean jasper
,
orange
,
pillow case
,
polymer clay
,
quilling
,
romper
,
sand dunes
,
seed bead
,
shells
,
Shiva shell
,
summer
,
Summer Fun
,
sun
,
sundress
,
sunflowers
,
sunrise
,
surf
,
Swarovski crystals
,
watercolor
,
wire wrapped