*** FREE SHIPPING ***
(First Class Mail - U.S. Only)
Blog entry
Posted March 24, 2020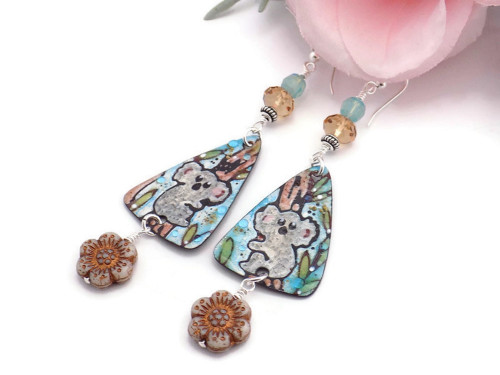 It's been over a week now since my husband and I decided to really get serious about social distancing due to COVID-19. I keep hearing how people are bored and have nothng to do. Not true in my case. I keep VERY busy! Now that we're in the Upside Down, I realized - except for yoga and working out at the YWCA for an hour each weekday, eating out with friends now and then, and doing art shows - my life, once I started creating jewelry and selling online, always had a lot of social distancing. And I bet a lot of my artist friends are the same way. OK, enough of that. I just want everyone to stay safe and healthy out there!
Week 3 of the Mother's Day Countdown 2020 seemed to blow right by. Hosted by Julie and Harry of Blue Morning Expressions on their the Blu Print blog, 30 unique handmade items were shared from 10 artists - each one a wonderful gift for Mother's Day. Since the big day will be here before you know it - about 7 weeks from now - this is the perfect time to start thinking about and buying a gift(s) for your Mom. Browse all the wonderful handmade shares for Week 3, visit the shops of the artists featured and buy your Mom a beauty that was handmade from the heart.
» Tagged:
afzelia
,
baby boy
,
blue
,
bracelet
,
cats
,
ceramic
,
Countdown
,
counted cross stitch
,
cross
,
Czech glass
,
earrings
,
enamel
,
exotic wood
,
flowers
,
gray
,
handmade
,
jewelry
,
knitting
,
koala
,
kumihimo
,
lampwork
,
Make it a Handmade Mothers Day
,
memory wire
,
Mothers Day
,
mountains
,
necklace
,
orange
,
pattern
,
pendant
,
pine tree
,
red
,
seashells
,
Shadow Dog Designs
,
ShadowDogDesigns
,
spirals
,
summer
,
Swarovski crystals
,
tamarind
,
vest
Posted March 7, 2019

Easter is a symbol of hope, renewal, and new life.
Janine di Giovanni
Since yesterday was Ash Wednesday - and Easter is approximately six weeks away - I started thinking about Easters past, always large gatherings of family and friends. But, before everyone showed up at our house, we went to Easter Sunrise mass, the only time my father was ever cajoled into going to church. As a child, I always remember getting a new Easter dress, usually with a matching headband, socks and gloves(!) to wear to church on Easter Sunday. And if my sister and I were lucky, a small purse would be included. Very stylish, indeed, and usually VERY itchy! The clothes were always spring pastel in color: pinks, pale yellows, pale greens, pale blues and such. A preview of all the pastel colored Easter eggs that were waiting to be found!
This week's Three for Thursday features three items from three handmade artists that definitely are filled with the renewal of Easter springtime colors. The artists are: jewelry artist Mary of PrettyGonzo; crochet artist Pamela of MagdaleneKnits; and, me, Catherine of Shadow Dog Designs, also a jewelry artist. I hope you enjoy my choices. And be sure to visit the artists' shops for more splendiferous designs!
» Tagged:
baby
,
bracelets
,
chaplet
,
crochet
,
crocheted
,
Czech glass
,
earrings
,
Easter
,
flower garden
,
flowers
,
handmade
,
headband
,
hearts
,
jade
,
jewelry
,
lampwork
,
lavender
,
maryjanes
,
mint green
,
necklaces
,
pastels
,
pink
,
polymer clay
,
pullover
,
rosary
,
ruby
,
Shadow Dog Designs
,
ShadowDogDesigns
,
spring
,
springtime
,
sweater
,
teardrop
,
vest
,
Victorian
,
Virgin Mary
,
yellow