Blog entry
Posted June 20, 2019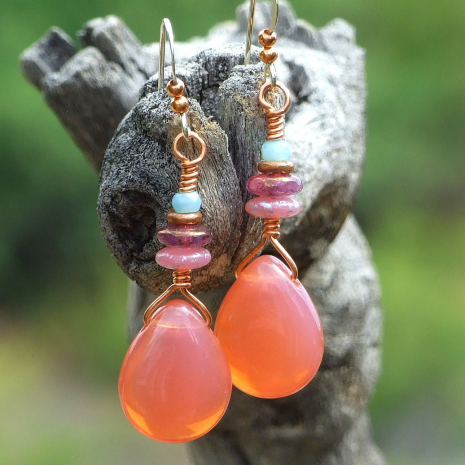 This weeks's Three for Thursday is a melange of items. Since I have an addiction to words, I wanted to give a brief etymology of the word melange. The word, which rolls off the tongue to so beautifully, first is first found in French documents around the comes from the 15th century French word meler, meaning 'to mix, mingle." Meler, in turn, came from the Old French meslance or meslinges (a set of diverse elements). So, according to The Free Dictionary, the modern word means "a collection of various things." Which is the perfect definition of the variety of handmade items I found from artists and am sharing in this post: The items featured are from three handmade artists: beautiful original watercolor paintings from Roxanne of watercolorsNmore; fun and handy to have cards of various types from Jacki of Christie Cottage; and a selection of one of a kind handmade jewelry from me, Catherine of Shadow Dog Designs.
I hope you enjoy these picks. And that you will visit the shops of the artists for more handmade beauties.
» Tagged:
art
,
artin
,
beach
,
bougainvillea
,
bronze
,
butterflies
,
butterfly
,
cards
,
chalcedony
,
Christie Cottage
,
ChristieCottage
,
Czech glass
,
earrings
,
enamel
,
floral
,
Florida
,
flower
,
gemstones
,
gift cards
,
handmade
,
jewelry
,
journal
,
lampwork
,
lotus
,
lotus blossom
,
melange
,
necklace
,
paintings
,
pink opal
,
saw blade
,
Shadow Dog Designs
,
ShadowDogDesigns
,
Swarovski crystals
,
teardrop
,
thank you cards
,
Three for Thursday
,
watercolor
,
watercolorsNmore
Posted December 28, 2018

It's hard to believe that 2018 is drawing to a close and that a new year will dawn in just a matter of days. 2018 was a very creative year for me as I found items from new artists (to me) to incorporate into my work - and continued working with pieces from old artist friends. Playing with unique color combinations was also fun. My creative spirits have been active lately as you will see with the newest handmade earrings below, great gift ideas for a favorite woman on her birthday, Valentine's Day, Mother's Day . . . or just because. I hope you enjoy these new handmade creations found in my Shadow Dog Designs jewelry shop. Click on either the photo or the link below the photo to be taken to the item for more information and pictures.
» Tagged:
birthday
,
black
,
blue
,
bronze
,
Casablanca
,
cobalt blue
,
copper
,
crosses
,
Czech glass
,
dog
,
dogs
,
earrings
,
Easter Island
,
elephants
,
faces
,
flowers
,
gift ideas
,
gifts
,
handmade
,
jewelry
,
lampwork
,
lavender
,
love
,
love my dog
,
maroon
,
Marrakech
,
matte
,
Mothers Day
,
orange
,
rainbow
,
red
,
Shadow Dog Designs
,
ShadowDogDesigns
,
Swarovski crystals
,
teardrops
,
turquoise
,
Valentines
,
women