Enjoy
*** FREE SHIPPING ***
for the Holiday Season!
(First Class Ground Advantage - U.S. Only)
Blog entry
Posted August 16, 2020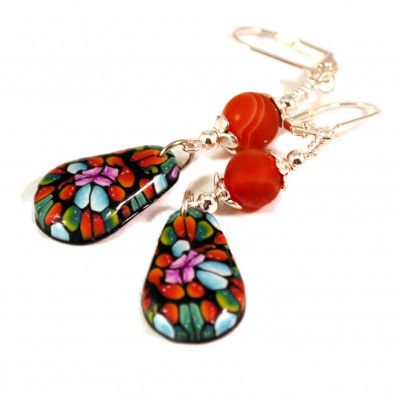 I don't know about you, but I feel strange when I hop in the trusty Dog Mobile and then notice I have forgotten to put on a pair of earrings! At least there, in the driveway, I can hop out of the truck, run inside and grab a pair to put on. But, heaven help me, if I get somewhere and realize I am earrings-less! It's like the world has tilted just a bit on its axis and I'm in the Upside Down. Being an ardent wearer of pierced earrings since the early 1970's, I have quite the collection of handcrafted Native American earrings - and earrings I've made myself and then couldn't part with. Just LOVE them!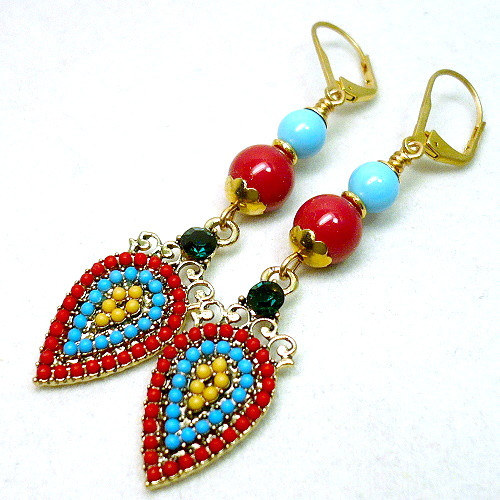 » Tagged:
Apadana Palace
,
apple wood
,
blue
,
boho
,
chandeliers
,
earrings
,
Egyptian
,
enamel
,
feather
,
flowers
,
gemstones
,
glass
,
Greek
,
handmade
,
Hawaiian
,
history
,
Iraq
,
lampwork
,
microphone
,
moon
,
music
,
orange
,
pirate
,
polymer clay
,
poppy
,
purple
,
Queen Elizabeth I
,
Queen Victoria
,
red
,
Renaissance
,
Roman
,
royal greaves
,
Shadow Dog Designs
,
ShadowDogDesigns
,
sing
,
Southwest
,
stars
,
summer
,
Swarovski crystals
,
Swarovski pearls
,
wedding
,
white
,
yellow
Posted September 5, 2018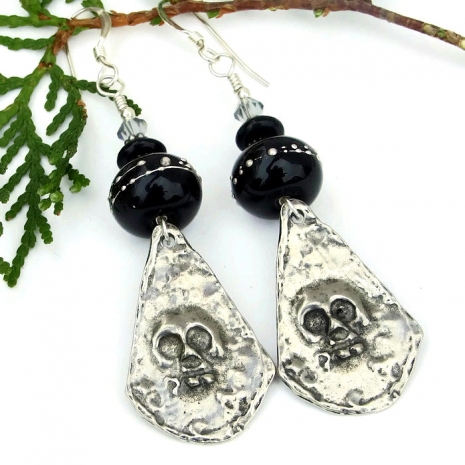 Halloween and Day of the Dead / Dia de los Muertos will soon be here. The hunt for that perfect piece of handmade jewelry to show off your fun and/or spooky side has begun. To help with that search, I'm sharing the earrings and necklaces in my Shadow Dog Designs shop that are impeccable accessories for you pre-Halloween and Day of the Dead wear and the festivities that happen on those individual days. All one of a kind handmade designs, I hope these (un)lucky 13 pieces of jewelry catch your eye. If so, please click on the photograph or the link below each picture to be taken to the item for more information and photos. I hope you enjoy these unique pieces.
» Tagged:
crossbones
,
crosses
,
Day of the Dead
,
dia de los muertos
,
earrings
,
ghouls
,
gift idea
,
goblins
,
Halloween
,
Halloween jewelry Day of the Dead jewelry
,
handmade
,
jack o' lanterns
,
jewelry
,
lampwork
,
magnesite
,
necklaces
,
owls
,
pirate
,
Shadow Dog Designs
,
ShadowDogDesigns
,
skull jewelry
,
skulls
,
sugar skulls
,
Swarovski crystals