Blog entry
Posted June 26, 2018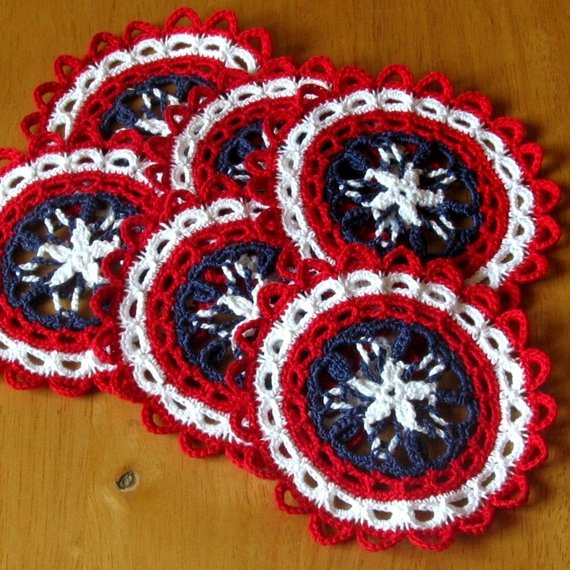 When in the Course of human events, it becomes necessary for one people to dissolve the political bands which have connected them with another, and to assume among the powers of the earth, the separate and equal station to which the Laws of Nature and of Nature's God entitle them, a decent respect to the opinions of mankind requires that they should declare the causes which impel them to the separation.
The 4th of July, also known as Independence Day or July 4th, has a tradition of celebrations goes back to the American Revolution. When the initial battles of the Revolutionary War broke out in April 1775, very few colonists desired complete independence from Great Britain. But, by the middle of the following year, the idea of independence grew due to the growing hostility against draconian British laws and the spread of revolutionary sentiments, such as the pamphlet published in early 1776 by Thomas Paine, called "Common Sense."
» Tagged:
4th of July
,
Americana
,
art
,
artisan
,
baby
,
beadwoven
,
blue
,
bracelet
,
caladiums
,
coasters
,
collage
,
crocheted
,
dichroic
,
doily
,
earrings
,
gemstones
,
gift bags
,
handmade
,
Independence Day
,
jewelry
,
July 4th
,
lapis lazuli
,
magnets
,
necklace
,
note cards
,
Om
,
patriotism
,
pendant
,
polymer clay
,
prints
,
red
,
Shadow Dog Designs
,
ShadowDogDesigns
,
Sherpa
,
sock monkey
,
sunsuit
,
USA
,
vintage
,
wash cloth
,
white
Posted January 18, 2018
I have been really busy making and listing new earrings and necklaces these last two weeks, mostly earrings, it seems. Have been enthralled with two new artists I have found and buy jewelry components from. One creates pieces from recycled tea or cookie tins. The pieces are whimsical and very light in weight. Another creates amazing polymer clay pieces, some with a technique called embroidered polymer clay - very intricate and time consuming. I have one pair of earrings from each artist in the beauties shared below. There are seven new creations; the last three are wonderful oldies but goodies to round out the number to an even ten.
» Tagged:
black onyx
,
cats
,
copper
,
Czech glass
,
earrings
,
embroidery
,
flowers
,
gift ideas
,
handmade
,
hearts
,
kitty
,
lampwork
,
love
,
necklaces
,
Nepal
,
polymer clay
,
recycled
,
red
,
Shadow Dog Designs
,
ShadowDogDesigns
,
Sherpa
,
St. Francis
,
sun
,
tea tin
,
Valentines