Enjoy
*** FREE SHIPPING ***
for the Holiday Season!
(First Class Ground Advantage - U.S. Only)
Blog entry
Posted July 23, 2020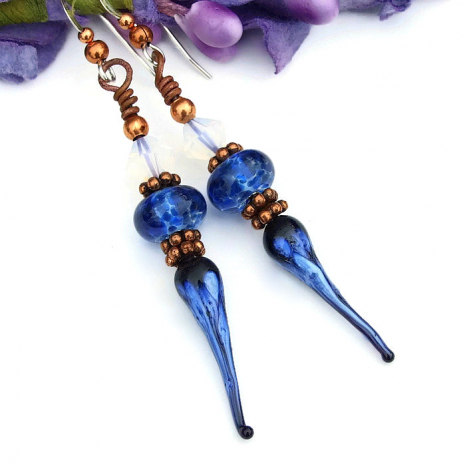 Research shows that the most popular color in the world is blue. A survey conducted in 10 countries across four continents shows that one color – blue – is the most popular across the board, 8-18 points ahead of any other color. This includes gender. Men picked it as their favorite color more often than women, but blue was still picked as a favorite by more women than any other color. Blue is also a favorite across racial groups, age groups and - even in the U.S. - political groups.
Blue is also very popular as a major design color when making necklaces, earrings and bracelets, as you can see in the nine pieces of jewelry chosen to feature in "Got the Blues! - Artisan Handmade" The handmade artists who created the jewelry are: Julie and Harry of Blue Morning Expressions; Kathy of KatsAllThat; and, me, Catherine of Shadow Dog Designs. I hope you enjoy these selections of blue. Please be sure to visit the shops of the artists featured for more handmade jewelry in many glorious colors, not just blue.
» Tagged:
agate
,
art
,
beadwoven
,
blue
,
Blue Morning Expressions
,
Blue MorningExpressions
,
bracelets
,
copper
,
crystals
,
Czech glass
,
dog tags
,
earrings
,
flowers
,
gemstones
,
gift
,
gift for her
,
gift for women
,
handmade
,
jewelry
,
jewelry gift
,
KatsAllThat
,
kumihimo
,
lampwork
,
mermaid
,
necklaces
,
penguins
,
polymer clay
,
red
,
Shadow Dog Designs
,
ShadowDogDesigns
,
spiles
,
sterling silver
,
Swarovski crystals. Three for Thursday