Blog entry
Posted March 7, 2018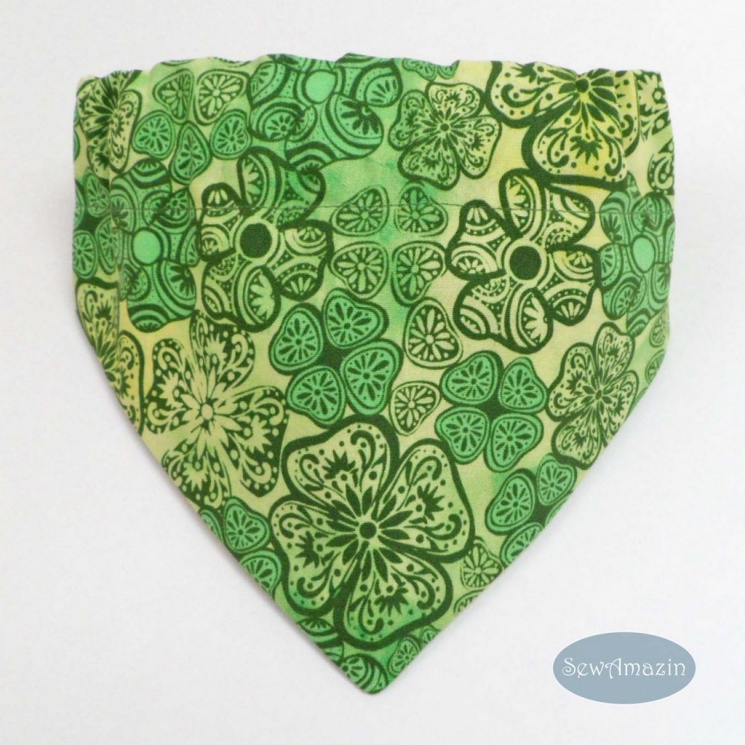 Due to my mother's side of the family, quite a lot of Scots-Irish blood flows through my veins, being a MacLellan and an O'Birney. I grew up listening to old Irish ballads by John McCormack and others and also to Scottish bagpipe music. I thrilled to the legends of Brian Boru, the Fenian Cycle and others - and also to the lifes of Irish saints (although those weren't quite as exciting). When St. Patrick's Day rolls around, I find myself going though my CDs of Irish folk songs, popping one into my computer and singing along (probably much to the chagrin of Seamus - am surprised he doesn't howl along!). In honor of the upcoming St. Patrick's Day, I also wanted to share handmade items from talented artist friends that use green as all or part if the design.
» Tagged:
ACEO
,
choker
,
dichroic
,
dog bandanas
,
dogs
,
earrings
,
four leafed clover
,
gemstones
,
green
,
handmade
,
Irish
,
jewelry
,
knitting
,
necklace
,
scarf
,
Shadow Dog Designs
,
ShadowDogDesigns
,
shamrock
,
spikes
,
spirals
,
St Patrick
,
St Patricks Day
,
Swarovski crystals
,
VW
Posted March 4, 2018
It has been almost a month since I last sat down to share my newest batch of handmade earrings and necklaces. Visiting friends in Long Beach, California and Charleston, South Carolina took up a lot of time, along with shorter trips to Dallas. Plus, three big shows are in the not too distant future, all in April, so I've been very busy trying to make new jewelry to freshen up the look. Lots of spring inspired jewelry has been photographed - hopefully, those will make it into the next post.
» Tagged:
butterfly
,
ceramic
,
copper
,
Czech glass
,
earrings
,
four leaf clover
,
gemstones
,
Gypsy Soul
,
handmade
,
jewelry
,
lampwork
,
necklaces
,
pearls
,
pewter
,
polymer clay
,
purple
,
red
,
Shadow Dog Designs
,
ShadowDogDesigns
,
sodalite
,
St Patricks Day
,
sterling silver
,
Swarovski crystals
,
turquoise
,
wild woman