Happy St Patricks Day! - Wonderful Handmade Wednesday on Indiemade
Posted March 7, 2018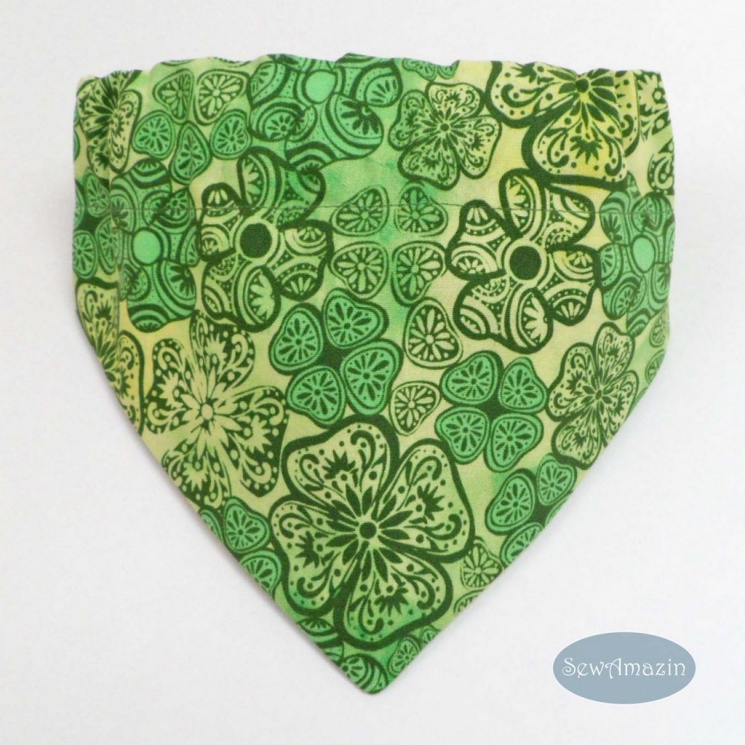 Due to my mother's side of the family, quite a lot of Scots-Irish blood flows through my veins, being a MacLellan and an O'Birney. I grew up listening to old Irish ballads by John McCormack and others and also to Scottish bagpipe music. I thrilled to the legends of Brian Boru, the Fenian Cycle and others - and also to the lifes of Irish saints (although those weren't quite as exciting). When St. Patrick's Day rolls around, I find myself going though my CDs of Irish folk songs, popping one into my computer and singing along (probably much to the chagrin of Seamus - am surprised he doesn't howl along!). In honor of the upcoming St. Patrick's Day, I also wanted to share handmade items from talented artist friends that use green as all or part if the design.
So who was St. Patrick, the saint the day of revelry is named after? St. Patrick was a fifth-century Christian missionary and bishop in Ireland. Known as the "Apostle of Ireland", he is the primary patron saint of Ireland, along with St. Brigit of Kildare and St. Brigit of Columba. The actual dates of St. Patrick's birth and death aren't known, but there is historical agreement that he was an active missionary in Ireland during the second half of the 5th century. Early medieval tradition credits him with being the first bishop of Armagh and the Primate of Ireland. He is regarded as the founder of Christianity in Ireland (despite evidence of an earlier Christian presence), converting the people practising a form of Celtic polytheism.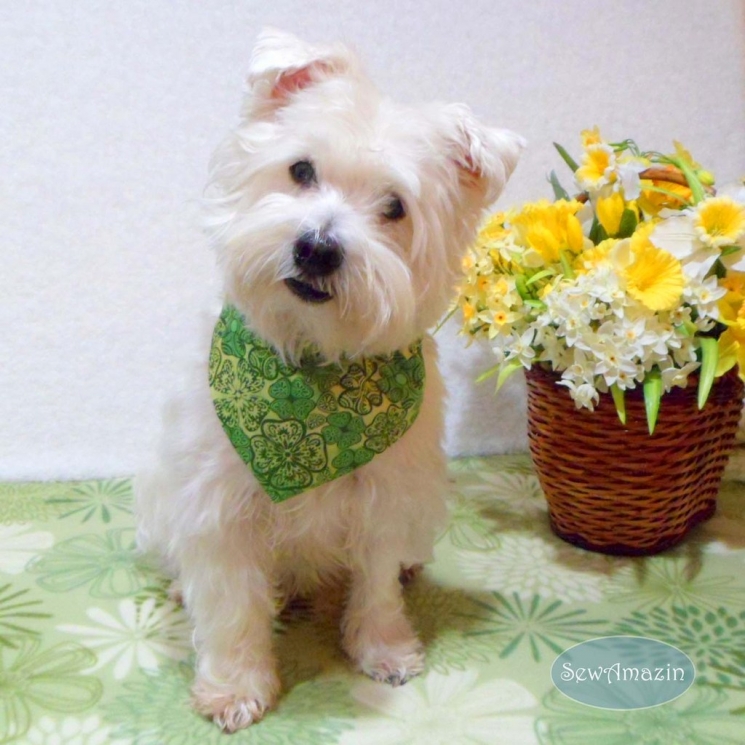 Classy Green Clover St. Patrick's Day Dog Bandana Handmade by Donna of SewAamazin
According to the Declaration of Patrick (a somewhat autobiography written by St. Patrick), when he was about 16, he was captured by Irish pirates from his home in Britain and taken as a slave to Ireland where he worked as a shepherd. He lived there for six years before escaping and returning to his family. Due to a vision he had, after studying and being ordained as a priest, Patrick returned to northern and western Ireland, but little is known about the places where he worked. In later life, he served as a bishop. By the seventh century, he had already come to be revered as the patron saint of Ireland. March 17 is the traditional day of his death, although no one knows if it actually is.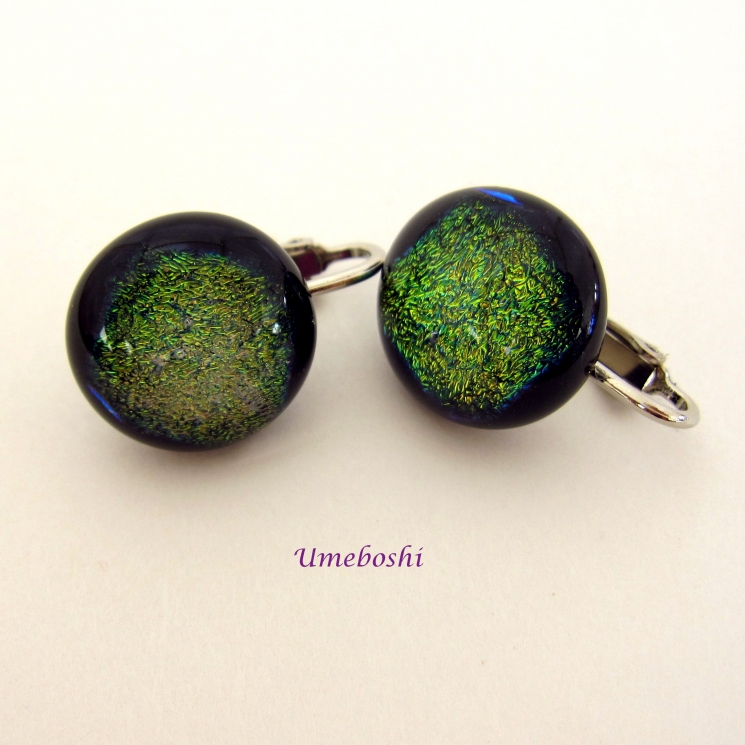 Sparkling Forest Green and Brown Dichroic Fused Glass Clip On Earrings Handmade by Jo of Umeboshi Jewelry Designs
There are several legends revolving around St. Patrick. Here are three:
Patrick used a shamrock
Legend credits Saint Patrick with teaching the Irish about the doctrine of the
Holy T
r
inity
by a using a shamrock to illustrate the Christian teaching of three persons in one God. This story first appears in writing in 1726, though it may be older. The shamrock has since become a central symbol for Saint Patrick's Day.
Patrick banished snakes from Ireland
The absence of snakes in Ireland gave rise to the legend that they had all been banished by Saint Patrick chasing them into the sea after they attacked him during a 40-day fast he was undertaking on top of a hill However, all scientific evidence shows that post-glacial Ireland never had snakes.
Patrick's walking stick grew into a living tree
During Patrick's evangelising journey back to Ireland from his parent's home, he is believed to have used an ash wood walking stick or staff. He pushed his walking stick into the ground wherever he was evangelising. At one place, now known as Aspatria (ash of Patrick), since the people took so long to understand the message he preached, the walking stick had taken root by the time Patrick was ready to move on.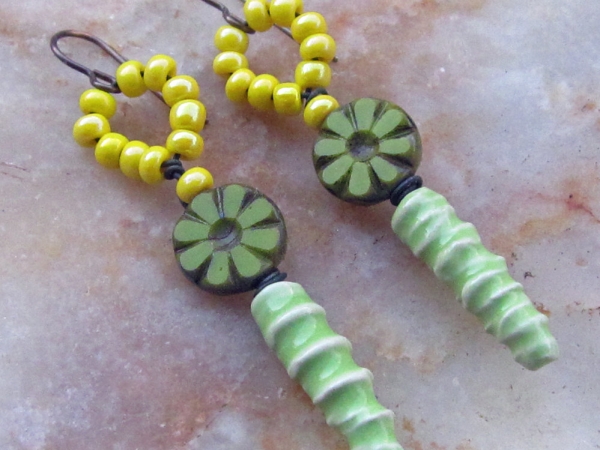 Green Flower and Spike Earrings with Yellow Beads Handmade by Linda of Linda Landig Jewelry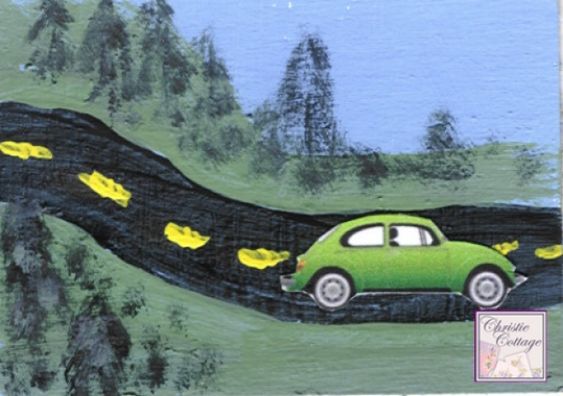 Green VW Bug Mixed Media Original Art ACEO Handmade by Jacki of Christie Cottage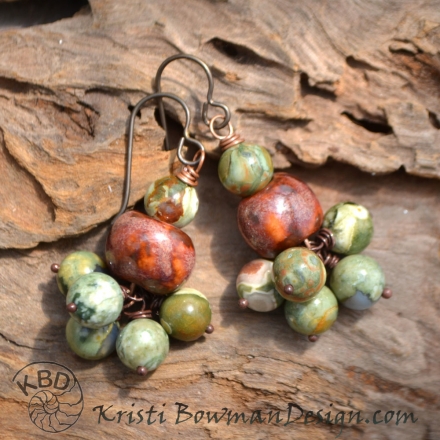 Green Rainforest Jasper and Brown Ceramic Handmade Earrings by Kristi of Kristi Bowman Design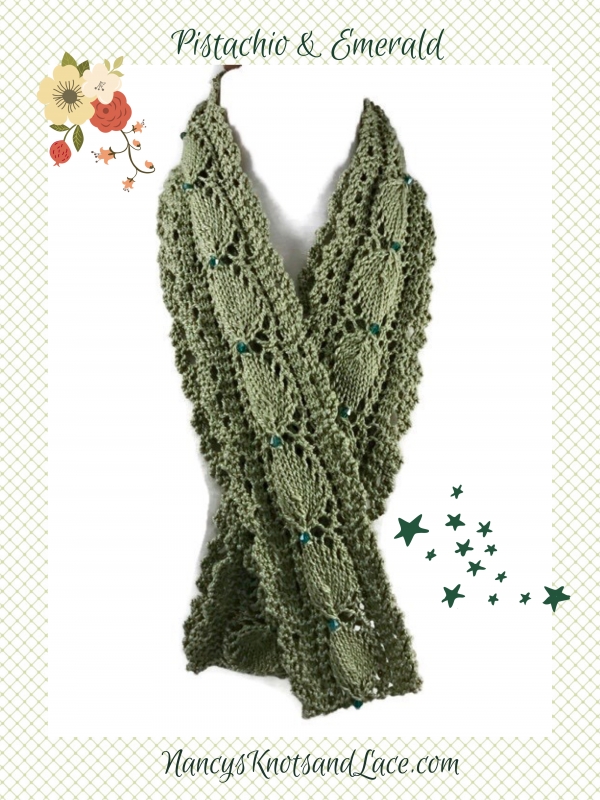 Long Hand Knitted Pistachio Green Cotton Scarf with Emerald Swarovski Crystals Handmade by Nancy of Nancy's Knots, Lace and More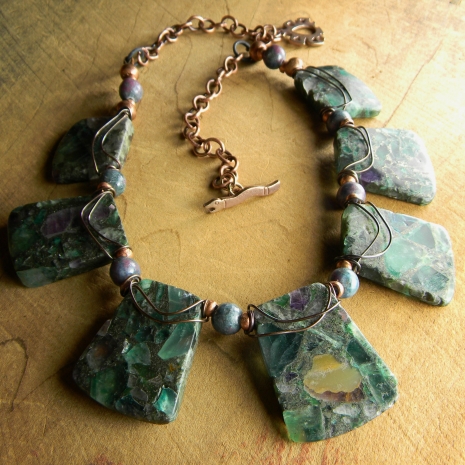 Rustic Bohemian Green Fluorite Choker Necklace Handmade by Gloria of Chrysalis Tribal Jewelry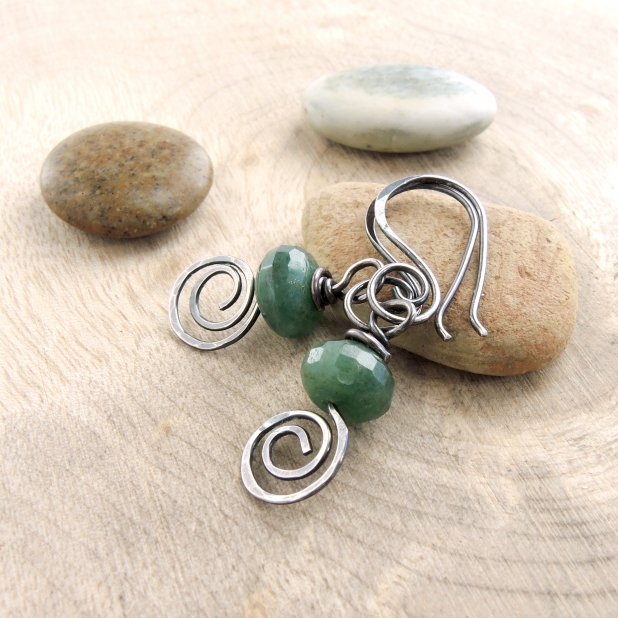 Green Aventurine and Oxidized Silver Spiral Short Drop Earrings Handmade by Pamela of Pebbles at My Feet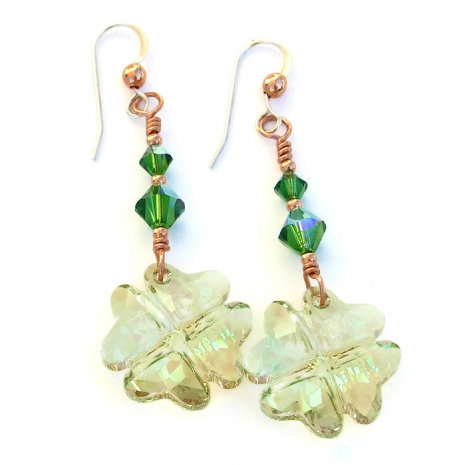 Lucky Green Four Leaf Clover Swarovski Crystal St. Patrick's Day Earrings Handmade by Catherine of Shadow Dog Designs
I hope you enjoyed each and every one of these unique handmade creations in green, perfect for a St. Patrick's Day gift! If you would like to make my day and the day of the talented artists featured, please leave a comment. And any promotion you can do will be greatly appreciated. Thanks!
My contact information:


» Tagged:
ACEO
,
choker
,
dichroic
,
dog bandanas
,
dogs
,
earrings
,
four leafed clover
,
gemstones
,
green
,
handmade
,
Irish
,
jewelry
,
knitting
,
necklace
,
scarf
,
Shadow Dog Designs
,
ShadowDogDesigns
,
shamrock
,
spikes
,
spirals
,
St Patrick
,
St Patricks Day
,
Swarovski crystals
,
VW
» Share: