*** FREE SHIPPING ***
(First Class Mail - U.S. Only)
Blog entry
Posted January 7, 2021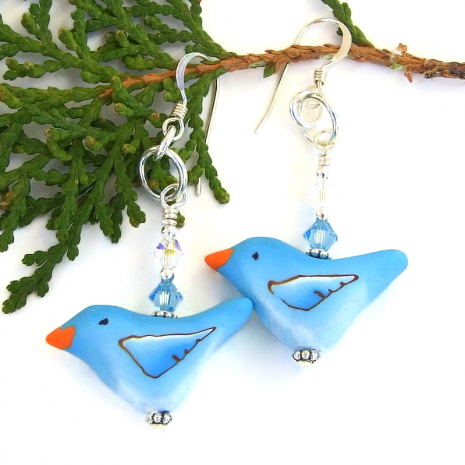 Usually my Three for Thursday blogs have a theme, such as "flowers", "animals," "Valentine's Day" or "blue." But today I decided that three items from three artist friends would be a theme within the theme: fingerless gloves, note cards and jewelry. From Jacki of Christie Cottage are three pairs of hand knit / crocheted fingerless gloves; three notecards from original watercolor prints are featured from Roxanne of watercolorNmore; and three pairs of handmade earrings from me, Catherine of Shadow Dog Designs, are shared. To see more of what each artist has in their handmade studios, be sure to click on the links above, the item photos or links below the photos to be taken to the shop. I hope you enjoy these selections.
» Tagged:
artisan
,
bird earrings
,
birds
,
blue
,
blue birds
,
copper
,
crochet
,
ducks
,
earrings
,
fingerless gloves
,
flowers
,
gift for her
,
gift for women
,
goddess
,
great blue heron
,
grey
,
handmade
,
handmade gifts
,
heart earrings
,
hearts
,
ivory
,
knit
,
lampwork
,
metallic
,
Mothers Day
,
note cards
,
pink
,
polymer clay
,
purple
,
ribbon yarn
,
spiral goddess
,
spirals
,
Swarovski crystals
,
Three for Thursday
,
tree frogs
,
Valentines
,
Valentines Day
,
watercolors
Posted February 14, 2019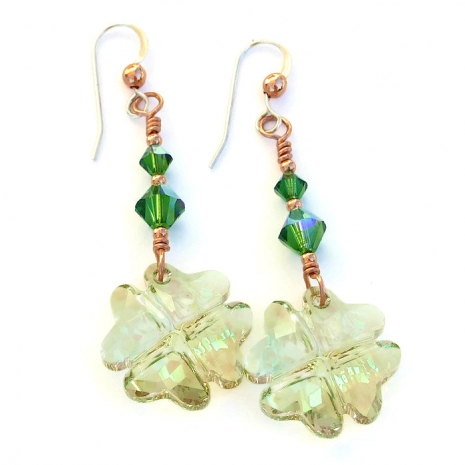 St. Patrick's Day will be here before we know it, when all those with Irish heritage (or those that wish they had Irish blood) wear green and wax lyrical about the The Emerald Isles. And, if you have ever visited Éire, you will know the nagging inner yearning to always go back.
It's with St. Patrick's Day in mind that I decided to share seven items from seven handmade artists, all featuring the color green in its many shades. Why seven beauties you might ask? I chose that number from two symbols that always show up for St. Patrick's Day, symbols which are often confused: the shamrock (which has 3 leaves) and the lucky four leaf clover (which, obviously from its name, has 4 leaves). Seven leaves, seven items. The shamrock is a three-leaved clover, a plant was used by Saint Patrick to illustrate the doctrine of the Trinity. It is the national symbol of Ireland, the word coming from seamróg, the Irish name for the plant. The four leaf clover is an aberration of white clover which normally only has three leaves. Occasionally white clover produces an extra leaf, making finding one especially lucky.
» Tagged:
baby booties
,
bracelet
,
Celtic
,
Claddagh
,
dragonfly
,
earrings
,
Eire
,
embroidered
,
Emerald Isle
,
four leaf clover
,
gemstones
,
green
,
headband
,
Ireland
,
irish knit
,
kyanite
,
note cards
,
right angle weave
,
seamrog
,
Shadow Dog Designs
,
ShadowDogDesigns
,
shamrock
,
St Patrick's Day
,
St. Patrick's
,
Swarovski crystals
,
sweater
,
tree frogs