Enjoy
*** FREE SHIPPING ***
for the Holiday Season!
(First Class Ground Advantage - U.S. Only)
Blog entry
Posted June 16, 2022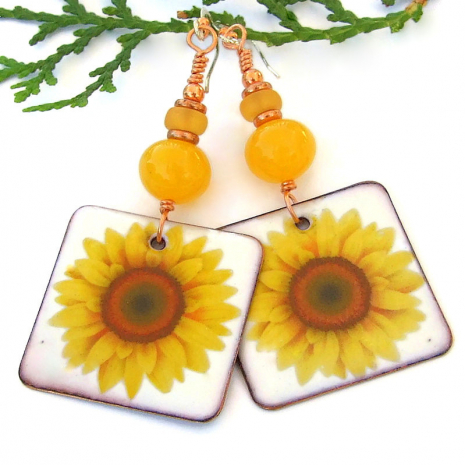 The heat of summer has set in here in the Desert Southwest. Which means planting more flowers in the flower beds is pretty much a done deal until the monsoon season sets in shortly (hopefully - we really need some rain!). More time is being spent inside during the day until the temps cool down when the sun starts to set, so I'm making good use of the extra time inside creating and listing new jewelry. And I'm looking further down the road to the Labor Day weekend when the Franciscan Festival of Fine Arts is being held - my first big show of the season and my favorite. Five new pairs of earrings and two new necklaces have been recently added to my SHADOW DOG DESIGNS handmade jewelry shop. I also added three older pieces to make an even ten. If something catches your eye and you want to look at more photos or need more information, please either click the picture or the description under the pic to be taken to the item listing. I hope you enjoy these new necklace sand earrings, all of which are one of a kind designs.
» Tagged:
bees
,
blue
,
boho earrings
,
boho jewelry
,
ceramic
,
Christian jewelry
,
copper
,
cross
,
cross and heart
,
cross necklace
,
earrings
,
earthy
,
enamel
,
feldspar
,
flower earrings
,
flowers
,
gemstones
,
gifts for her
,
gifts for women
,
green
,
green quartz
,
hand painted
,
handmade
,
honey bees
,
horses
,
India agate
,
Java
,
Java glass
,
jewelry
,
jewelry for her
,
jewelry for women
,
lampwork beads
,
lapis lazuli
,
necklaces
,
orange
,
pearls
,
pendant
,
petroglyph
,
purple
,
red
,
red garnet
,
rustic
,
sterling silver
,
sun
,
sunflowers
,
Tree of Life
,
tribal
,
tribal earrings
,
turquoise
,
warrior
,
wild horses
,
world tree
,
yellow