Enjoy
*** FREE SHIPPING ***
for the Holiday Season!
(First Class Ground Advantage - U.S. Only)
Blog entry
Posted August 16, 2020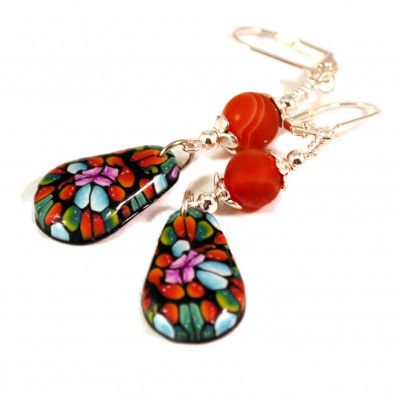 I don't know about you, but I feel strange when I hop in the trusty Dog Mobile and then notice I have forgotten to put on a pair of earrings! At least there, in the driveway, I can hop out of the truck, run inside and grab a pair to put on. But, heaven help me, if I get somewhere and realize I am earrings-less! It's like the world has tilted just a bit on its axis and I'm in the Upside Down. Being an ardent wearer of pierced earrings since the early 1970's, I have quite the collection of handcrafted Native American earrings - and earrings I've made myself and then couldn't part with. Just LOVE them!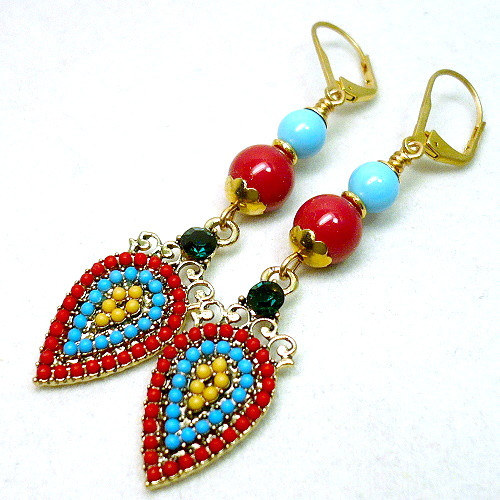 » Tagged:
Apadana Palace
,
apple wood
,
blue
,
boho
,
chandeliers
,
earrings
,
Egyptian
,
enamel
,
feather
,
flowers
,
gemstones
,
glass
,
Greek
,
handmade
,
Hawaiian
,
history
,
Iraq
,
lampwork
,
microphone
,
moon
,
music
,
orange
,
pirate
,
polymer clay
,
poppy
,
purple
,
Queen Elizabeth I
,
Queen Victoria
,
red
,
Renaissance
,
Roman
,
royal greaves
,
Shadow Dog Designs
,
ShadowDogDesigns
,
sing
,
Southwest
,
stars
,
summer
,
Swarovski crystals
,
Swarovski pearls
,
wedding
,
white
,
yellow