*** FREE SHIPPING ***
(First Class Mail - U.S. Only)
Blog entry
Posted January 7, 2021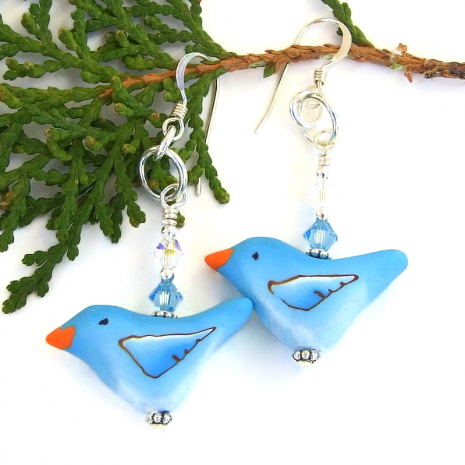 Usually my Three for Thursday blogs have a theme, such as "flowers", "animals," "Valentine's Day" or "blue." But today I decided that three items from three artist friends would be a theme within the theme: fingerless gloves, note cards and jewelry. From Jacki of Christie Cottage are three pairs of hand knit / crocheted fingerless gloves; three notecards from original watercolor prints are featured from Roxanne of watercolorNmore; and three pairs of handmade earrings from me, Catherine of Shadow Dog Designs, are shared. To see more of what each artist has in their handmade studios, be sure to click on the links above, the item photos or links below the photos to be taken to the shop. I hope you enjoy these selections.
» Tagged:
artisan
,
bird earrings
,
birds
,
blue
,
blue birds
,
copper
,
crochet
,
ducks
,
earrings
,
fingerless gloves
,
flowers
,
gift for her
,
gift for women
,
goddess
,
great blue heron
,
grey
,
handmade
,
handmade gifts
,
heart earrings
,
hearts
,
ivory
,
knit
,
lampwork
,
metallic
,
Mothers Day
,
note cards
,
pink
,
polymer clay
,
purple
,
ribbon yarn
,
spiral goddess
,
spirals
,
Swarovski crystals
,
Three for Thursday
,
tree frogs
,
Valentines
,
Valentines Day
,
watercolors
Posted November 26, 2020

Not sure about you, but I adore earrings. If I walk out of the house and later find I forgot to put a pair on (which doesn't happen too often), it seems as if the earth tilts a bit on its axis and the rest of the day seems kind of strange . . . until I can put a pair on. I especially love long earrings, the more boho the better, but will also wear shorter earrings. But rarely wear studs unless I put one in the second hole of my left earlobe (which normally has a small sterling hoop in it).
Because of my love of earrings, my Three for Thursday blog features just that: EARRINGS! I chose three pairs of earrings that I would definitely wear from three handmade jewelry artists. The artists are: Elaine of ELDumont; Julie and Harry of Blue Morning Expressions; and me, Catherine of Shadow Dog Designs. And I do want to confess that it's hard for me to let some of the earrings I design to be offered for sale in my shop. OK, a LOT of them! I hope you enjoy these selections: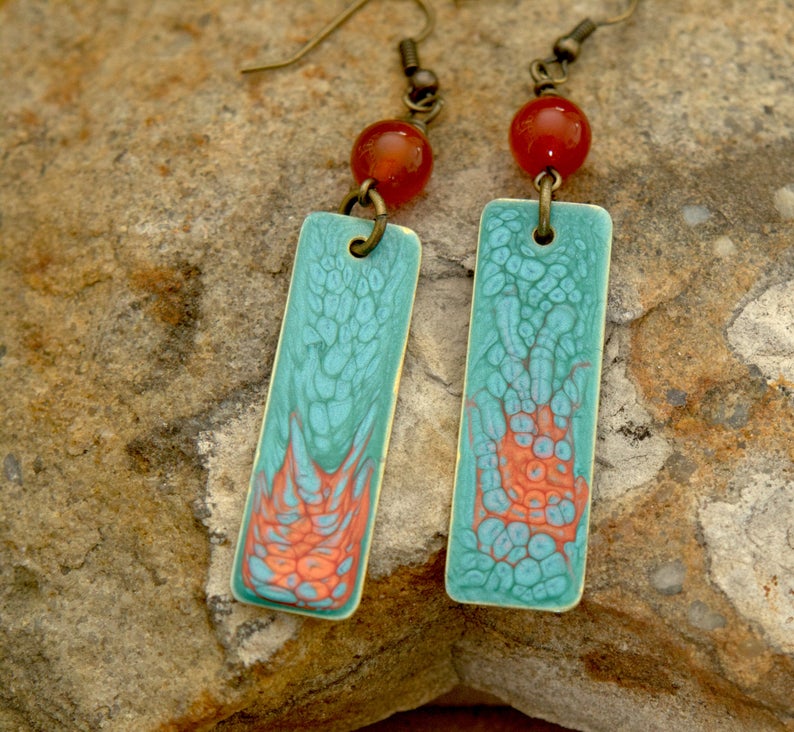 » Tagged:
black raven
,
blue
,
Blue Morning Expressions
,
BlueMorningExpressions
,
ceramic
,
copper
,
Czech glass
,
earrings
,
ELDumont
,
embossed
,
embossed copper
,
feathers
,
gemstones
,
goddess
,
hammered
,
hand painted
,
handmade
,
handmade earrings
,
handmade jewelry
,
jewelry
,
lampwork
,
macaws
,
moon
,
orange
,
pagan
,
polymer clay
,
purple
,
ravens raven
,
red
,
runes
,
Shadow Dog Designs
,
ShadowDogDesigns
,
spiral
,
spiral goddess
,
star
,
Swarovski crystals
,
turquoise
,
yellow