Enjoy
*** FREE SHIPPING ***
for the Holiday Season!
(First Class Ground Advantage - U.S. Only)
Blog entry
Posted July 19, 2020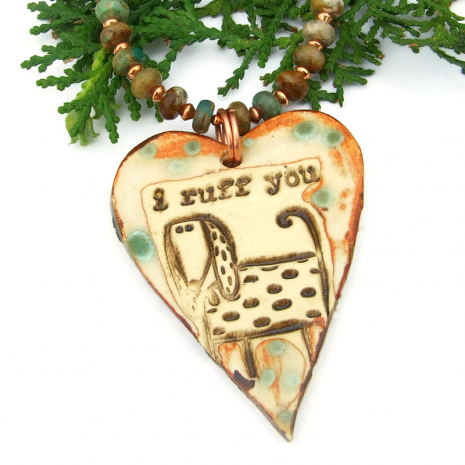 You would seem due sheltering in place because of the COVID-19 pandemic, I'd have more time to create new jewelry and blog. Before, my days were very structured. Now they're not, even though I try to structure them. It seems I find myself saying, "I'll do it tomorrow" . . . and then when tomorrow rolls around, it becomes "tomorrow" again. So, this morning, I sat myself down to create a new blog showcasing the newest pieces of jewelry in my SHADOW DOG DESIGNS shop. Fourteen handmade beauties: nine pairs of earrings, four necklaces and one bracelet. They are all one of a kind creations from a variety of materials including, gemstones, polymer clay, Czech glass, Swarovski crystals and a host of other things. I hope you take the time to browse and to check out all the other jewelry in my shop. After all, Christmas will be here before we know it - get a head start with your holiday shopping! Enjoy.
» Tagged:
blue
,
bracelets
,
bronze
,
carved wood
,
cat
,
colorful purple
,
copper
,
coral
,
Czech glass
,
dahlias
,
dangles
,
dog
,
dog lover
,
dogs
,
dotted
,
earrings
,
enamel
,
feathers
,
flowers
,
Frida
,
Frida Kahlo
,
fuchsia
,
gemstones
,
gift
,
gift for her
,
gift for women
,
handmade
,
heart
,
honey onyx
,
I Ruff You
,
jasper
,
jewelry
,
kitty
,
lampwork
,
lavender
,
lotus
,
magnesite
,
moon
,
necklaces
,
one of a kind
,
paintbrush jasper
,
paw print
,
pink
,
polymer clay
,
red
,
red copper
,
self portrait
,
Shadow Dog Designs
,
ShadowDogDesigns
,
silver
,
silver leaf jasper
,
skulls
,
sodalite
,
spiral
,
star
,
summer
,
sun
,
Swarovski crystals
,
turquoise
,
white
,
yoga