Just in Time for
*** CHRISTMAS IN JULY ***
FREE SHIPPING!
(U.S. Only)
Blog entry
Posted September 5, 2019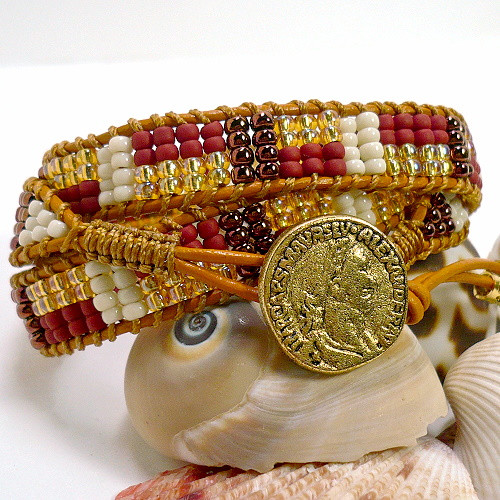 Despite the days still being in the mid- to high-90's here in the Borderlands (unusual here for this time of the year), the last few mornings have had a tinge of autumn in the air. I'm definitely ready for the cooler breezes and being able to leave the windows open. Purple asters will bloom and the cottonwoods will turn a glorious golden yellow. Fall will soon be here (I hope!).
With autumn in mind, I decided to choose handmade beauties in fall colors for this Three for Thursday titles, appropriately enough, Colors for Autumn. The artists today are: Kathy of KatsAllThat; Pamela of MagdaleneKnits; and me, Catherine of Shadow Dog Designs. I hope you enjoy my autumn inspired picks and will visit the shops of the artists for more wondrous handmade fall elegance.
» Tagged:
acorns
,
autumn
,
baby gift
,
beads
,
beret
,
boho
,
bracelet
,
brown
,
burgundy
,
carnelian
,
ceramic
,
citrine
,
Colors
,
copper
,
cranberry
,
crochet
,
Czech glass
,
daisy
,
earrings
,
fall
,
fingerless gloves
,
flower
,
flowers
,
gemstones
,
green
,
handmade
,
infant
,
jasper
,
jewelry
,
KatsAllThat
,
leather
,
MagdaleneJewels
,
necklace
,
orange
,
pink
,
riverstone
,
roses
,
Shadow Dog Designs
,
ShadowDogDesigns
,
Swarovski
,
sweater
,
tea tin
,
Tree of Life
,
Victorian
,
vintage
,
yggdrasil