To celebrate Valentine's Day, President's Day, Mardi Gras and Just Because:
Enjoy
*** FREE SHIPPING ***
(First Class Mail - U.S. Only)
Blog entry
Posted September 3, 2020

"Autumn is a second spring when every leaf is a flower." — Albert Camus


I don't know about you, but autumn is my favorite time of the year, although it's somewhat bittersweet since winter follows. It's a time where the temperatures (at least here in the Desert Southwest) are moderating and thankfully, the gates of the blast furnace of Hell for this extreme heat summer have closed. It's a time for rethinking and replacing plants that didn't make it through this summer. Many people start fall gardens and farmers bring in their harvest. Fall is part of that ongoing cycle of loss, rest, regeneration and, ultimately, regrowth. The Autumn Equinox is a balance between light and dark, a balance between the season that happens again in the spring. And who doesn't love the trees and some shrubs with their gorgeous leaf displays as they prepare for their winter sleep.
» Tagged:
acorns
,
afghan
,
art earrings
,
autumn
,
Autumn Beauties
,
baby girl
,
baby hat
,
barn
,
blanket
,
blog
,
boho
,
bracelets
,
brown
,
citrine
,
cloche
,
copper
,
crochet
,
Czech glass
,
daisies
,
earrings
,
fall
,
fingerless gloves
,
flowers
,
gemstones
,
hand woven
,
hat
,
jewelry
,
Klimt
,
knitted
,
lampwork
,
leaf
,
leaves
,
necklaces
,
note cards
,
orange
,
pearls
,
polymer clay
,
poncho
,
red
,
scarf
,
seed bead
,
Shadow Dog Designs
,
ShadowDogDesigns
,
spiral
,
Swarovski crystals
,
tassels
,
teardrops
,
The Kiss
,
throw pillow
,
topaz
,
Tree of Life
,
turquoise
Posted September 5, 2019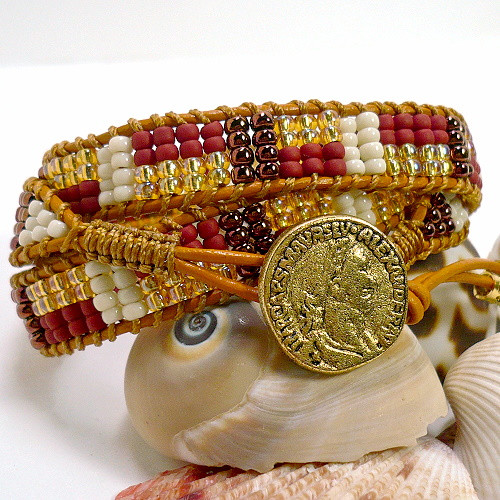 Despite the days still being in the mid- to high-90's here in the Borderlands (unusual here for this time of the year), the last few mornings have had a tinge of autumn in the air. I'm definitely ready for the cooler breezes and being able to leave the windows open. Purple asters will bloom and the cottonwoods will turn a glorious golden yellow. Fall will soon be here (I hope!).
With autumn in mind, I decided to choose handmade beauties in fall colors for this Three for Thursday titles, appropriately enough, Colors for Autumn. The artists today are: Kathy of KatsAllThat; Pamela of MagdaleneKnits; and me, Catherine of Shadow Dog Designs. I hope you enjoy my autumn inspired picks and will visit the shops of the artists for more wondrous handmade fall elegance.
» Tagged:
acorns
,
autumn
,
baby gift
,
beads
,
beret
,
boho
,
bracelet
,
brown
,
burgundy
,
carnelian
,
ceramic
,
citrine
,
Colors
,
copper
,
cranberry
,
crochet
,
Czech glass
,
daisy
,
earrings
,
fall
,
fingerless gloves
,
flower
,
flowers
,
gemstones
,
green
,
handmade
,
infant
,
jasper
,
jewelry
,
KatsAllThat
,
leather
,
MagdaleneJewels
,
necklace
,
orange
,
pink
,
riverstone
,
roses
,
Shadow Dog Designs
,
ShadowDogDesigns
,
Swarovski
,
sweater
,
tea tin
,
Tree of Life
,
Victorian
,
vintage
,
yggdrasil