Please Enjoy
*** FREE SHIPPING ***
(First Class Mail - U.S. Only)
Blog entry
Posted March 26, 2020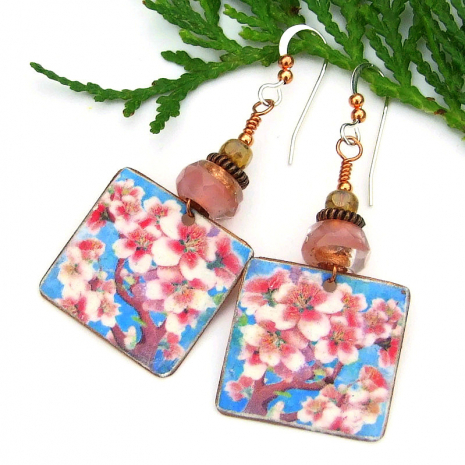 "If we could see the miracle of a single flower clearly, our whole life would change" – Buddha


Spring is in full swing here in the Desert Southwest. Since there was more rain than normal during the winter and on into spring, the flowering trees and the wildflowers, especially the poppies in the Franklin Mountains, have been spectacular. The various cacti and succulents haven't started blooming yet with all their sometimes garish colors, but they should be extra pretty, as well. This time of the year, my thoughts always turn to working in the flower beds, trying to decide where to put "just one more" plant. Watching plants reawaken and start their flowering is indeed a miracle . . . and does change my life for the better.
With flowers in mind, I decided this week's Artisan Handmade Three for Thursday would feature flowers. Three floral inspired handmade pieces, which turned out featuring mostly pink flowers, were chosen from the shops of handmade artisan friends. The artisans are: Jacki of Christie Cottage; Roxanne of watercolorsNmore; and me, Catherine of Shadow Dog Designs. I hope you enjoy the handmade beauties. And be sure to visit the shops of the artists for even more gift ideas - for someone you love or for yourself.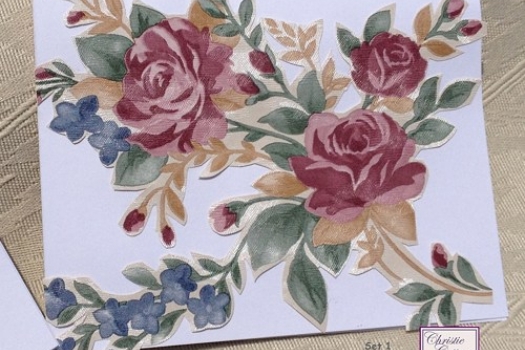 » Tagged:
baby gift
,
baby shoes
,
blue
,
bougainvillea
,
cards
,
cell phone pouch
,
cherry blossoms
,
Christie Cottage
,
ChristieCottage
,
cobalt blue
,
crochet pattern
,
Easter
,
embroidered
,
enamel
,
faux vintage
,
floral
,
flowers
,
gift ideas
,
gifts for Mom
,
gifts for women
,
handmade
,
hibiscus
,
journal
,
lampwork
,
lilies
,
Mothers Day
,
Mothers Day gifts
,
note cards
,
original painting
,
painting
,
pink
,
rose quartz
,
Shadow Dog Designs
,
ShadowDogDesigns
,
Three for Thursday
,
wallpaper vintage
,
watercolor
,
watercolorsNmore
Posted March 29, 2016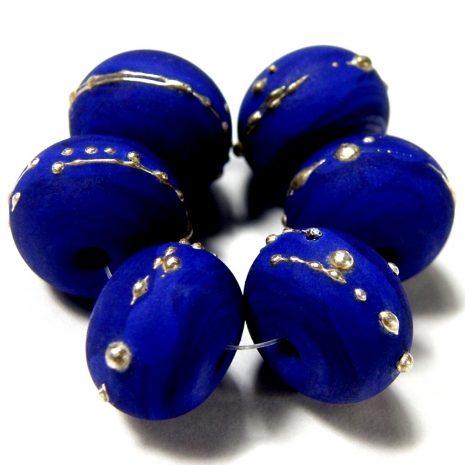 The history of blue is very interesting. If you stop and think about it, there is not a lot of natural blue in nature. Most people worldwide do not have blue eyes, blue flowers do not occur without human tinkering, and blue animals are rare -- birds that are blue only live in certain areas. The sky is blue . . . or is it? One interesting theory suggests that before humans had words for the color blue, they actually saw the sky as another color! This theory is supported by the fact that if you never name the color of the sky to a child, and then ask what color it is, he/she will struggle to describe it. Some describe the sky as colorless and some describe it as white. It seems that only after being told that the sky is blue, and after seeing other blue objects over a period of time, does the sky look blue in their eyes. I wonder now, when I was very young, if I saw the sky as "blue" before or after it was given a color name. Something to ponder over!
» Tagged:
bandana
,
blue
,
bounty of blues
,
bracelet
,
cobalt blue
,
copper
,
dichroic
,
dog
,
earrings
,
handmade
,
history
,
horse
,
Indiemade
,
jewelry
,
knitting
,
lampwork
,
lapis blue
,
necklaces
,
pendant
,
petroglyph
,
pincushion
,
postcard
,
ShadowDogDesigns
,
slippers