Blog entry
Posted September 10, 2020

Anyone who knows me well, knows that red is my favorite color . . . a color I have always adored, even as a small girl who only wanted to wear her "pretty red dress." If my Mom would have let me, I would have worn that "pretty red dress" until it disintegrated on me. Red makes my soul sing.
An artist friend, Jacki of Christie Cottage, listed a beautiful red felted wool pouch recently in her shop, which got me thinking about a new blog featuring the color red. So, here it is: Red, Roja, Rossa, Rouge! The new Red, Roja, Rossa, Rouge (English, Spanish, Italian and French for "red) Three for Thursday post features three items from three artists that feature a hefty dose of red in their handmade designs. The three artists are: Jacki of Christie Cottage; Charlotte of Covergirlbeads; and, me, Catherine of Shadow Dog Designs. I hope you enjoy all these unique handmade designs with blazing red!
» Tagged:
ACEO
,
art
,
artisan
,
boho
,
chandeliers
,
Christmas
,
Christmas earrings
,
earrings
,
enamel
,
felted pouch
,
fine silver
,
glass beads
,
hand painted
,
handmade
,
jewelry
,
lampwork
,
light red
,
medium red
,
Nepal
,
orange
,
pearls
,
pouch
,
red
,
red flint
,
Red Roja Rossa Rouge
,
red rose
,
roses
,
Santa
,
Sherpa
,
Swarovski crystals
,
tags
,
Three for Thursday
,
vintage
,
Volkswagen
,
VW
,
white
,
yellow
Posted December 15, 2018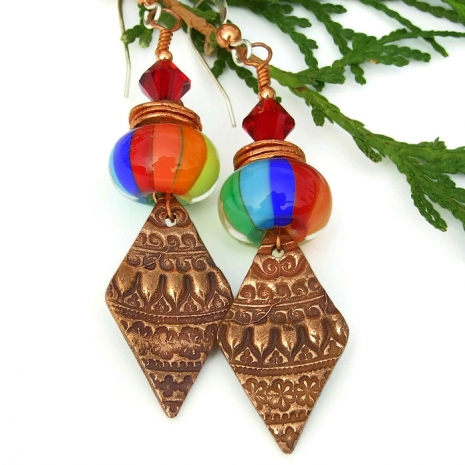 Earrings are always a great gift for the woman who loves to wear them. They come in all sorts of shapes and sizes and colors and price ranges - always something perfect for the intended wearer that won't break the bank. I've featured twelve pairs of earrings that can be found in my Shadow Dog Designs handmade jewelry shop: eight of the newest pairs listed and four sparkling pairs of Christmas earrings. I hope you enjoy browsing the beauties . . . and maybe at least one pair finds its way into your shopping cart and then under the Christmas tree.
» Tagged:
artisan
,
black
,
Christmas
,
Christmas earrings
,
Christmas gifts
,
Christmas jewelry
,
Christmas tree earrings
,
Christmas trees
,
copper
,
cross earrings
,
crosses
,
Czech glass
,
dog
,
dogs
,
earrings
,
elephants
,
flowers
,
frosted
,
gift ideas
,
gifts for her
,
gifts for women
,
green
,
handmade
,
holidays
,
jewelry
,
lampwork
,
love
,
matte
,
ornaments
,
pansies
,
pansy
,
paw prints
,
rainbow
,
red
,
Santa
,
Santa earrings
,
Shadow Dog Designs
,
ShadowDogDesigns
,
sterling silver
,
Swarovski crystals
,
teardrops
,
turquoise
,
white
,
word earrings