Blog entry
Mother's Day will soon be here. Treat your Mom to one of a kind, handmade jewelry!
Use the coupon code LOVEMOM10 for 10% off your total order AND free shipping.
Posted December 7, 2016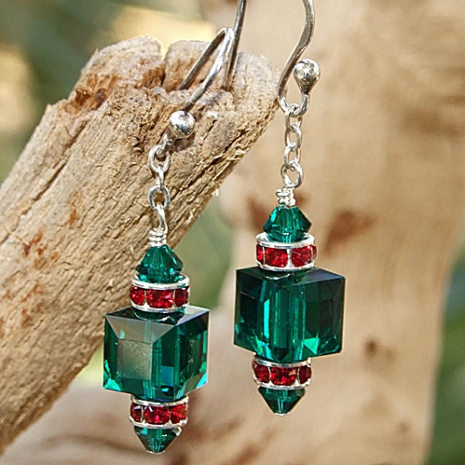 Red and green are colors that are closely associated with Christmas. Last week I shared how red became a Christmas color. You can read that post here: Think Red for Artisan Christmas Gifts. This week, green, the other Christmas color, is explored mainly through the symbolism of holly, mistletoe and evergreen trees.
The color green and its association with the time around Christmas has a pre-Christian origin, more specifically tied to the Winter Solstice. Evergreen plants, like holly, mistletoe and pine, spruce or fir trees have been used for thousands of years to decorate and brighten up buildings during the long, dark, cold winter when life could be very tenuous. Ancient peoples were scared of the short days and freezing nights and mistakenly believed that the Sun might disappear altogether. Evergreens reminded people that spring would come and that winter wouldn't last forever. Historical records show that the Romans wove wreaths of holly to hang on their walls and doors to celebrate the winter solstice / Saturnalia. They also exchanged evergreen branches as a sign of good luck. The ancient Egyptians would bring green date palm branches into their homes during their mid- winter festivals as a symbol of "life triumphant over death." To the ancient people, the color green represented life, nature, peace, eternity and the hope of the future.