Christmas Red - Wonderful Handmade Wednesday on Indiemade
Posted November 29, 2017

As everyone is aware, the color combination of red and green is closely associated with the Christmas season. From ancient history to modern time, color has been an integral part of cultural awareness and even an understanding of life. The meaning of colors touched all members of society, conveying deep messages that everyone could "read": at one time, only royalty could wear the color purple and the red robes worn by Catholic Cardinals signifies the blood of Christ, even to this day. The red and green color combination can be traced to the Mabinogion, a collection of Welsh stories from the 13th century. And these stories were most likely based on an oral tradition that dates back to the pre-Christian Celts many centuries before where a half-red, half-green tree figures prominently in one of the tales. In pre-Christian times, red represented male strength and desire and green represented female harmony and fertility.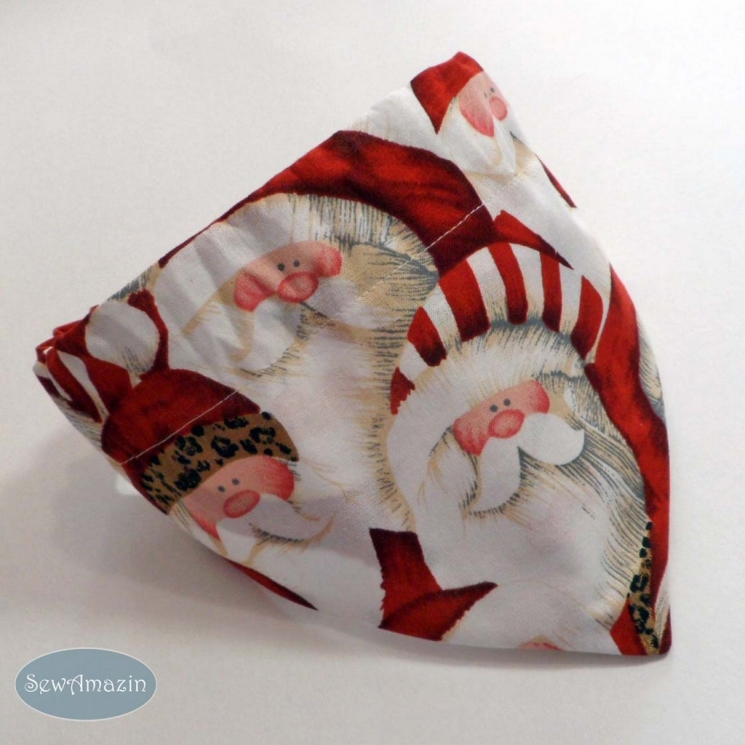 Santa Claus Christmas Dog Bandana Handmade by Donna of SewAmazin
Some scholars believe the modern tradition of red and green at Christmas dates all the way back to the 1300s. To educate a largely illiterate population who could not read the Bible (or much of anything else), churches would present Mystery Plays. One popular Miracle Play performed on Christmas Eve was called The Paradise Play and told the story of Adam (in Hebrew, his name means either "man" or "red") and Eve in the Garden of Eden. God instructed Adam and Eve not to eat the forbidden fruit from the Tree of Good and Evil, but they did and were banished from paradise. The play ended with the promise of the coming Savior. Since apples, once picked and stored properly, would last through a good part of the winter, churches would bring in pine trees and fasten red apples to their branches to represent the Tree of Good and Evil. Over time, people began to copy this practice in their own homes, developing the tradition of the Christmas tree and using red and green as Christmas colors.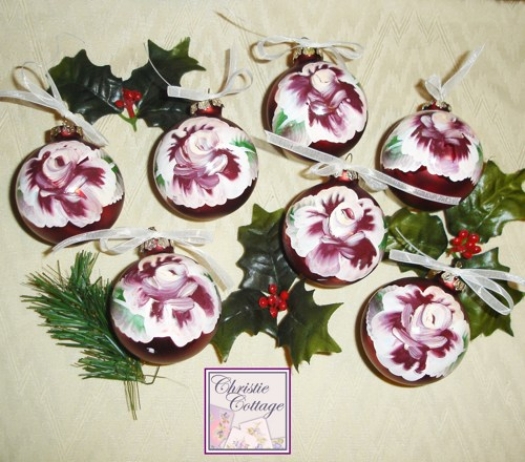 Red and White Roses Glass Christmas Ornament Hand Painted by Jacki of Christiie Cottage
Red is an important symbol of Christ's birth and death and also reminds the world to celebrate His selfless love and sacrifice. Red also symbolizes His teachings of the love for humanity and the world, a love that is unconditional. Red holly berries, the red robes of bishops and red apples on the pine trees of medieval Miracle Plays were the forerunners of Rudolph's red nose and Santa's red suit in modern times.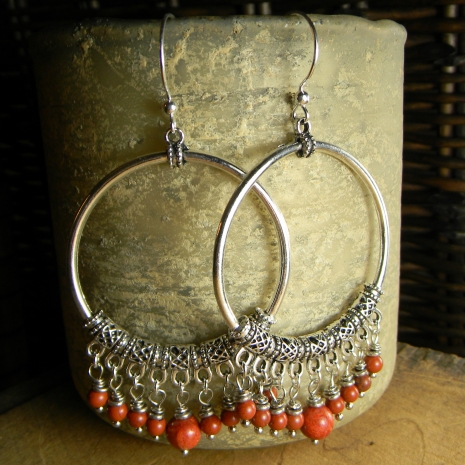 Red Jasper, Sterling Silver and Pewter Tejana Mexican Hoop Earrings Hoops Handmade by Gloria of Chrysalis Tribal Jewelry
In fact, St. Nicholas of Smyrna, who lived in the 4th century, was the forerunner of Santa Claus. Since St. Nicholas was a bishop, he wore red robes and was known for his kindness and generosity in giving gifts to those in need, especially children. He was revered until the Reformation in the 1600's where the man of the legend was changed to Father Christmas (who actually dressed in several different robe colors, including red). In the early days of the United States, his name was Kris Kringle until Dutch settlers came to the U.S. with Sinterklaas or (as we now say) Santa Claus. In the mid-1800's the image of Santa was created by Thomas Nast and Santa first appeared on a Christmas card designed by Louis Prang in 1885. Despite all these name changes, red always figured prominently in most clothing choices.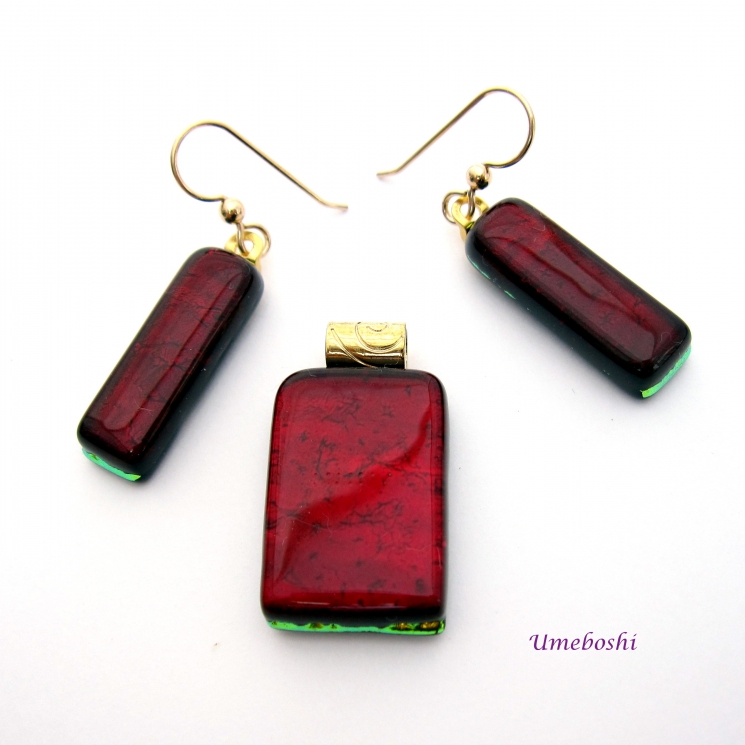 Candy Apple Red Dichroic Glass Jewelry Set wih Pendant and Dangle Earrings Handmade by Jo of Umeboshi Jewelry Designs
In Mexico, the red poinsettia, which grows wild in regions, is a common Christmas decoration - the yellow center against the red reminds families of the star that hovered over Bethlehem. The red amaryllis and red Christmas cactus also are much used to decorate. In Argentina, red and white garlands are hung over doorways during November and December. In Ireland, red candles with a sprig of holly are placed in windows on Christmas Eve, as a guide for Joseph and Mary.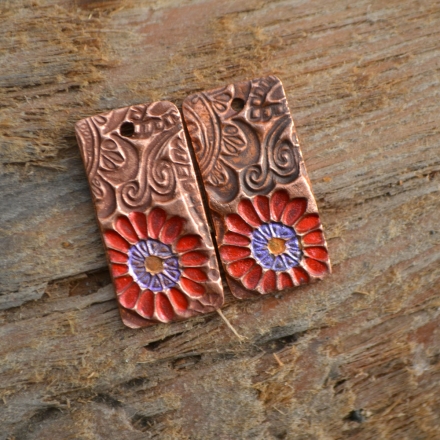 Colorful Copper Red and Purple Flower Garden Rectangles, 1 Pair, Handmade by Kristi of Krist Bowman Design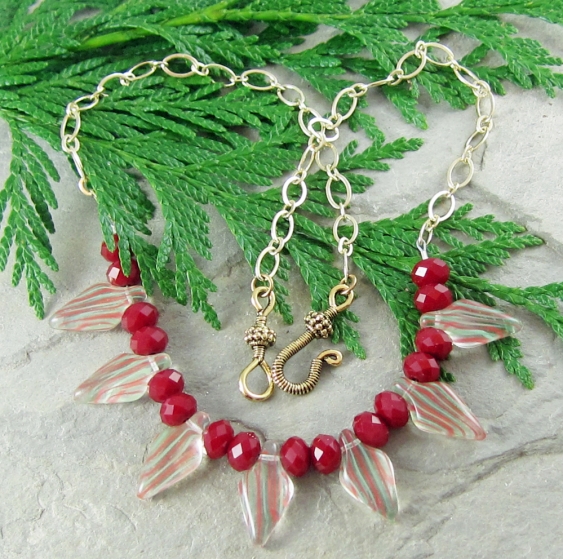 Elegant Red Crystal Christmas Necklace with Green and Gold Handmade by Linda of Linda Landig Jewelry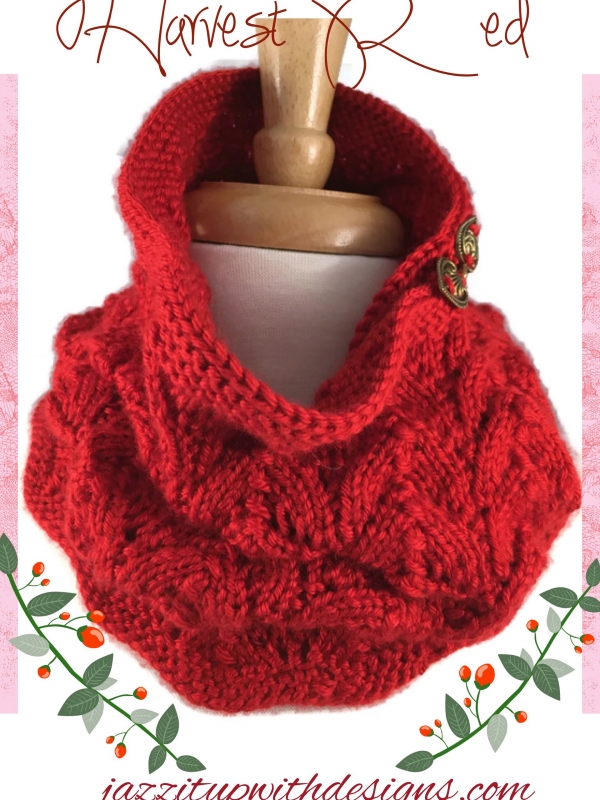 Hand Knit Women's Red Cowl / Scarf with Leaf Side Fastener Handmade by Nancy of Nancy's Knots, Lace and More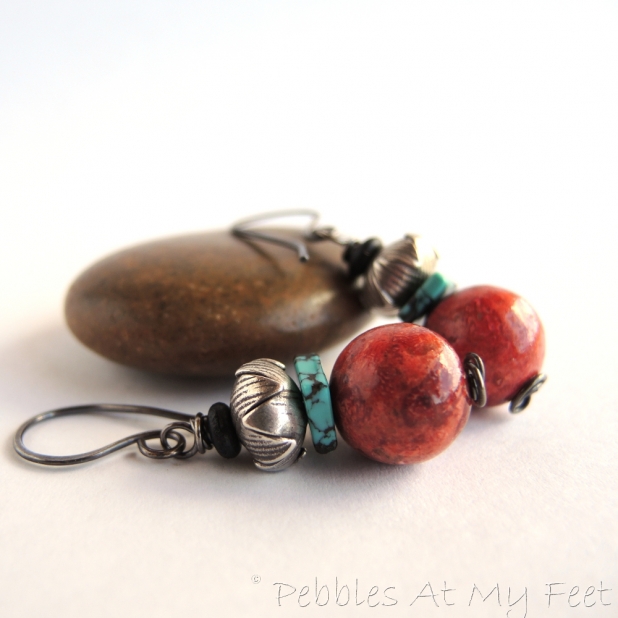 Red Wooden Bead Earrings with Turquoise and Fine Silver Flower Beads Handmade by Pamela of Pebbles at My Feet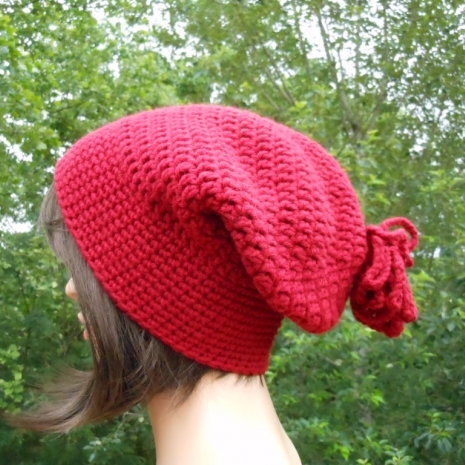 Hand Crocheted Claret Red Slouchy Hat Handmade by Cahy of CraftingMemories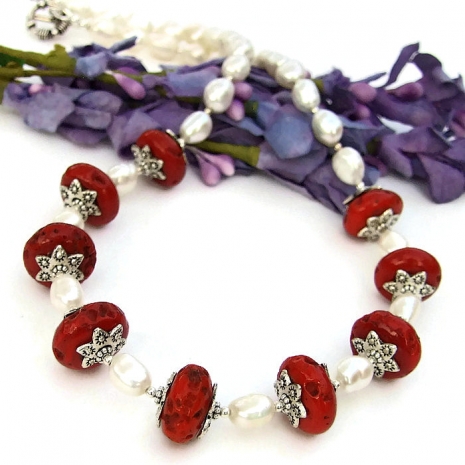 Red Nepal Sherpa Glass Bead and Pearl Necklace Handmade by Catherine of Shadow Dog Designs
I hope you enjoyed each and every one of these artisan handmade creations featuring Christmas red! If you would like to make my day and the day of the talented artists featured, please leave a comment. And any promotion you can do will be greatly appreciated. Thanks!
My contact information:


» Tagged:
Christmas
,
Christmas ornaments
,
Christmas red
,
copper flowers
,
cowl
,
dichroic
,
dog bandana
,
earrings
,
gift ideas
,
handmade
,
history
,
jewelry
,
knitted
,
Mystery Play
,
necklaces
,
pendant
,
Santa
,
scarf
,
Shadow Dog Designs
,
ShadowDogDesigns
,
Sherpa beads
,
slouchy hat
» Share: