For the
CHRISTMAS HOLIDAY SEASON
Use Coupon Code
HOLIDAYS10
for
10% Off
at Checkout
and
FREE SHIPPING
!
Orders $60.00 or more are automatically upgraded to Priority Mail at no extra charge
(Free Shipping U.S. Only)
Blog entry
Posted December 5, 2016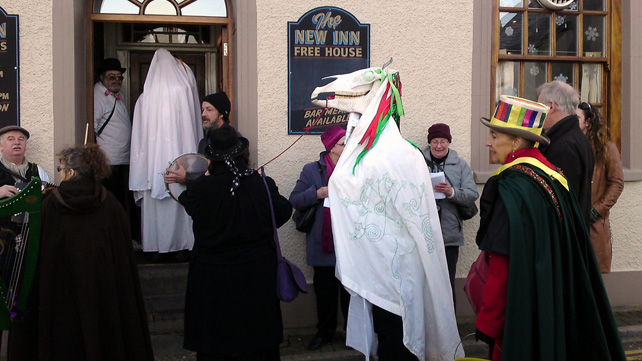 The Mari Lwyd entering a bar as part of Christmas celebrations in Llantrisant; photo by visitwales.com
Y Nadolig (Christmas) celebrations in modern times in Wales are similar to the celebrations in the rest of Great Britain. Several days before Christmas, a small tree (sometimes artificial) is hung with lights, ornaments and trinkets. Paper decorations and streamers often lavishly decorate the rooms of the house. Gifts are exchanged on Christmas Day. The Christmas meal traditionally consists of roast turkey with all the trimmings, a wide array of vegetables, followed by a Christmas pudding with brandy sauce. BUT . . . it is the older traditions that are the most interesting to me, some of which are still practiced, some of which are making a comeback and one, thankfully, that has fallen by the wayside (for obvious reasons, as you will see). As with all traditions, the same tradition can be different in different parts of the country. I chose my favorite to share here.