Countdown to Christmas - Week 12 - Wales
Posted December 5, 2016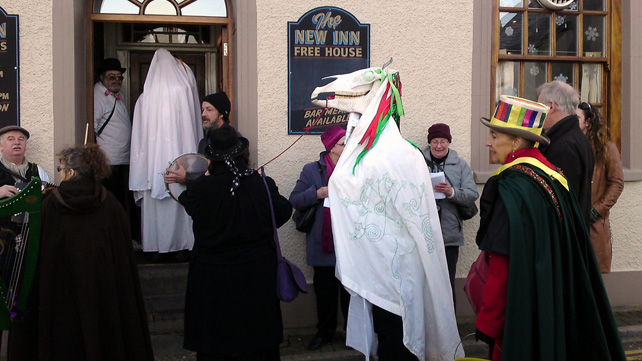 The Mari Lwyd entering a bar as part of Christmas celebrations in Llantrisant; photo by visitwales.com
Y Nadolig (Christmas) celebrations in modern times in Wales are similar to the celebrations in the rest of Great Britain. Several days before Christmas, a small tree (sometimes artificial) is hung with lights, ornaments and trinkets. Paper decorations and streamers often lavishly decorate the rooms of the house. Gifts are exchanged on Christmas Day. The Christmas meal traditionally consists of roast turkey with all the trimmings, a wide array of vegetables, followed by a Christmas pudding with brandy sauce. BUT . . . it is the older traditions that are the most interesting to me, some of which are still practiced, some of which are making a comeback and one, thankfully, that has fallen by the wayside (for obvious reasons, as you will see). As with all traditions, the same tradition can be different in different parts of the country. I chose my favorite to share here.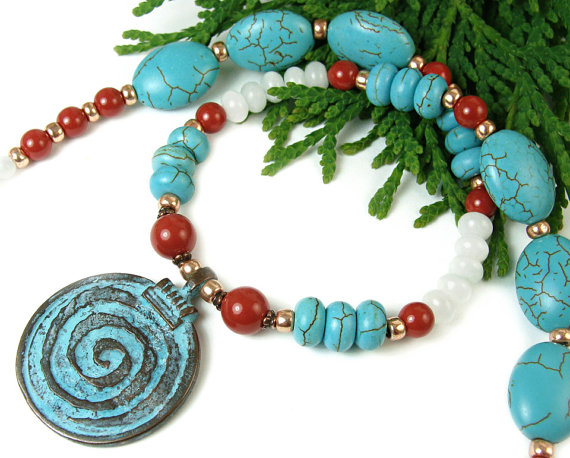 Mykonos Spiral Pendant, Red Coral Pearls, Quartz, Turquoise Magnesite and Howlite Necklace Handmade by Mary of PrettyGonzo
Noson Gyflaith
A traditional Christmas Eve festivity, mainly in some areas of north Wales, was Noson Gyflaith (Toffee Evening). Families would invite friends to their homes for a Christmas Eve dinner followed by playing games, storytelling and making toffee. When the ingredients for the toffee had boiled to the required temperature, it was poured onto a well-greased slate or stone slab. The hearth stone was often used for this purpose in some cottages. Hands were heavily buttered and the toffee was "pulled" while it was quite warm. It was a skilled art to pull and twist the toffee until it became golden yellow in colour. Both the skilled and unskilled would take part in the toffee pulling; the unskilled being a source of banter and the skilled being a source of envy. Here is a recipe for traditional Welsh toffee: Welsh Toffee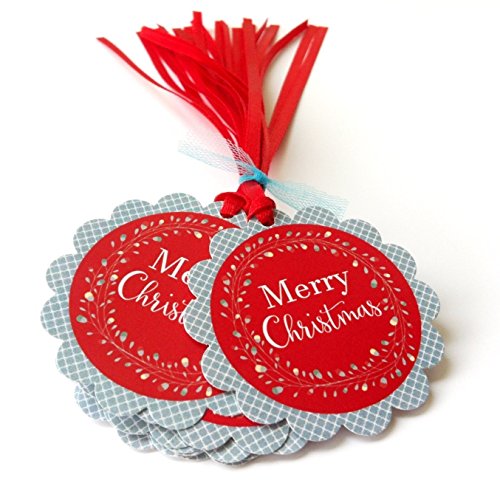 Red and Blue Merry Christmas Holiday Gift Tags - Set of 12 - Handmade by Nat of Adore By Nat
Plygain
Attending a plygain service from 3am to 6am on Christmas morning was once a key festive tradition in 19th century rural Wales. Fortunately the custom never completely died and is being revived all over Wales, now being held in a six week period around Christmas. The word "plygain" is thought to come from the Latin words pulli (cock) and cantus (song): "cock crow" since the service occurred before or at dawn on Christmas morning. Except for an introductory prayer and final blessing, the plygain service is not led by a priest or minister, but by the singers. Traditionally the singers were only men, but, in some areas, women are now allowed to sing. The carols are sung as solos, duets, trios, or in larger groups, but always a cappella (no instrumental accompaniment).
Each group of singers is called a parti (party). Without a word being said, one parti will stand up, move to the front and present a carol. When they finish, another party will come forward. Once all the partis have come forward, another round will start in exactly the same order of presentation. There may be eight, ten or more partis participating. The service will usually consist of two, sometimes three rounds, and will typically last up to two hours. There is one fundamental rule: a carol CANNOT be repeated at the same event. Even if a parti has spent hours preparing a carol, they must not sing it if another parti beats them to it. In the old days, a good number of the plygain partis were members of the same family. The carols they sang were often handed down in the family through generations and it would have been unthinkable for these tunes to be used by another parti. When the rounds have been completed, the blessing is given and all those who have presented are invited to join together to sing the Carol Y Swper (Supper Carol) to mark the end of the service. After the service, a day of feasting, drinking and merriment begins. Here is a video describing plygain: Singing Tradition: Welsh Plygain Carol and a video of a parti singing a beautifully haunting song: Parti Fronheulog: Carol Plygain: 'Ar Gyfer Heddiw'r Bore'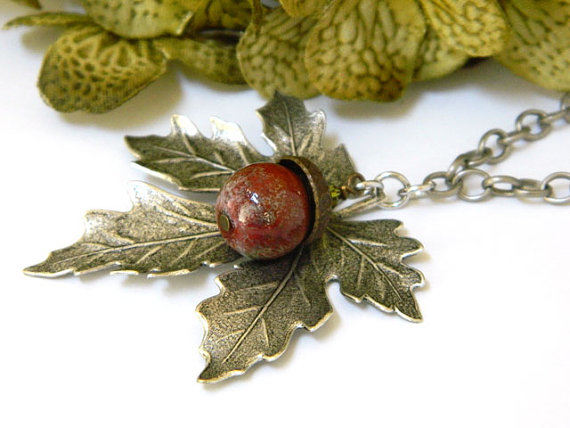 Pewter Maple Leaf Pendant Necklace with Artisan Lampwork Bead Handmade by Sharon of BlondePeachJewelry
Holming
The day after Christmas, Gwyl San Steffan (St. Stephens Day; Boxing Day) was celebrated in early 19th century Wales with the unpleasant ritual of "holming" or "holly beating." Thankfully now a custom of the past, young men and boys would cut switches from holly bushes and then roam the village attempting to raise bloody welts on the arms or bare legs of females. The last person to get out of bed was also fair game. Domestic animals, including horses and cows, would also be bled. The ceremony reputedly brought good luck during the coming year. Not surprisingly, holly-beating disappeared in the late 19th century.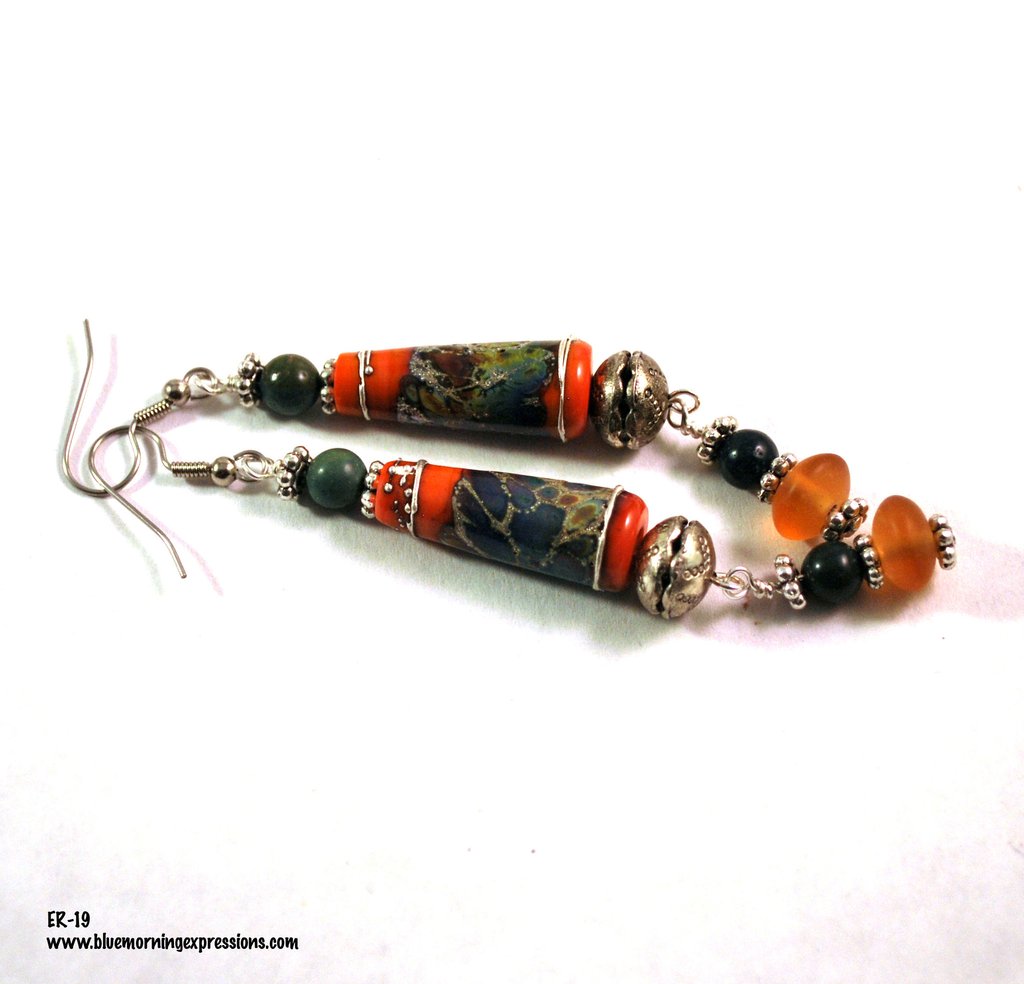 Artisan Lampwork Glass and Picasso Jasper Boho Dangle Earrings Handmade by Julie and Blu of Blue Morning Expressions
Hela'r Dryw
Another custom, carried out either on
Gwyl San Steffan
or on Epiphany (January 6th), was known as
Hela'r Dryw
(Hunting of the Wren). Sometime during the day, young men would capture a wren. In the olden days, since the wren was believed to be sacred to the Druids, the bird was sacrificed in a solemn ceremony and carried through the village to ensure the return of the sun, abundant crops and healthy animals in the year to come. In later years, a live wren was placed it in an ornate container or specially built cage (the wren house) and carried on a bier by men throughout the village. The men sang songs and offered to display their "cumbersome" burden in exchange for small gifts or money. The wren was released. The custom had pretty much died out but now has been revived in some areas of Wales. Now, the wrens are often replaced with the easier to find sparrow (neither bird killed) or even wren carvings.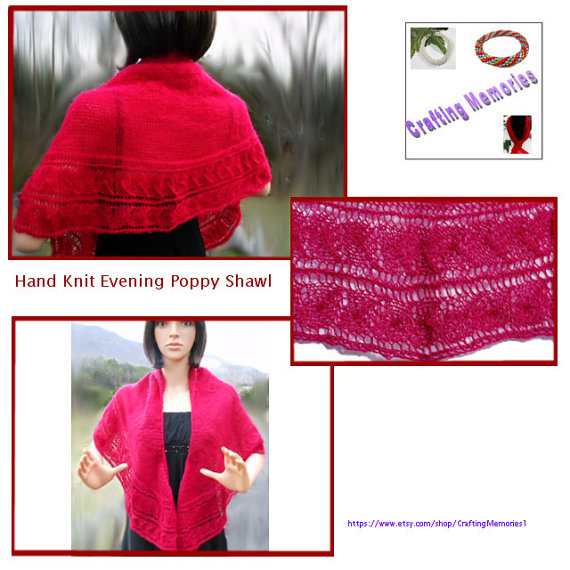 Poppy Red Hand Knit Evening Shawl Handmade by Cathy of CreatingMemories1
Mari Lwyd or Y Fari Lwyd
A New Year's Eve custom that almost died out but is now seeing a resurgence is the Mari Lywd or Y Fari Lwyd (the Grey Mare or the Grey Mary). The tradition of the Mari Lwyd has pre-Christian origins. In Celtic Britain, the horse was seen as a symbol of power, fertility and prowess on the battlefield. In Celtic mythology, animals who had the ability to cross between this world and the underworld (the Celtic Annwn) are traditionally white or grey colored. The non-pagan story behind the legend is that the Mari was cast out of the stable in Bethlehem to make room for the birth of the Christ Child. Ever since that night, she has roamed the world looking for a place to give birth to her colt.
The skull of a horse with fake ears and eyes was arranged on the end of a pole so the jaws can be snapped open and shut by the bearer. Colorful ribbons and bells are attached, along with a white sheet. The Mari Lwyd is carried from house to house and pub to pub, accompanied by a party of people, trying to gain access by challenging the inhabitants to a series of pwnco (verses and, possibly, insults) recited in Welsh. The inhabitants reply with their own verses in a battle to outwit the Mari and her gang and to prevent her from entering. If the Mari could "subdue the inmates with superior witticisms and extempore humorous rhymes" the party would be invited inside. Win or lose, she will be let in anyway since she confers luck to the household for the coming year and scares out anything unwanted from the previous year. Once inside, more songs are sung and the group is given food and drinks. The Mari can become quite mischievous and seems to take particular fancy to young women, chasing them and generally causing trouble. Here is a 15 minute Mari Lwyd video: Mari Lwyd at The Brit pub Cwmavon | Buskermove and here is a rather sad video dealing with the legend of Mari Lwyd with an original song: Mari Lwyd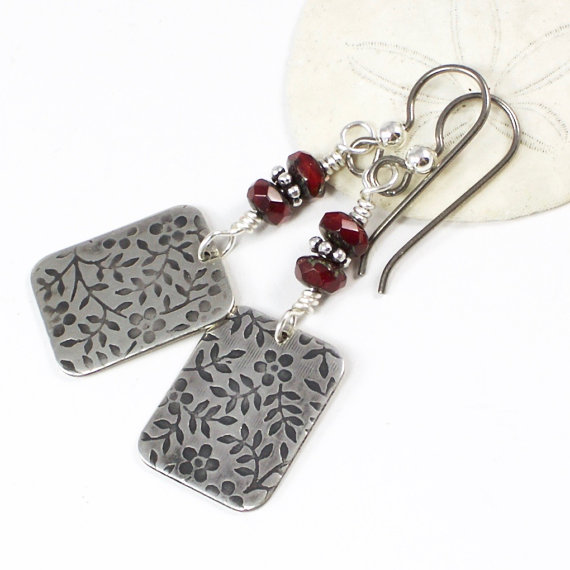 Sterling Silver Floral Charms and Red Opaline Czech Glass Earrings Handmade by Barbara of SolanaKaiDesigns
Calennig
The most popular Dydd Calan (New Year's Day custom was one that was carried out in all parts of Wales: the calennig (small gift). The giving of gifts on New Year's Day is an ancient custom. Started as a Roman custom of giving olive branches on New Year's Day as a symbol of peace, calennig slowly evolved into an apple representing good luck. A calennig is an apple with a tripod of three twig legs, studded with cloves and almonds and a small spray of evergreen or box inserted at the top. Children would form groups and go from house to house carrying a calennig. Verses of good wishes for the health and prosperity of the family during the year to come were sung at the doors of the houses. The children would receive small gifts of food, candies or money for their troubles. Calennigs would then be displayed in the home or maybe delivered to friends as a symbolic gift. It was believed to be a token of good crops in the coming year.
Merry Christmas in Welsh: Nadolig Llawen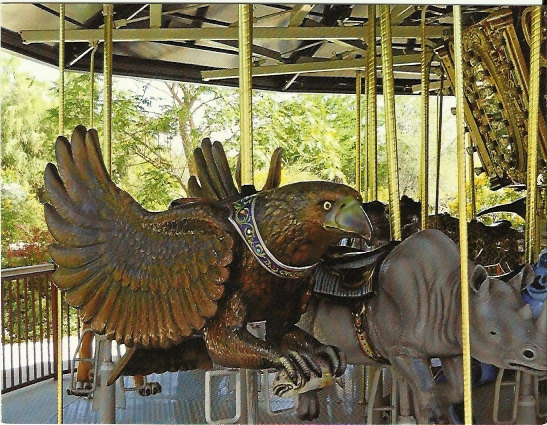 Eagle on Marilyn's Merry-Go-Round at The Living Desert Palm Desert California Fine Art Postcard Handmade by Colleen of postcardsintheattic
Now, onto the final Countdown to Christmas 2016 - Week 12, filled with artisan handmade items (see above and below), perfect ideas for Christmas gift giving.
With the Christmas gift giving season already here, Julie and Blu of Blue Morning Expressions are hosting a twelve-week Countdown to Christmas 2016 on their The Blu Print blog. The twelve week time period was chosen to correspond with the Christmas carol "The Twelve Days of Christmas." This week, there were 57 shares by artists of a wide range of handmade gift ideas: jewelry of all types, pet themed gifts, crocheted and sewn beauties, favor tags, paintings, photography, vintage items, lampwork beads and a whole host of other items.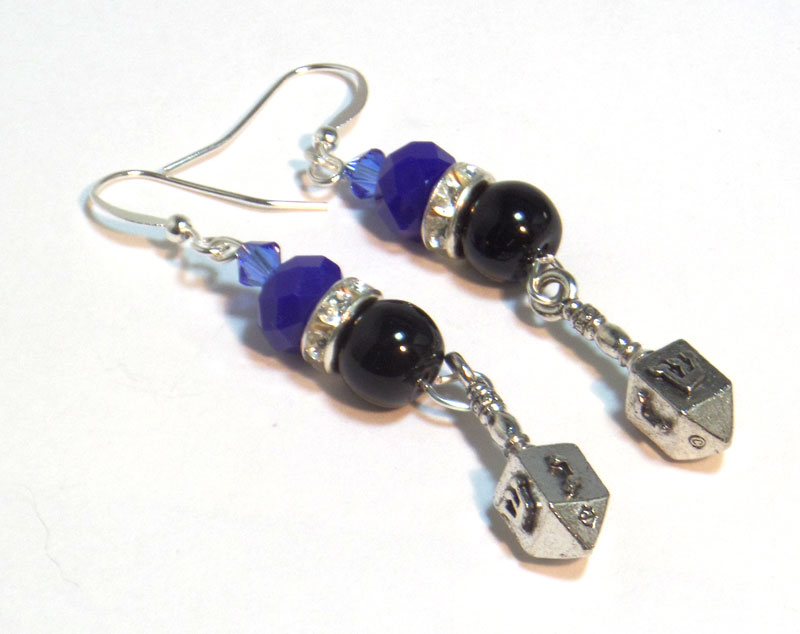 Dreidel, Crystal and Sterling Silver Earrings Handmade by Linda of Linor Store Jewelry
Shop owners on Indiemade, ArtFire, Zibbet, Etsy, SupaDupa, stand alone websites and the like are welcome to share up to three gift items on the Countdown between Friday afternoon at 12:00 p.m. (Eastern time) and Sunday night at 11:59 p.m. Then a new collection of gift items will begin again the next Friday. This will continue until the first weekend in December. The items shared need to be G-rated.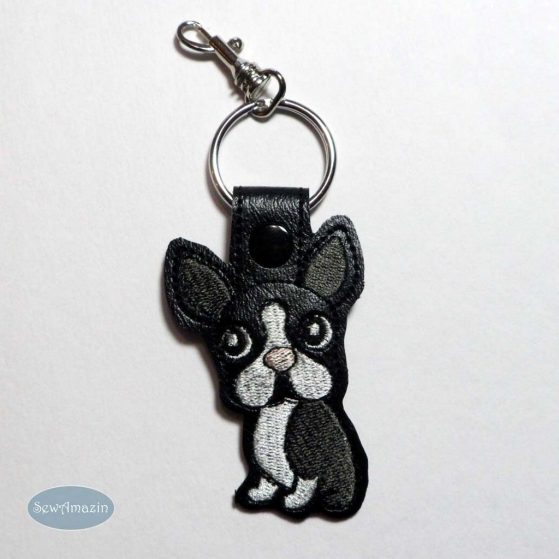 Boston Terrier Dog Breed Key Fob / Purse Charm Handmade by Donna of SewAmazin
If you share items on the Countdown to Christmas you MUST promote the collection and EACH item on at least one social network site, preferably Pinterest where the items can be easily seen and then saved again. It's only fair to promote each of the participants who have promoted you!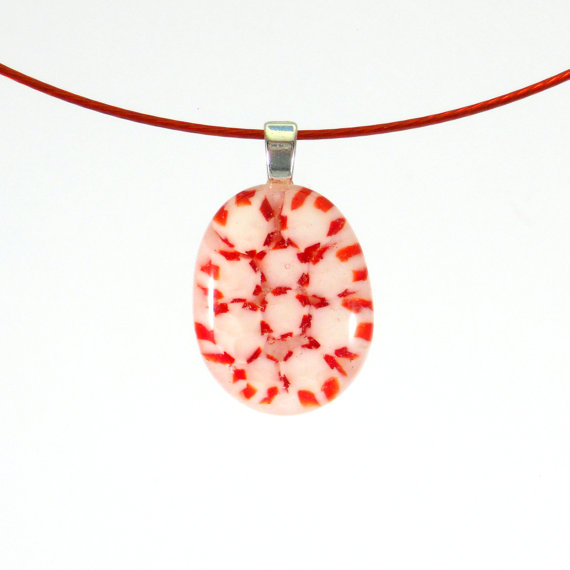 Red and White Christmas Peppermint Candy Cane Fused Gass Pendant by Kellie of ResetartGlassArt
In addition to saving each item from the Countdown collection to my Pinterest board and Wanelo collection, I decided to share one item from each of the artists who participated. Here are the rest of the items I'm featuring this week, in an order that was arranged by assigning each item a number and then drawing numbers from my trusty "numbers" bowl. Enjoy!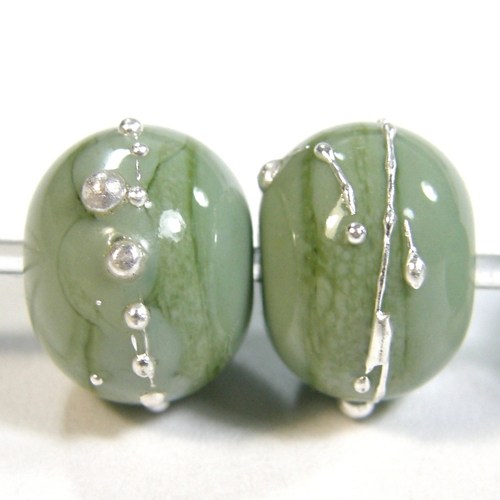 Grayish Moss Green Lampwork Glass Beads with Fine Silver Handmade by Charlotte of Covergirlbeads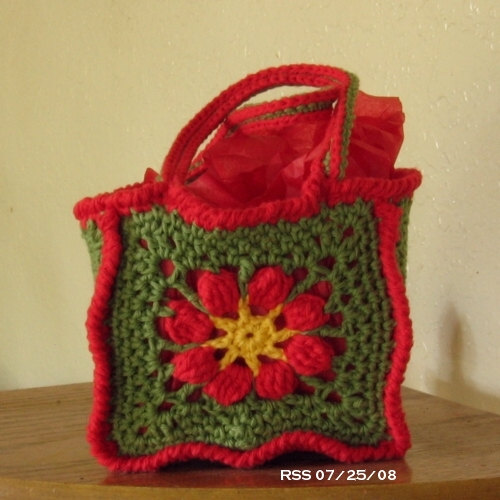 Crocheted Red and Green Cotton Poinsettia Small Tote Bag Handmade by Ruth of RSSDesignsInFiber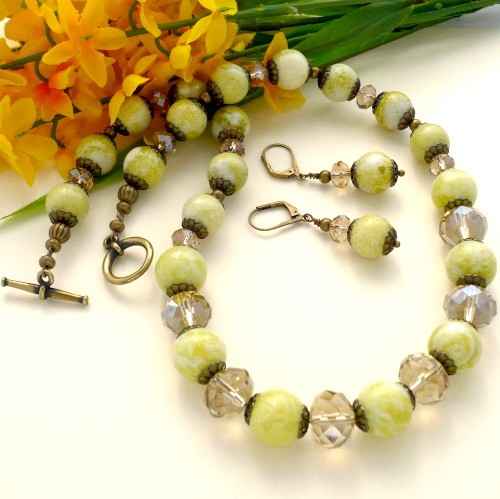 Lemon Jasper and Khaki Quartz 19 inch Chunky Necklace and Earrings Jewelry Set Handmade by Kathy of KatsAllThat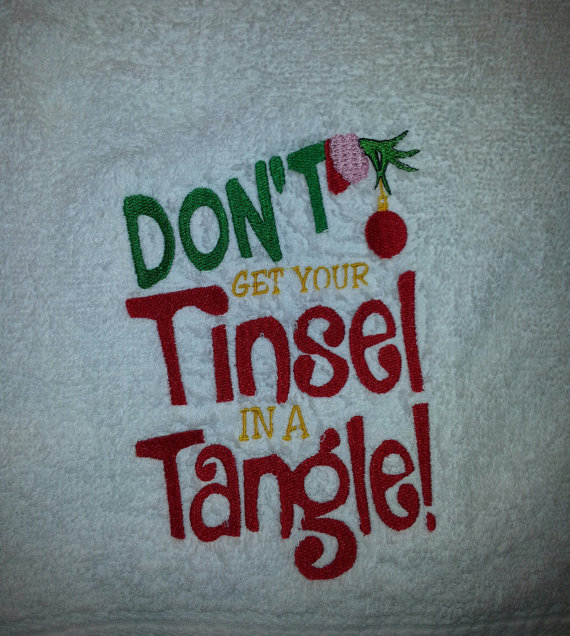 Don't Get Your Tinsel In A Tangle Embroidered Hand Towel Handmade by Mary of SimpleEmbroiderySew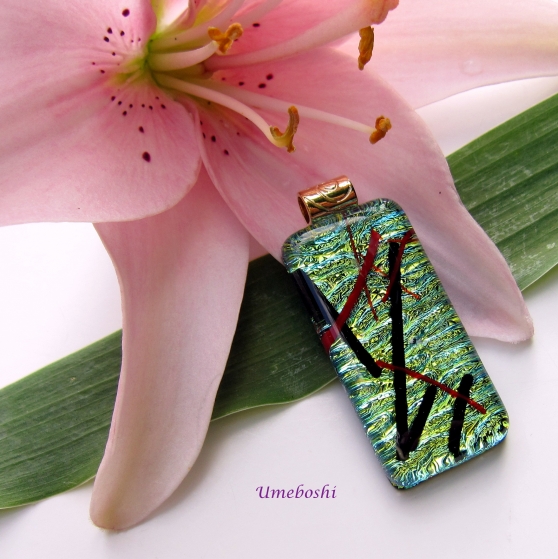 Kyoto Pond Dichroic Fused Glass Jewelry Pendant Handmade by Jo of Umeboshi Jewelry Design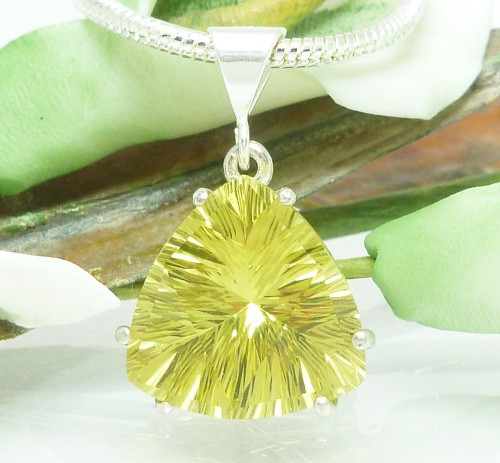 Lemon Quartz Quantum Trillion Sterling Pendant Necklace, 14mm x 14mm, Handmade by Diane of dianesdangles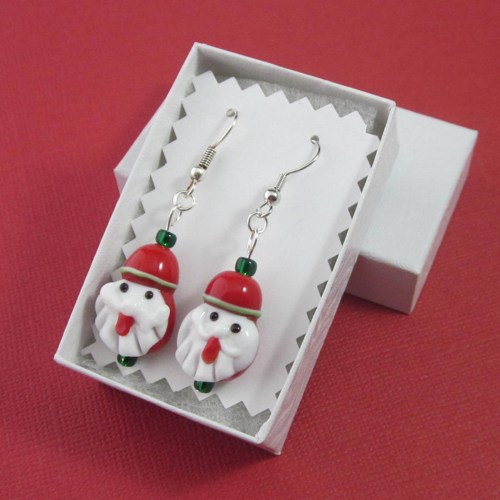 Whimsical Lampwork Santa Face Earrings Handmade by Connie of TheSingingBeader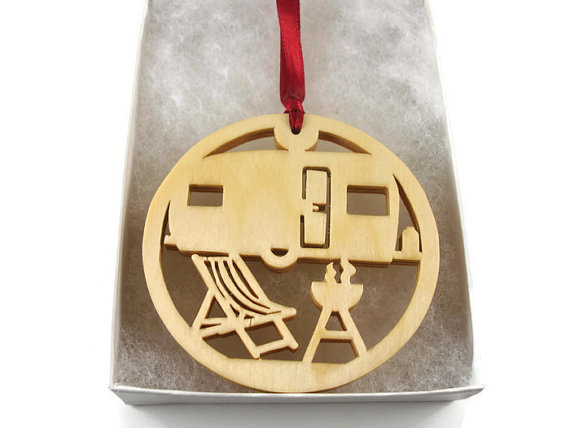 Camping Scene With Campfire Christmas Ornament From Birch Wood Handmade by Kevin of KevsKrafts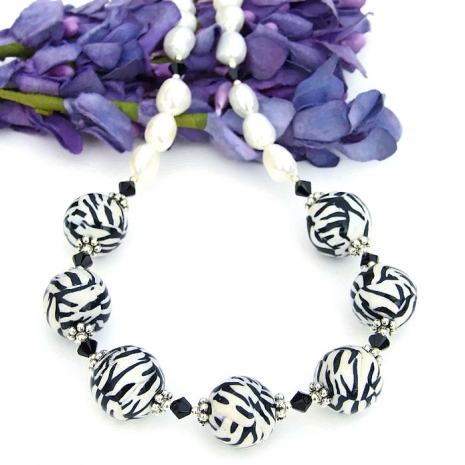 Black and White Zebra Stripe Polymer Clay Bead Necklace with Pearls and Swarovski Crystals Handmade by Catherine of Shadow Dog Designs
I hope you have enjoyed this sampling of some of the handmade gift items that can be found in the Countdown collection hosted by Julie and Blu of Blue Morning Expressions. To see all the items in the collection, please click here: Countdown to Christmas 2016 - Week 12. I hope that at least one, maybe more, items piqued your interest and made its way to your shopping list.
And I want to thank Julie and Blu for hosting another year's Countdown to Christmas! All of your hard work is greatly appreciated! Treats to the handsome Blu for all his four-footed devotion.
If you are so inclined, please make my day and leave a comment (: Also any promotion will be greatly appreciated by everyone featured in this post. Thank you!
» Tagged:
Blue Morning Expressions
,
BlueMorningExpressions
,
Christmas
,
Christmas gift ideas
,
Christmas gifts
,
Countdown
,
gift ideas
,
gifts
,
handmade
,
holiday gift ideas
,
holiday shopping
,
holidays
,
Indiemade
,
Shadow Dog Designs
,
ShadowDogDesigns
,
Wales
» Share: