Enjoy
*** FREE SHIPPING ***
for the Holiday Season!
(First Class Ground Advantage - U.S. Only)
Blog entry
Posted June 14, 2017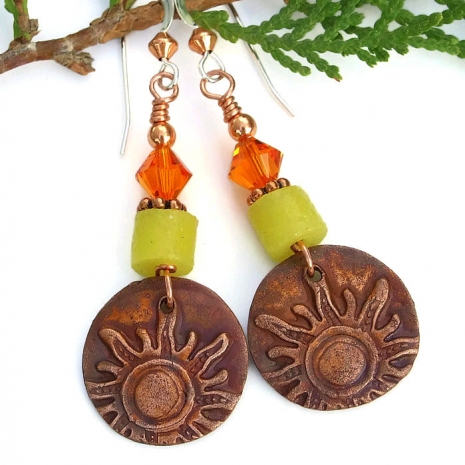 With the summer solstice rapidly approaching, I decided it was time to feature hot, hot, HOT colored artisan handmade items in oranges, reds and yellow. But before I do, (since I am a huge science geek), I thought I'd share a bit of about sunrises, sunsets and the summer solstice. The solstice here in the Texas Borderlands will take place on Tuesday, June 20, 2017 at 10:24 pm MDT. Most people think that, because the solstice signifies the longest day of the year (or the shortest, in the southern hemisphere), the earliest sunrise and the latest sunset happens on that day. But that is not true. The exact date of earliest sunrises and latest sunsets varies with latitude. At mid-northern latitudes (say Philadelphia at 40 degrees north latitude), the earliest sunrises of the year happens on June 14 and the latest sunset on June 27. The farther south you go in latitude, the earlier the earliest sunrises become and the later the latest sunset are. For instance, the earliest sunrise here in El Paso has already passed - on June 11 - and the latest sunset isn't until June 30.