Blog entry
Posted July 2, 2020

It's hard to believe that it's already the first day of July (when I wrote this) with the 4th of July just around the corner. When you mostly are self-isolating, one day looks pretty much like the next. But July 4th will be here this Saturday and I'm looking forward to sitting on the upstairs back porch and watching at least three fireworks shows from the comfort of our own house. Seamus the Moose Dog will sit out there with us - fortunately he is not bothered by the booming noises fireworks can make.
Since the 4th will be here very soon, I wanted to feature three red, white and blue items from three artist friends. The artists are; Charlotte of Covergirlbeads; Pamela of MagdaleneKnits; and me, Catherine of Shadow Dog Designs. I hope you enjoy this selection of patriotic colored items and will visit the shops (and hopefully purchase) a beauty there.
» Tagged:
4th of July
,
afghan
,
baby gift
,
baby gifts
,
blue red white and blue
,
bone
,
cool white
,
Covergirlbeads
,
crib blanket
,
crocheted
,
cross
,
DIY jewelry
,
earrings
,
ecru
,
fine silver
,
gift for her
,
gift ideas
,
gifts
,
gifts for her
,
gifts for women
,
handmade
,
headband
,
Healers Hand
,
hearts
,
intense blue
,
jewelry
,
jewelry supplies
,
July 4th
,
lampwork beads
,
MagdaleneKnits
,
medium red
,
navy blue
,
necklace
,
newborn baby
,
red
,
red hearts
,
Shadow Dog Designs
,
ShadowDogDesigns
,
Southwest
,
Swarovski crystals
,
sweater
,
white
Posted June 26, 2018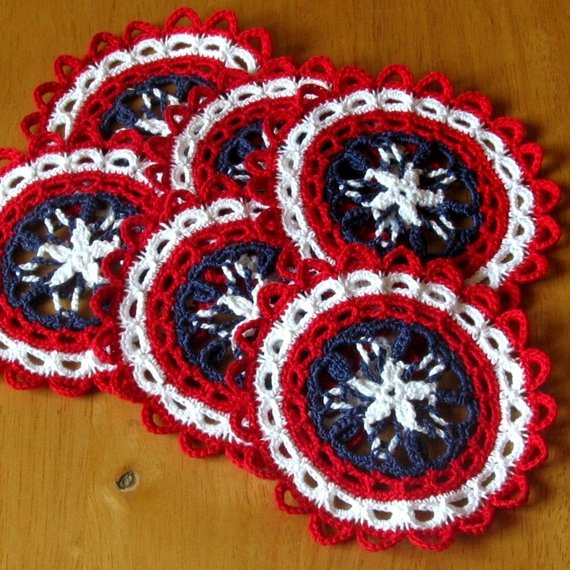 When in the Course of human events, it becomes necessary for one people to dissolve the political bands which have connected them with another, and to assume among the powers of the earth, the separate and equal station to which the Laws of Nature and of Nature's God entitle them, a decent respect to the opinions of mankind requires that they should declare the causes which impel them to the separation.
The 4th of July, also known as Independence Day or July 4th, has a tradition of celebrations goes back to the American Revolution. When the initial battles of the Revolutionary War broke out in April 1775, very few colonists desired complete independence from Great Britain. But, by the middle of the following year, the idea of independence grew due to the growing hostility against draconian British laws and the spread of revolutionary sentiments, such as the pamphlet published in early 1776 by Thomas Paine, called "Common Sense."
» Tagged:
4th of July
,
Americana
,
art
,
artisan
,
baby
,
beadwoven
,
blue
,
bracelet
,
caladiums
,
coasters
,
collage
,
crocheted
,
dichroic
,
doily
,
earrings
,
gemstones
,
gift bags
,
handmade
,
Independence Day
,
jewelry
,
July 4th
,
lapis lazuli
,
magnets
,
necklace
,
note cards
,
Om
,
patriotism
,
pendant
,
polymer clay
,
prints
,
red
,
Shadow Dog Designs
,
ShadowDogDesigns
,
Sherpa
,
sock monkey
,
sunsuit
,
USA
,
vintage
,
wash cloth
,
white