Just in Time for
*** CHRISTMAS IN JULY ***
FREE SHIPPING!
(U.S. Only)
Blog entry
Posted February 20, 2019

When you take a flower in your hand and really look at it, it's your world for the moment. I want to give that world to someone else. Most people in the city rush around so, they have no time to look at a flower. I want them to see it whether they want to or not. Georgia O'Keeffe
One of my all time favorite artists is Georgia O'Keeffe. Whenever I'm in Santa Fe, I'm always drawn to the museum named after her. While there, I almost go into a meditative state while contemplating her paintings. Her flower paintings are dear to my heart.
All through my life, I have had flower gardens, some rather grand and some on a much smaller scale, such as the one here in the Desert Southwest. I cannot imagine life without the beauty and cheerfulness of flowers (or dogs, for that matter!). Life would be so bland with out them. Because of that, flowers designs can always be found in my handmade jewelry, especially the earrings. For this blog post, I chose 10 pairs of earrings, some new and some that have been in my shop a while, to feature. There are many others in my SHADOW DOG DESIGNS shop. I hope you will stop by and take a look . . . and maybe buy a pair for yourself or a loved one.
» Tagged:
amethyst
,
aqua
,
butterflies
,
copper
,
Czech glass
,
daisies
,
daisy
,
earrings
,
flower
,
flower earrings
,
flower garden
,
flowers
,
fuchsia
,
garden
,
handmade
,
hearts
,
jewelry
,
lampwork Swarovski crystals
,
lotus
,
Mykonos
,
pewter
,
polymer clay
,
poppies
,
poppy
,
purple
,
red
,
red roses
,
roses
,
Shadow Dog Designs
,
ShadowDogDesigns
,
sterling silver
,
turquoise
Posted April 19, 2017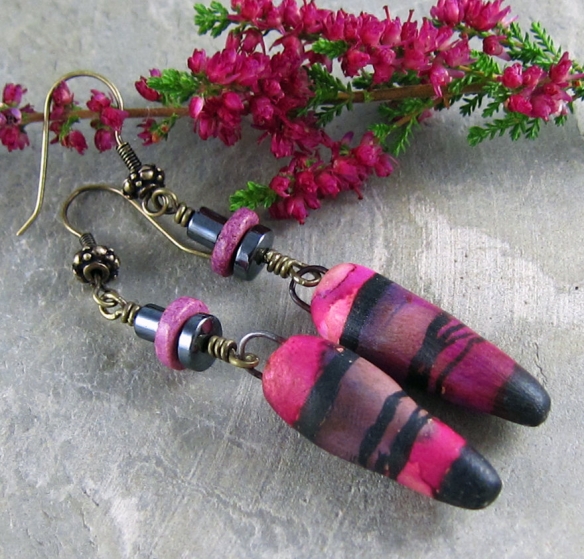 To most people, the color pink is a "sweet" color: charming, playful, cute, feminine, romantic and so on. But in the past few years, it also represents struggles and the need to warrior on. Think of all the pink worn, especially ribbons, signifying breast cancer awareness. And the pink hats, shirts, and other articles of clothing worn by millions during the recent women's marches. Thinking on this, pink is not just feminine and sweet, a bubblegum / cotton candy color. It has come to signify power, rising up and demanding equal rights.
» Tagged:
artisan
,
baby booties
,
bandana
,
boho
,
bracelet
,
crochet
,
dichroic
,
dog
,
dress
,
earrings
,
Easter
,
Easter dress
,
fuchsia
,
gift ideas
,
gifts
,
handmade
,
jewelry
,
knitting
,
moth
,
MothersDay
,
pendant
,
pink
,
sea urchin
,
Shadow Dog Designs
,
ShadowDogDesigns
,
shawl
,
spike