Blog entry
Posted July 2, 2020

It's hard to believe that it's already the first day of July (when I wrote this) with the 4th of July just around the corner. When you mostly are self-isolating, one day looks pretty much like the next. But July 4th will be here this Saturday and I'm looking forward to sitting on the upstairs back porch and watching at least three fireworks shows from the comfort of our own house. Seamus the Moose Dog will sit out there with us - fortunately he is not bothered by the booming noises fireworks can make.
Since the 4th will be here very soon, I wanted to feature three red, white and blue items from three artist friends. The artists are; Charlotte of Covergirlbeads; Pamela of MagdaleneKnits; and me, Catherine of Shadow Dog Designs. I hope you enjoy this selection of patriotic colored items and will visit the shops (and hopefully purchase) a beauty there.
» Tagged:
4th of July
,
afghan
,
baby gift
,
baby gifts
,
blue red white and blue
,
bone
,
cool white
,
Covergirlbeads
,
crib blanket
,
crocheted
,
cross
,
DIY jewelry
,
earrings
,
ecru
,
fine silver
,
gift for her
,
gift ideas
,
gifts
,
gifts for her
,
gifts for women
,
handmade
,
headband
,
Healers Hand
,
hearts
,
intense blue
,
jewelry
,
jewelry supplies
,
July 4th
,
lampwork beads
,
MagdaleneKnits
,
medium red
,
navy blue
,
necklace
,
newborn baby
,
red
,
red hearts
,
Shadow Dog Designs
,
ShadowDogDesigns
,
Southwest
,
Swarovski crystals
,
sweater
,
white
Posted July 21, 2019

I like for jewelry to tell a story and to be able to tell a story about what I'm wearing. That's more important to me than a name, brand or label - Nikki Reed
I just love this quote because I love jewelry that tells a story, too. And if you look at the jewelry in my Shadow Dog Designs handmade shop, many, many of the pieces have such interesting stories to tell. Why buy mass produced necklaces and earrings when artisan handmade jewelry, often one of a kind pieces,has GREAT stories to tell!
» Tagged:
African beads
,
batik
,
blue
,
boho
,
bone beads
,
calaveras
,
Christmas
,
Czech glass
,
Day of the Dead
,
dia de los muertos
,
earrings
,
faux vintage
,
flowers
,
Frida
,
Frida Kahlo
,
gemstones
,
Halloween
,
handmade
,
Healers Hand
,
hoops
,
Italian
,
jasper
,
lampwork
,
Mykonos
,
Namaste
,
necklaces
,
polymer clay
,
resin
,
Shadow Dog Designs
,
ShadowDogDesigns
,
skulls
,
St. Francis
,
sugar skulls
,
Swarovski crystals
,
terra cotta
,
terracotta
,
tortugas
,
tribal
,
turquoise howlite
,
turtles
,
vintage
,
voodoo
Posted July 22, 2018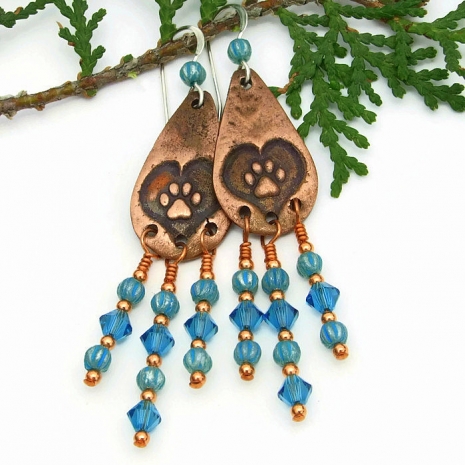 This quote by Rebekah Joy Plett pretty much says it all when you are a handmade artist:
"When you buy something from an artist you are buying more than an object. You're buying hundreds of hours of errors and experimentation. You're buying years of frustration and moments of pure joy. You're not buying just one thing, you are buying a piece of a heart, a piece of a soul… a piece of someone else's life."
» Tagged:
boho
,
butterflies
,
cactus
,
chandelier earrings
,
Coexist
,
Czech glass
,
dog rescue
,
dogs
,
earrings
,
elephants
,
enamel
,
ferns
,
flowers
,
gift ideas
,
handmade
,
Healers Hand
,
hearts
,
jewelry
,
lampwork
,
mandalas
,
necklaces
,
new jewelry
,
paw print
,
peace signs
,
pendant
,
purple
,
red
,
Shadow Dog Designs
,
ShadowDogDesigns
,
Southwest
,
vintage tea tins