Enjoy
*** FREE SHIPPING ***
for the Holiday Season!
(First Class Ground Advantage - U.S. Only)
Blog entry
Posted February 13, 2020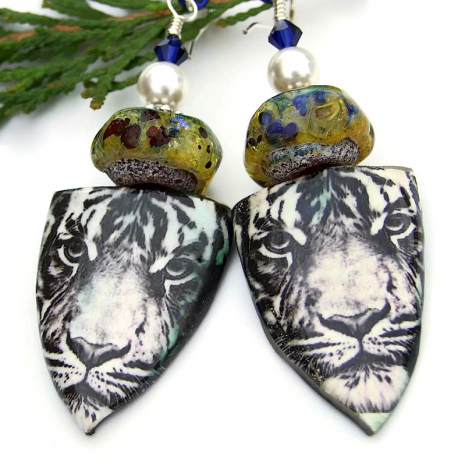 Earrings are my "go to" jewelry. They are the piece of jewelry I almost always put on right away when I get up in the morning. BUT if I happen to leave the house without a pair dangling from my ears, and suddenly realize it, it feels like the earth somewhat shifts on its axis, like I've accidently wandered into the Upside Down. Weird, I know. I can't wait to get back home to put on a pair to set things Rightside Up.
Since earrings are an integral part of my life, both to wear and create, this week's Three for Thursday is called "Unique Earrings for You." Three pairs of earrings from three handmade jewelry artists are featured. The artists are: Mary of PrettyGonzo; Linda of VictorianStyleTreasures; and, me, Catherine of Shadow Dog Designs. If something catches your eye, be sure to visit the artisan's shop for more beauties. I hope you thoroughly enjoy this earrings collection featuring a wide range of styles.
» Tagged:
artisan
,
artists
,
blue
,
cameo
,
cats
,
ceramic
,
copper
,
Czech glass
,
dragonflies
,
earrings
,
Eiffel Tower
,
enamel
,
fine silver
,
flowers
,
garnet
,
handmade
,
kitty
,
lampwork
,
leaf
,
Paris
,
pink
,
polymer clay
,
PrettyGonzo
,
rainforest
,
red garnet
,
rose
,
roses
,
rustic
,
Shadow Dog Designs
,
ShadowDogDesigns
,
summer
,
suns
,
Swarovski crystals
,
Thai Hill Tribes
,
tigers
,
unique
,
verdigris
,
VictorianStyleTreasures
,
vintage
,
white
Posted October 10, 2019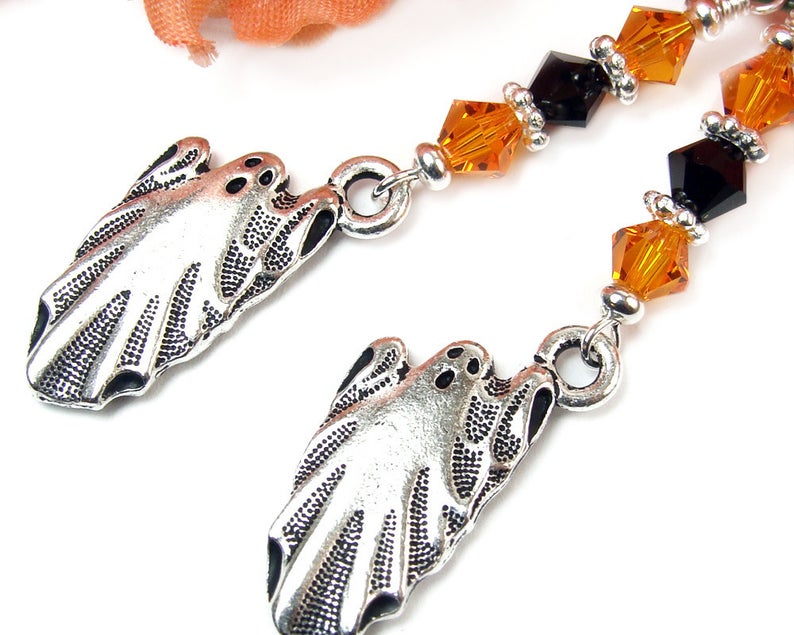 Halloween and Day of the Dead will be here very soon. Halloween is the last day of this month, October 31, when ghouls and goblins and vampires and princesses and more show up at your door for tricks or (preferably) treats. Day of the Dead is actually celebrated on two days: November 1 for Dia de los Angelitos (Day of the Little Angels - for deceased children) and November 2 is Dia de los Muertos (for spirits of all the dead). Women who celebrate these holidays definitely need unique handmade jewelry! To help with this, three jewelry items from three handmade artists are featured in this Halloween and Day of the Dead Jewelry blog post. The artists are: Mary of PrettyGonzo; Linda of VictorianStyleTreasures and, me, Catherine of Shadow Dog Designs. I hope you enjoy the earrings, bracelet and necklace that are showcased. Please visit the artists' shops for more wonderful handmade jewelry, many one of a kind designs.
» Tagged:
artisan
,
bracelets
,
copper
,
crystals
,
Czech glass
,
Day of the Dead
,
dia de los muertos
,
earrings
,
ghosts
,
ghouls
,
Go High
,
goblins
,
Halloween
,
handmade
,
hoops
,
jewelry
,
lampwork
,
lemon jade
,
necklaces
,
oak leaf
,
orange black
,
PrettyGonzo
,
red
,
roses
,
Shadow Dog Designs
,
ShadowDogDesigns
,
skulls
,
sugar skulls
,
Swarovski crystals
,
turquoise
,
VictorianStyleTreasures