To help celebrate the Christmas holidays, enjoy
FREE SHIPPING
(U.S. Only)
Blog entry
Posted February 13, 2020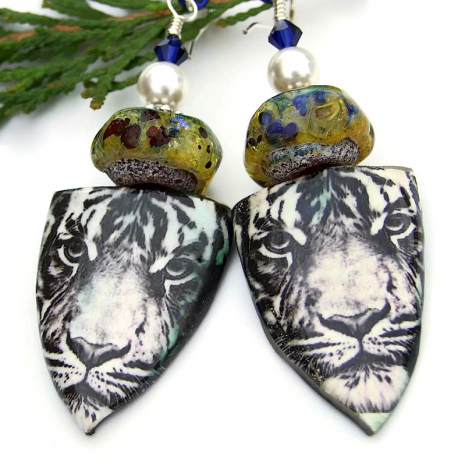 Earrings are my "go to" jewelry. They are the piece of jewelry I almost always put on right away when I get up in the morning. BUT if I happen to leave the house without a pair dangling from my ears, and suddenly realize it, it feels like the earth somewhat shifts on its axis, like I've accidently wandered into the Upside Down. Weird, I know. I can't wait to get back home to put on a pair to set things Rightside Up.
Since earrings are an integral part of my life, both to wear and create, this week's Three for Thursday is called "Unique Earrings for You." Three pairs of earrings from three handmade jewelry artists are featured. The artists are: Mary of PrettyGonzo; Linda of VictorianStyleTreasures; and, me, Catherine of Shadow Dog Designs. If something catches your eye, be sure to visit the artisan's shop for more beauties. I hope you thoroughly enjoy this earrings collection featuring a wide range of styles.
» Tagged:
artisan
,
artists
,
blue
,
cameo
,
cats
,
ceramic
,
copper
,
Czech glass
,
dragonflies
,
earrings
,
Eiffel Tower
,
enamel
,
fine silver
,
flowers
,
garnet
,
handmade
,
kitty
,
lampwork
,
leaf
,
Paris
,
pink
,
polymer clay
,
PrettyGonzo
,
rainforest
,
red garnet
,
rose
,
roses
,
rustic
,
Shadow Dog Designs
,
ShadowDogDesigns
,
summer
,
suns
,
Swarovski crystals
,
Thai Hill Tribes
,
tigers
,
unique
,
verdigris
,
VictorianStyleTreasures
,
vintage
,
white
Posted October 7, 2018

Autumn has finally made its way here to the Borderlands. Am enjoying the cool wind blowing through the window as I sit and type this or as I create new necklaces and earrings. It's wonderful to be able to turn off the AC, open the windows and screen doors and air out the house. Better sleeping weather, too. Autumn is the best!
Speaking of Autumn, the handmade show season continues. My next is the Western Hills Fall Bazaar, a 41 year tradition. It's a new show for me. Am trying it out because other artist friends kept saying how good it was. LOTS of foot traffic, I've been told. Have LOTS of new earrings to take and some new necklaces. We'll see.
Because of shows, I haven't listed a huge amount of new items in my Shadow Dog Designs jewelry shop since the last time I shared, almost a month ago. But here are the handmade beauties: six pairs of new earrings, two new necklaces and two oldies but goodies to make the count an even ten. Enjoy!
» Tagged:
African
,
amber
,
banded eye agate
,
boho
,
Czech glass
,
Day of the Dead
,
dia de los muertos
,
earrings
,
enamel earrings
,
flowers
,
gemstone earrings
,
Halloween
,
handmade
,
jade
,
jewelry
,
lotus
,
lotus flower
,
lotus pod
,
moon rabbit
,
necklaces
,
new jewelry
,
polymer clay
,
red garnet
,
red river jasper
,
Shadow Dog Designs
,
ShadowDogDesigns
,
sugar skull
,
Swarovski crystals
,
thunder egg agate
,
Victorian
,
vintage tin
,
yellow opal
,
zebra