Blog entry
Posted June 20, 2019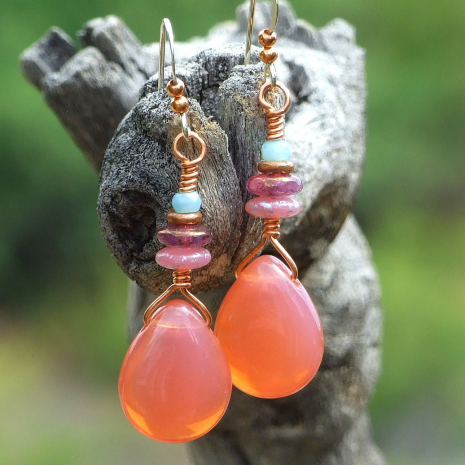 This weeks's Three for Thursday is a melange of items. Since I have an addiction to words, I wanted to give a brief etymology of the word melange. The word, which rolls off the tongue to so beautifully, first is first found in French documents around the comes from the 15th century French word meler, meaning 'to mix, mingle." Meler, in turn, came from the Old French meslance or meslinges (a set of diverse elements). So, according to The Free Dictionary, the modern word means "a collection of various things." Which is the perfect definition of the variety of handmade items I found from artists and am sharing in this post: The items featured are from three handmade artists: beautiful original watercolor paintings from Roxanne of watercolorsNmore; fun and handy to have cards of various types from Jacki of Christie Cottage; and a selection of one of a kind handmade jewelry from me, Catherine of Shadow Dog Designs.
I hope you enjoy these picks. And that you will visit the shops of the artists for more handmade beauties.
» Tagged:
art
,
artin
,
beach
,
bougainvillea
,
bronze
,
butterflies
,
butterfly
,
cards
,
chalcedony
,
Christie Cottage
,
ChristieCottage
,
Czech glass
,
earrings
,
enamel
,
floral
,
Florida
,
flower
,
gemstones
,
gift cards
,
handmade
,
jewelry
,
journal
,
lampwork
,
lotus
,
lotus blossom
,
melange
,
necklace
,
paintings
,
pink opal
,
saw blade
,
Shadow Dog Designs
,
ShadowDogDesigns
,
Swarovski crystals
,
teardrop
,
thank you cards
,
Three for Thursday
,
watercolor
,
watercolorsNmore
Posted March 7, 2019

Easter is a symbol of hope, renewal, and new life.
Janine di Giovanni
Since yesterday was Ash Wednesday - and Easter is approximately six weeks away - I started thinking about Easters past, always large gatherings of family and friends. But, before everyone showed up at our house, we went to Easter Sunrise mass, the only time my father was ever cajoled into going to church. As a child, I always remember getting a new Easter dress, usually with a matching headband, socks and gloves(!) to wear to church on Easter Sunday. And if my sister and I were lucky, a small purse would be included. Very stylish, indeed, and usually VERY itchy! The clothes were always spring pastel in color: pinks, pale yellows, pale greens, pale blues and such. A preview of all the pastel colored Easter eggs that were waiting to be found!
This week's Three for Thursday features three items from three handmade artists that definitely are filled with the renewal of Easter springtime colors. The artists are: jewelry artist Mary of PrettyGonzo; crochet artist Pamela of MagdaleneKnits; and, me, Catherine of Shadow Dog Designs, also a jewelry artist. I hope you enjoy my choices. And be sure to visit the artists' shops for more splendiferous designs!
» Tagged:
baby
,
bracelets
,
chaplet
,
crochet
,
crocheted
,
Czech glass
,
earrings
,
Easter
,
flower garden
,
flowers
,
handmade
,
headband
,
hearts
,
jade
,
jewelry
,
lampwork
,
lavender
,
maryjanes
,
mint green
,
necklaces
,
pastels
,
pink
,
polymer clay
,
pullover
,
rosary
,
ruby
,
Shadow Dog Designs
,
ShadowDogDesigns
,
spring
,
springtime
,
sweater
,
teardrop
,
vest
,
Victorian
,
Virgin Mary
,
yellow
Posted December 13, 2017

Christmas will soon be here, less than two weeks away. The ever ticking Christmas clock says there are only 11 days left! But fear not! If you have waited to the last minute to buy stocking stuffers and/or gifts, I have pulled together a collection of wonderful artisan handmade ideas, any of which Santa would be proud to deliver. Please browse the items below.
Make it a HANDMADE CHRISTMAS this year!
» Tagged:
applique
,
artisan
,
bear
,
butterfly
,
Christmas
,
coaster
,
copper hearts
,
crochet
,
dichroic
,
dog
,
earrings
,
handmade
,
hat
,
lampwork
,
lavender
,
mug rug
,
purple
,
red and green
,
rustic
,
Shadow Dog Designs
,
ShadowDogDesigns
,
stocking stuffers
,
teardrop