Blog entry
Posted May 30, 2019

Spring is pretty much behind us here in the Desert Southwest. Although it has been a very mild spring (YAY!) with below average heat with morning still cool enough that a light jacket is sometimes needed. But all of us who live here know that summer is just around the corner bringing some triple digit temperatures in June. The the summer monsoons arrive (hopefully) in July, August and September bringing cooler temperatures again (but also the dreaded humidity) and a sense of rejuvenation.
So many of my new jewelry designs deal with summer-y type things, whether the designs feature flowers, summer colors, the sun or other beauties. And don't forget your dogs or cats! I hope you enjoy the newest earrings (and one necklace) designs that can be found in my Shadow Dog Designs jewelry shop:
» Tagged:
artisan
,
Blessed Mother
,
cat
,
cats
,
cross
,
Czech glass
,
daisies
,
daisy
,
dog. puppy
,
dogs
,
dragonfly
,
earrings
,
Egyptian
,
enamel
,
flowers
,
Frida
,
Frida earrings
,
Frida Kahlo
,
gilded
,
handmade
,
handmade earrings
,
hieroglyphs
,
jewelry
,
kitties
,
kitty
,
lampwork
,
lavender
,
necklaces
,
new jewelry
,
one of a kind
,
pendant
,
pink opal
,
polymer clay
,
puppies
,
purple
,
pyramids
,
Shadow Dog Designs
,
ShadowDogDesigns
,
sodalite
,
stoneware
,
summer
,
sun
,
sunrise
,
surf beach
,
Swarovski crystals
,
teardrops
,
turquoise
,
Virgin Mary
Posted July 20, 2017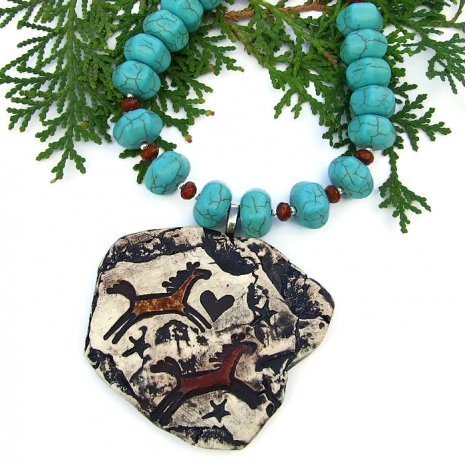 Seven new handmade jewelry creations have been listed in my Shadow Dog Designs shop: four new necklaces and three new pairs of earrings. All are very different in design, ranging from fun and funky boho to classic meditative designs. The seven new beauties, perfect gift ideas for women who love one of a kind, artisan jewelry, are featured below. To round out the count to an even ten pieces, two pairs of earrings and one necklace that are still looking for a new home are also included. If a piece of jewelry catches your eye, either click on the photo or the live link below the photo to be taken to the item for more information and photographs.