New Jewelry at Shadow Dog Designs - Handmade Beauties
Posted July 20, 2017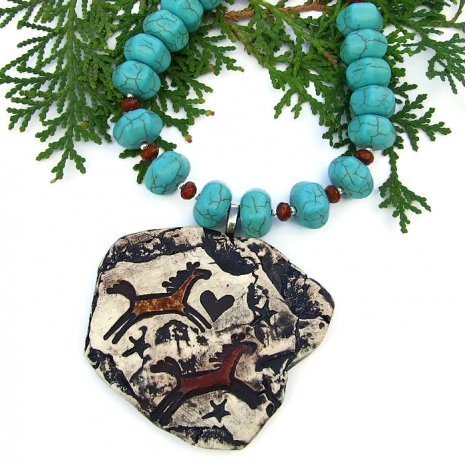 Seven new handmade jewelry creations have been listed in my Shadow Dog Designs shop: four new necklaces and three new pairs of earrings. All are very different in design, ranging from fun and funky boho to classic meditative designs. The seven new beauties, perfect gift ideas for women who love one of a kind, artisan jewelry, are featured below. To round out the count to an even ten pieces, two pairs of earrings and one necklace that are still looking for a new home are also included. If a piece of jewelry catches your eye, either click on the photo or the live link below the photo to be taken to the item for more information and photographs.
I hope you enjoy the handmade jewelry.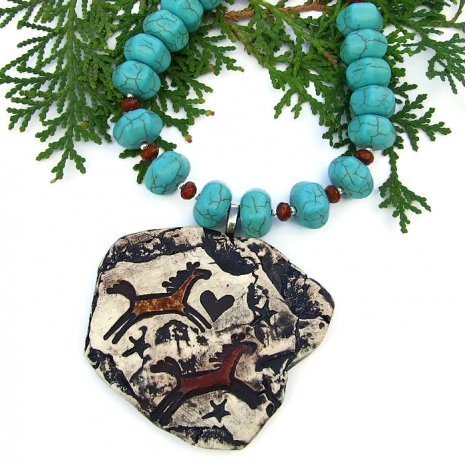 LIBRE - Southwest Running Horses Necklace, Petroglyph Turquoise Magnesite Handmade Jewelry for Women - $115.00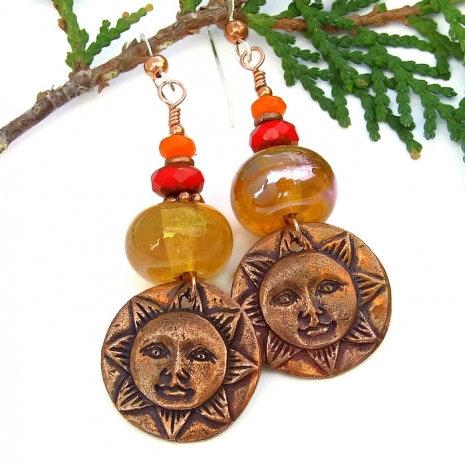 SOLARIS - Sun Face Earrings, Amber Yellow Lampwork Red Orange Handmade Jewelry for Women - $40.00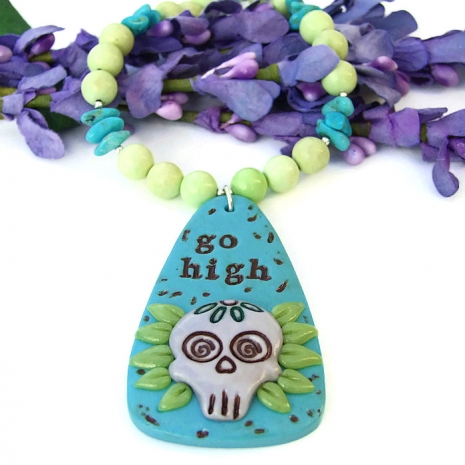 GO HIGH - Go High Sugar Skull Necklace, Day of the Dead Halloween Inspirational Handmade Jewelry for Women - $70.00
PAJAROS CANTORES - Fetish Bone Bird Earrings, Mali Clay Beads Swarovski Crystals Rustic Handmade Jewelry for Women - $25.00
BLESS THIS WOMAN - Virgin Mary and Cross Necklace, Pink Rose Quartz Gemstone Catholic Jewelry for Women - $65.00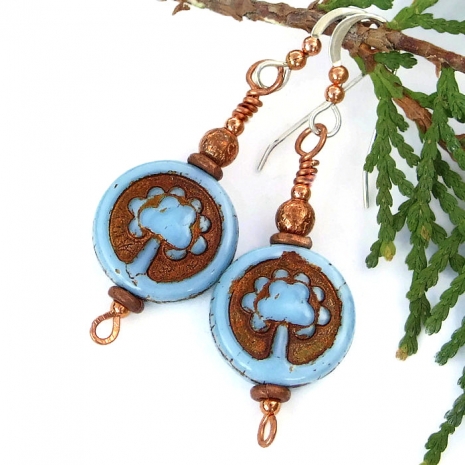 BLUE TREES - Sky Blue and Copper Tree of Life Earrings, Meaningful Rustic Handmade Artisan Jewelry for Women - $20.00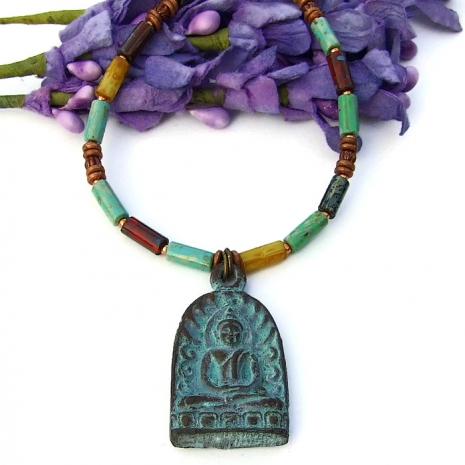 PEACE AND COMPASSION - Shakyamuni Buddha Necklace, Rustic Green Verdigris Pendant Handmade Yoga Jewelry for Women - $45.00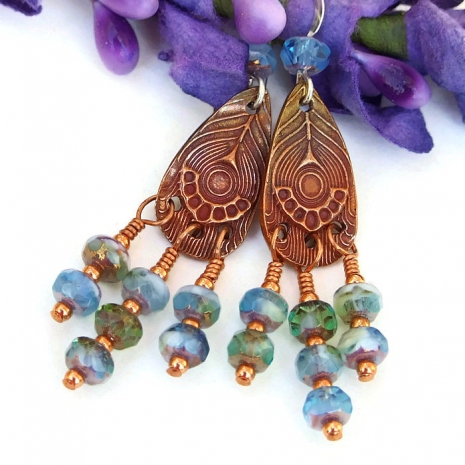 PROUD AS A PEACOCK - Peacock Feather Chandelier Earrings, Aqua Green Boho Handmade Artisan Jewelry - $35.00
WALK ON THE WILD SIDE - Fluted Leopardskin Jasper Gemstone Necklace, Pink Shell Handmade Artisan Unique Jewelry - $70.00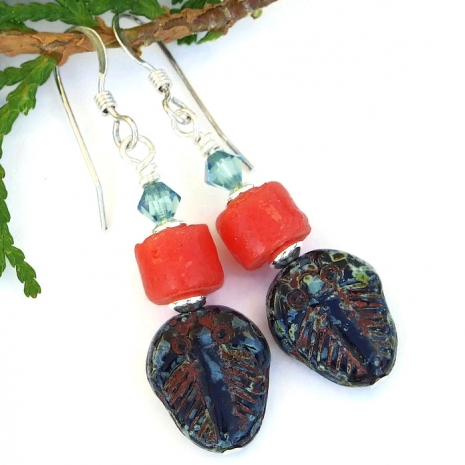 ANCIENT DAYS - Trilobite Handmade Earrings, Coral African Sandcast Beads Crystals Artisan Fossil Jewelry - $20.00
I hope you have enjoyed each and every one of these unique handmade creations! If you would like to make my day and the day of the talented artists featured, please leave a comment. And any promotion you can do will be greatly appreciated. Thanks!
My contact information:
Indiemade shop: ShadowDogDesigns
Indiemade blog: ShadowDogDesigns' Blog
Artfire studio: ShadowDogDesigns
ArtFire Blog: ShadowDogDesigns' Blog
Google+: Catherine ShadowDog
Facebook: ShadowDogDesigns - Jewelry
Twitter: ShadowDogDesign
Pinterest: Shadow Dog Designs
Wanelo: ShadowDog
Rebelmouse: ShadowDogDesigns
Flickr: Shadow Dog Designs' Photostream
Beautifully Unique Handmade Jewelry
» Tagged:
birds
,
boho
,
Buddha
,
earrings
,
gemstone
,
glass
,
Go High
,
handmade
,
handmade earrings
,
handmade jewelry
,
handmade necklaces
,
horses
,
lampwork
,
meditative
,
necklaces
,
Shadow Dog Designs
,
ShadowDogDesigns
,
sugar skulls
,
sun
,
Tree of Life
,
Virgin Mary
» Share: