I am taking a very short break from Monday, September 25 through Wednesday, September 27, 2017. Any items purchased during that time will be mailed out Thursday, September 28.
Thank you so much for your patience.
Fetish Bone Bird Earrings, Mali Clay Beads Swarovski Crystals Rustic Handmade Jewelry for Women
Item Description
The PAJAROS CANTORES are fun boho bird earrings for the birder in your life or for the woman who loves one of a kind jewelry. The handmade earrings feature beautifully hand carved bone bird fetishes that are two sided and have an aged look. Below the tribal birds are three dangles, two made from assorted Mali ribbed clay beads and one with a dark brown Swarovski crystal for sparkle. Perfect for casual weekends when hanging out with friends, or browsing at your favorite Southwest inspired shop, the PAJAROS CANTORES fetish bird earrings were carefully designed and handmade by Catherine of Shadow Dog Designs. "Pajaros cantores" is Spanish for "singing birds."
---
Bone bird fetishes: on average, app. 17 mm x 9 mm; hand carved

Maya clay heishe: from app. 4 mm - 8 mm x 3 mm

Swarovski crystal: faceted 4mm "smoked topaz" bicone

Czech glass triangle bead: app. 4 mm x 3 mm

Metal: copper and sterling silver

Earwires: sterling silver French hooks

Length: app. 2.25" / 5.7 cm measured from the top curve of the earwires
---
*** For a better understanding of the relative size of the PAJAROS CANTORES bird earrings, please be sure to check out photo #6 for a size comparison with a dime.
The sweet, petite Zuni style birds fetishes used in the PAJAROS CANTORES earrings were individually hand carved from bone and are two-sided. As you can see in the photos, they are similar but not exactly the same. One is just a tad larger than the other and one has a carved wing and one doesn't. The beauties of handmade! After the birds were carved, they were coated with a dye that was quickly rubbed off, bringing out the detail and adding an aged look. A copper disc spacers and a shiny dark brown Czech glass triangle bead was added to the top of each bird. The birds were tightly wire wrapped and then glued so they don't turn on the headpin - they either face each other or face away from each other when worn.
Below the fetish birds are three copper wire wrapped dangles, added for whimsical interest. Two of the dangles were created with ribbed clay beads from the Djenne area of Mali. The rustic clay beads add great texture, are Fair Trade and each is individually handmade. The colors used are cream, reddish brown and gray. The third dangle was made with a single dark brown "smoked topaz" faceted Swarovski crystal bicone. The crystals might be small but they add a huge dose of sparkle!
All of the components used to create the PAJAROS CANTORES bird earrings were carefully wire wrapped on copper wire and connected to sterling silver French hook earwires. To finish the earrings professionally, two copper beads were added to each earwire for extra adornment.
---
For eons, Birds have been considered to be signs of eternal life and mental illumination because of their ability to fly close to heaven. Ceramic is said to help with positive decision making. Although man made, crystals and glass carry the energies of transformation, rebirth and communication. Copper is believed to allow the wearer to recognize barriers in the path of personal development. Silver is a metal of love and healing; it is a mirror to the soul, helping us to see ourselves as others see us.
---
The PAJAROS CANTORES bird fetish artisan earrings were carefully designed and handmade in a dog friendly, smoke free studio. They will be carefully packed in an organza jewelry bag with tissue, perfect for gift giving to a loved one . . . or to yourself!
***Please be aware that not all monitors exhibit colors exactly the same. The colors of the items used to create my jewelry are extremely close to the actual color on my monitor. The colors may appear lighter or darker on your monitor.
Beautifully Unique Handmade Jewelry
E1219 - 07-11-17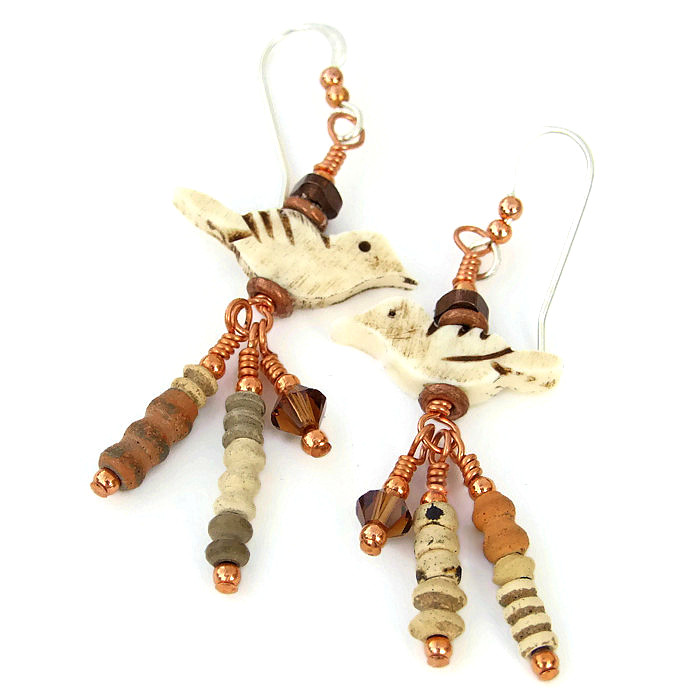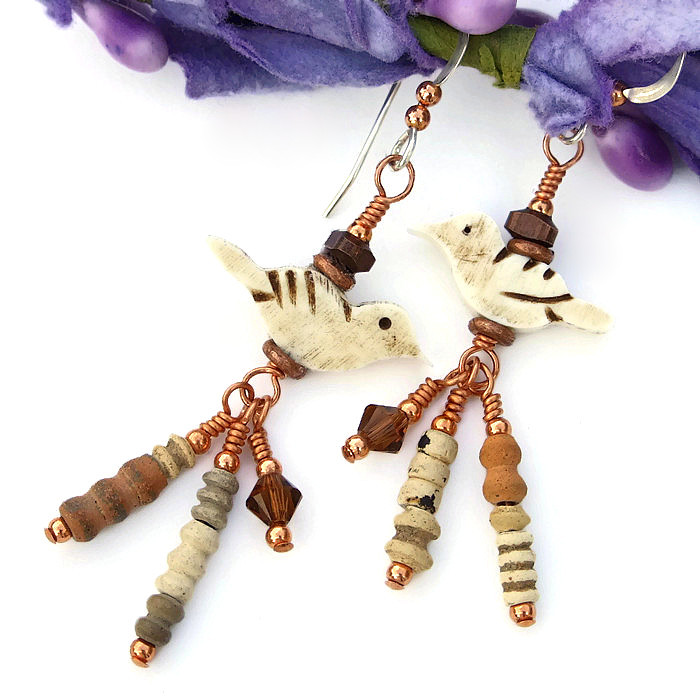 » Share: