Enjoy
*** FREE SHIPPING ***
for the Holiday Season!
(First Class Ground Advantage - U.S. Only)
Blog entry
Posted January 16, 2022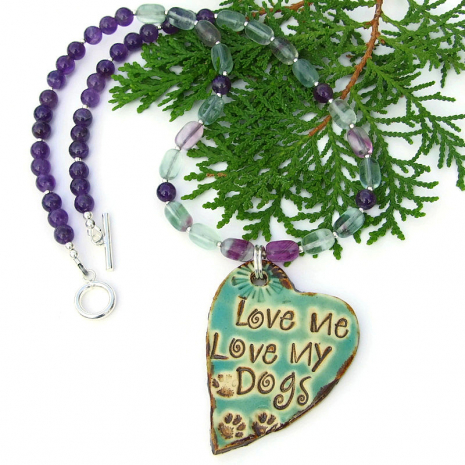 Since I am a huge advocate of ADOPT DON'T SHOP when it comes to adding a new dog (or cat) to the family, I have been making a line of dog and cat rescue jewelry for many years now. When a piece of dog / cat rescue jewelry is sold from my SHADOW DOG DESIGNS shop or at an arts festival, ½ (one half) of the purchase price is donated to an animal rescue organization. I try to keep the donations local whenever I can, but will donate to needy groups in other states that have faced disasters from hurricanes, fires, flooding, etc. As with all of my jewelry (except for a few styles of Christmas earrings), the necklace and earrings in the rescue line are one of a kind designs. I'm highlighting seven designs in this post, but there are a few more in my shop here: https://bit.ly/RescueJewelrySD. New designs are usually added on a monthly basis. Please browse the necklace and earrings below - if something catches your eye, either click on the photo or the link below to get more information and see more photos. I hope you enjoy the jewelry made with love to try to help the sweet souls who are desperately waiting for their furever home.
» Tagged:
#adoptdontshop
,
adopt don't shop
,
always faithful
,
amethyst
,
angel dog
,
best friend
,
cat
,
cat earrings
,
cat jewelry
,
cat necklaces
,
cat rescue
,
cat rescue jewelry
,
cats
,
dog
,
dog earrings
,
dog jewelry
,
dog necklaces
,
dog rescue
,
dog rescue jewelry
,
dogs
,
enamel
,
fluorite
,
gemstones
,
handmade
,
happy dogs
,
hearts
,
kitty
,
kitty cat
,
lampwork beads
,
love me love my dogs
,
paw prints
,
pawprints
,
perfect angel
,
rainbow fluorite
,
rescue jewelry
,
Swarovski crystals
Posted May 13, 2021
It has been quite a while since I shared new jewelry designs found in my SHADOW DOG DESIGNS shop. It seems the days . . . and the weeks . . . . and the months just speed right on by. I've been spending a LOT of time outside working in flower beds and just sitting and enjoying all the birds and other animals that come to the back yard. And watching Seamus be his goofy dog self. The weather has been absolutely gorgeous so the pull to be outside is greater than the pull to be in front of the computer. Today I'm sharing eleven new designs in my shop, all one of a kind jewelry. As you can see there is a wide range of desgins: some simple and some more comlicated, some small and some big and bold. And there are several new animal rescue designs which, when sold, one-half of the purchase price goes to an animal recue organization. I hope you enjoy these pieces. And be sure to visit my shop to see other unique jewelry: SHADOW DOG DESIGNS.
» Tagged:
abalone
,
animal rescue.
,
aqua
,
artisan
,
bamboo
,
black
,
blue
,
cat
,
cats
,
ceramic
,
copper
,
Czech glass
,
dangle earrings
,
dangles
,
dog
,
dog bones
,
dog rescue
,
dogs
,
dragonfly
,
earrings
,
enamel
,
fine silver
,
flowers
,
gemstones
,
gifts for her
,
gifts for women
,
girl chasing stars
,
handmade
,
handmade earrings
,
handmade necklaces
,
hearts
,
Ishtar
,
jewelry
,
kryptonite
,
lampwork
,
magenta
,
mint green
,
necklaces
,
one of a kind
,
paua
,
paua shell
,
paw print
,
pawprints
,
pendant necklace
,
pink
,
purple
,
red
,
sea turtles
,
sodalite
,
star
,
star earrings
,
Star of Venus
,
sterling silver
,
Swarovski crystals
,
turquoise magnesite
,
turtles