Enjoy
*** FREE SHIPPING ***
for the Holiday Season!
(First Class Ground Advantage - U.S. Only)
Blog entry
Posted December 4, 2019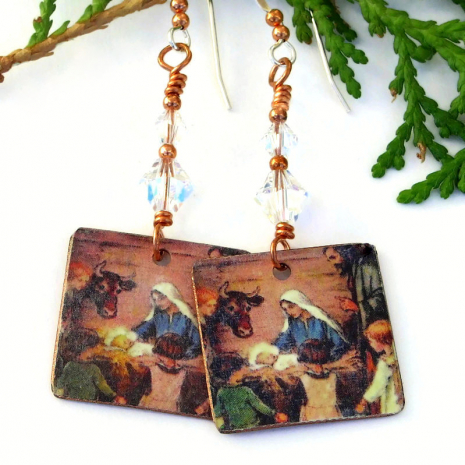 It has been quite a while since I shared my newest designs. I've been so busy adding new items in my Shadow Dog Designs handmade jewelry shop to take the place of all the necklaces and earrings sold at shows, that I haven't even thought about blogging about them . . . until now. You'll find a wide range of one of a kind designs, including four new pairs of Christmas earrings. I hope you enjoy these new pieces . . . and that one (or more) of them might end up under the Christmas tree for a loved one - or for yourself!
» Tagged:
agate
,
amethyst
,
ammonite
,
Anasazi
,
Baby Jesus
,
carnelian
,
cat
,
ceramic
,
Christmas
,
Christmas gifts
,
Christmas trees
,
copper
,
cross
,
crosses
,
dog
,
dogs
,
earrings
,
face
,
faux tin
,
feather
,
flowers
,
fossil
,
fox
,
foxes
,
Frida
,
Frida Kahlo
,
gemstones
,
gift for her
,
gift for women
,
gift ideas
,
gold bronze
,
handmade
,
hearts
,
holidays
,
horned owl
,
jewelry
,
love my dog
,
Mexican fire agate
,
monkey
,
Nativity
,
Nativity scene
,
necklaces
,
owl
,
paw prints
,
peaceful
,
petroglyph
,
pink
,
polymer clay
,
poppies
,
red
,
red coral
,
red poppies
,
river stone
,
Sacred Heart
,
Shadow Dog Designs
,
ShadowDogDesigns
,
snow
,
Southwest
,
spiral sun
,
stepping stone
,
Swarovski crystals
,
vintage
,
woman