New Jewelry Handmade by Shadow Dog Designs - Christmas Gifts
Posted December 4, 2019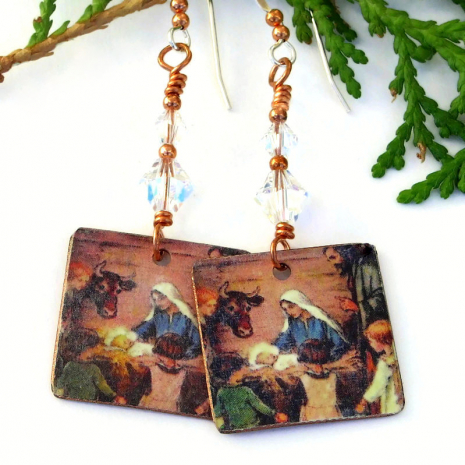 It has been quite a while since I shared my newest designs. I've been so busy adding new items in my Shadow Dog Designs handmade jewelry shop to take the place of all the necklaces and earrings sold at shows, that I haven't even thought about blogging about them . . . until now. You'll find a wide range of one of a kind designs, including four new pairs of Christmas earrings. I hope you enjoy these new pieces . . . and that one (or more) of them might end up under the Christmas tree for a loved one - or for yourself!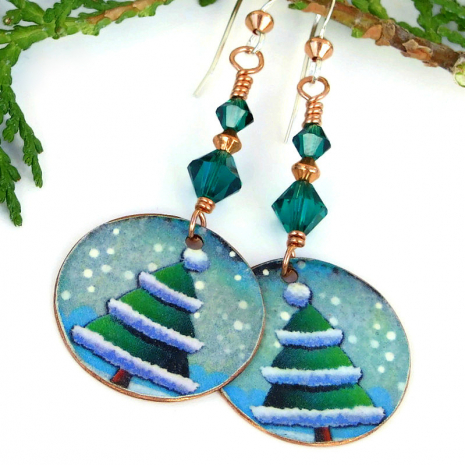 O TANNENBAUM - Christmas Tree Earrings, Green Crystals Handmade Holiday Jewelry Gift - $30.00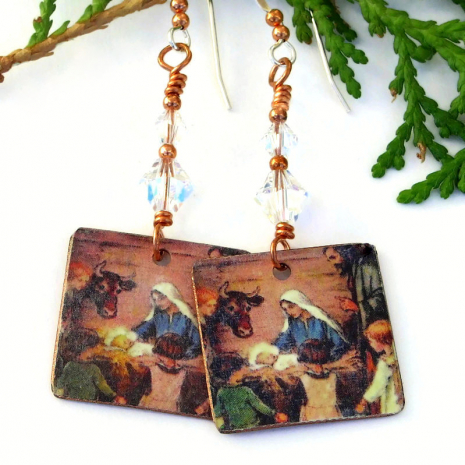 O HOLY NIGHT - Baby Jesus Nativity Earrings, Mary Joseph Religious Christmas Jewelry - $30.00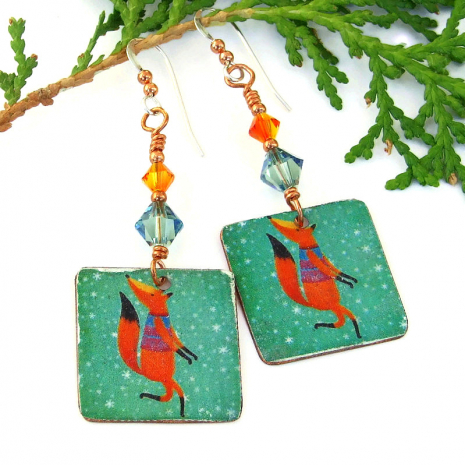 CHRISTMAS FOX - Christmas Fox Earrings, Faux Vintage Tin Snowflakes Handmade Jewelry - $30.00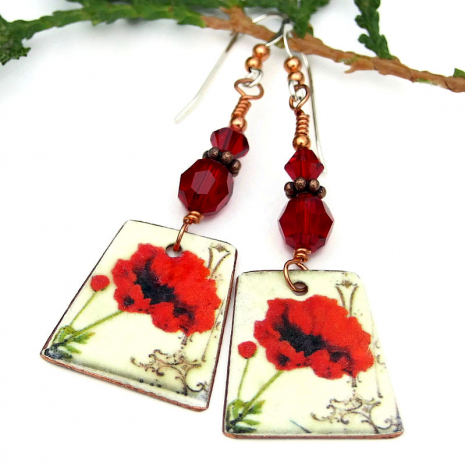 RED POPPIES - Red Poppies Christmas Earrings, Crystals Faux Vintage Handmade Jewelry - $30.00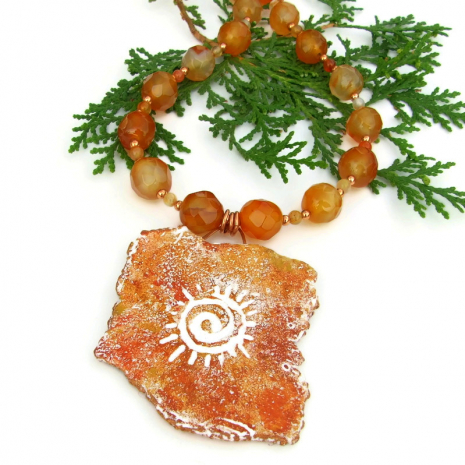 DESERT SUN - Spiral Sun Pendant Necklace, Polymer Clay Petroglyph Handmade Jewelry - $90.00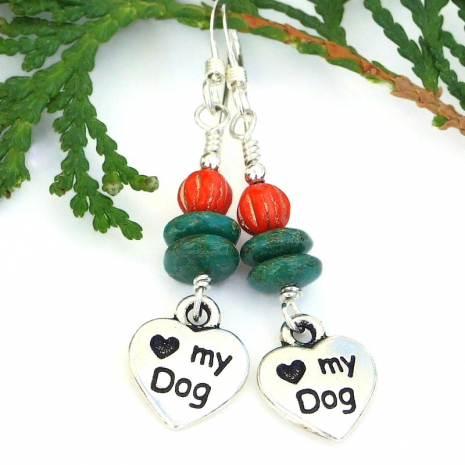 LOVE MY DOG - Love My Dog Earrings, Hearts Paw Prints Silver Handmade Jewelry Gift - $20.00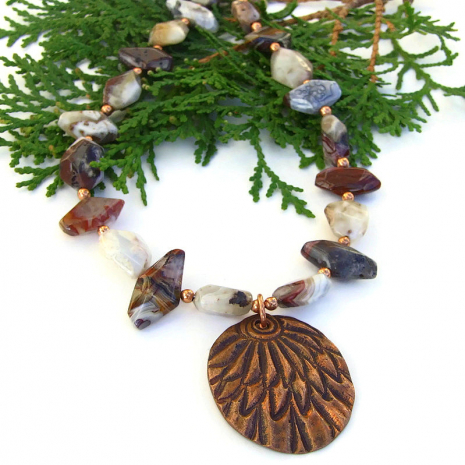 TOUCH OF MAGIC - Copper Feather Pendant Mixed Agate Necklace, Earthy Handmade Jewelry - $85.00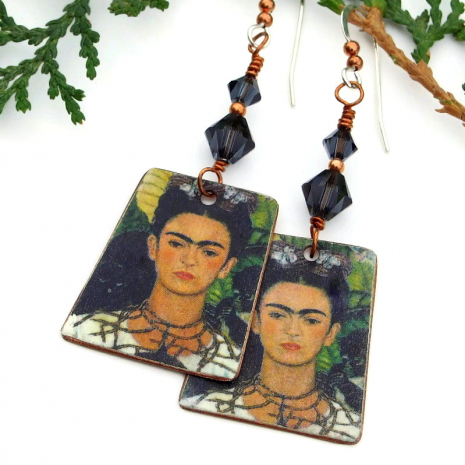 FRIDA - Frida Kahlo Earrings, Monkey Cat Boho Crystals Handmade Jewelry - $35.00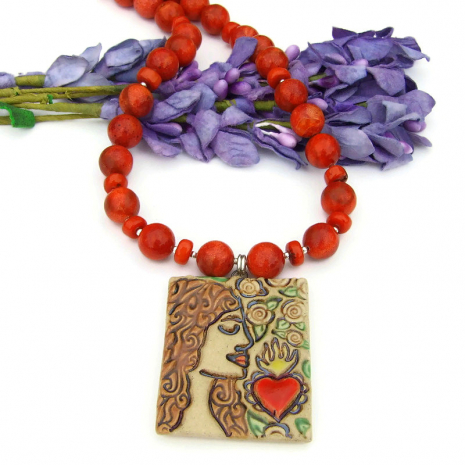 HOLY FIRE - Sacred Heart and Woman Pendant Necklace, Coral Religious Handmade Jewelry - $70.00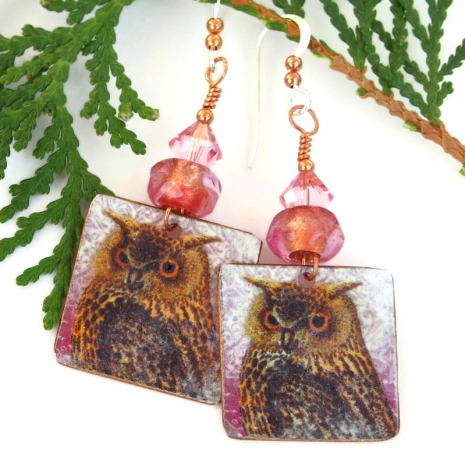 TYLLUAM FAWR - Horned Owl Earrings, Faux Vintage Brown Pink Handmade Jewelry Gift - $30.00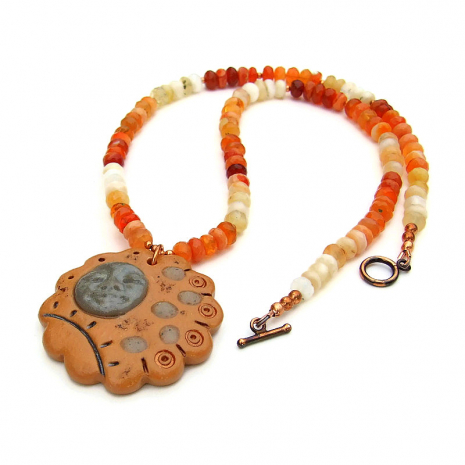 STEPPING STONE - Peaceful Face Stepping Stone Necklace, Mexican Fire Opal Jewelry Gift - $55.00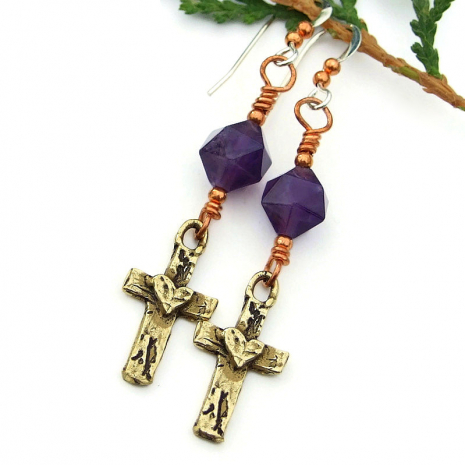 AMOR DE DIOS - Cross and Hearts Earrings, Amethyst Gold Bronze Handmade Religious Jewelry - $25.00
EARTH WHISPERS - Ammonite Fossil Pendant Necklace, Riverstone Copper Handmade Jewelry - $55.00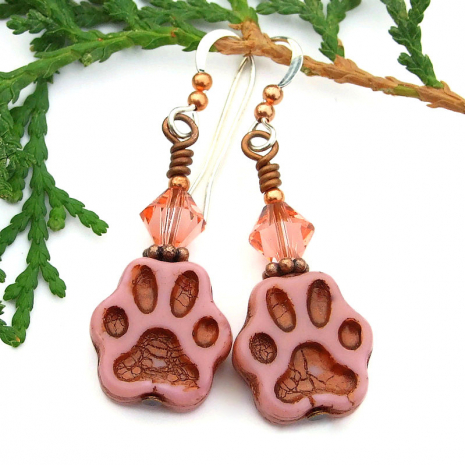 PINK PAW PRINTS - Dog Cat Paw Print Earrings, Pink Czech Glass Crystal Handmade Jewelry - $20.00
I hope you enjoyed each and every one of these new handmade necklaes and earrings! If you would like to make my day, please leave a blog comment. And any promotion you can do will be greatly appreciated. Thanks!
My contact information:


» Tagged:
agate
,
amethyst
,
ammonite
,
Anasazi
,
Baby Jesus
,
carnelian
,
cat
,
ceramic
,
Christmas
,
Christmas gifts
,
Christmas trees
,
copper
,
cross
,
crosses
,
dog
,
dogs
,
earrings
,
face
,
faux tin
,
feather
,
flowers
,
fossil
,
fox
,
foxes
,
Frida
,
Frida Kahlo
,
gemstones
,
gift for her
,
gift for women
,
gift ideas
,
gold bronze
,
handmade
,
hearts
,
holidays
,
horned owl
,
jewelry
,
love my dog
,
Mexican fire agate
,
monkey
,
Nativity
,
Nativity scene
,
necklaces
,
owl
,
paw prints
,
peaceful
,
petroglyph
,
pink
,
polymer clay
,
poppies
,
red
,
red coral
,
red poppies
,
river stone
,
Sacred Heart
,
Shadow Dog Designs
,
ShadowDogDesigns
,
snow
,
Southwest
,
spiral sun
,
stepping stone
,
Swarovski crystals
,
vintage
,
woman
» Share: