Blog entry
Posted December 28, 2018

It's hard to believe that 2018 is drawing to a close and that a new year will dawn in just a matter of days. 2018 was a very creative year for me as I found items from new artists (to me) to incorporate into my work - and continued working with pieces from old artist friends. Playing with unique color combinations was also fun. My creative spirits have been active lately as you will see with the newest handmade earrings below, great gift ideas for a favorite woman on her birthday, Valentine's Day, Mother's Day . . . or just because. I hope you enjoy these new handmade creations found in my Shadow Dog Designs jewelry shop. Click on either the photo or the link below the photo to be taken to the item for more information and pictures.
» Tagged:
birthday
,
black
,
blue
,
bronze
,
Casablanca
,
cobalt blue
,
copper
,
crosses
,
Czech glass
,
dog
,
dogs
,
earrings
,
Easter Island
,
elephants
,
faces
,
flowers
,
gift ideas
,
gifts
,
handmade
,
jewelry
,
lampwork
,
lavender
,
love
,
love my dog
,
maroon
,
Marrakech
,
matte
,
Mothers Day
,
orange
,
rainbow
,
red
,
Shadow Dog Designs
,
ShadowDogDesigns
,
Swarovski crystals
,
teardrops
,
turquoise
,
Valentines
,
women
Posted December 15, 2018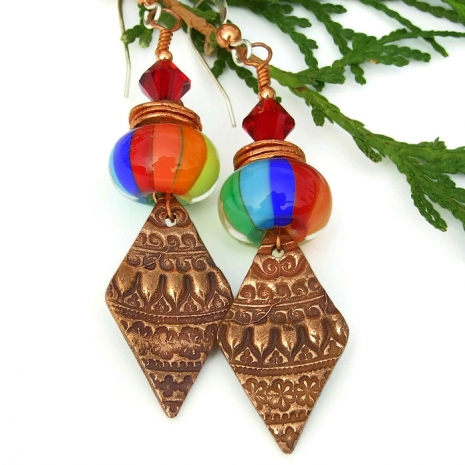 Earrings are always a great gift for the woman who loves to wear them. They come in all sorts of shapes and sizes and colors and price ranges - always something perfect for the intended wearer that won't break the bank. I've featured twelve pairs of earrings that can be found in my Shadow Dog Designs handmade jewelry shop: eight of the newest pairs listed and four sparkling pairs of Christmas earrings. I hope you enjoy browsing the beauties . . . and maybe at least one pair finds its way into your shopping cart and then under the Christmas tree.
» Tagged:
artisan
,
black
,
Christmas
,
Christmas earrings
,
Christmas gifts
,
Christmas jewelry
,
Christmas tree earrings
,
Christmas trees
,
copper
,
cross earrings
,
crosses
,
Czech glass
,
dog
,
dogs
,
earrings
,
elephants
,
flowers
,
frosted
,
gift ideas
,
gifts for her
,
gifts for women
,
green
,
handmade
,
holidays
,
jewelry
,
lampwork
,
love
,
matte
,
ornaments
,
pansies
,
pansy
,
paw prints
,
rainbow
,
red
,
Santa
,
Santa earrings
,
Shadow Dog Designs
,
ShadowDogDesigns
,
sterling silver
,
Swarovski crystals
,
teardrops
,
turquoise
,
white
,
word earrings