Please Enjoy
*** FREE SHIPPING ***
(First Class Mail - U.S. Only)
Think Green for Artisan Christmas Gifts - Wonderful Handmade Wednesday on Indiemade
Posted December 7, 2016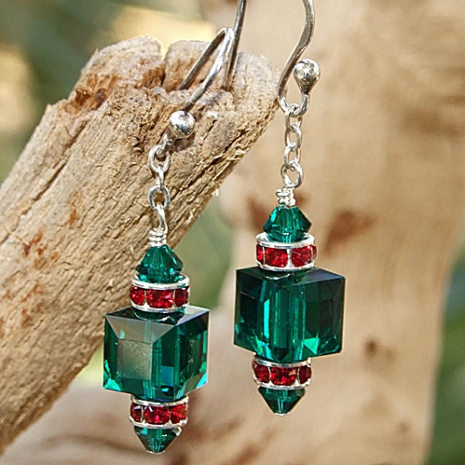 Red and green are colors that are closely associated with Christmas. Last week I shared how red became a Christmas color. You can read that post here: Think Red for Artisan Christmas Gifts. This week, green, the other Christmas color, is explored mainly through the symbolism of holly, mistletoe and evergreen trees.
The color green and its association with the time around Christmas has a pre-Christian origin, more specifically tied to the Winter Solstice. Evergreen plants, like holly, mistletoe and pine, spruce or fir trees have been used for thousands of years to decorate and brighten up buildings during the long, dark, cold winter when life could be very tenuous. Ancient peoples were scared of the short days and freezing nights and mistakenly believed that the Sun might disappear altogether. Evergreens reminded people that spring would come and that winter wouldn't last forever. Historical records show that the Romans wove wreaths of holly to hang on their walls and doors to celebrate the winter solstice / Saturnalia. They also exchanged evergreen branches as a sign of good luck. The ancient Egyptians would bring green date palm branches into their homes during their mid- winter festivals as a symbol of "life triumphant over death." To the ancient people, the color green represented life, nature, peace, eternity and the hope of the future.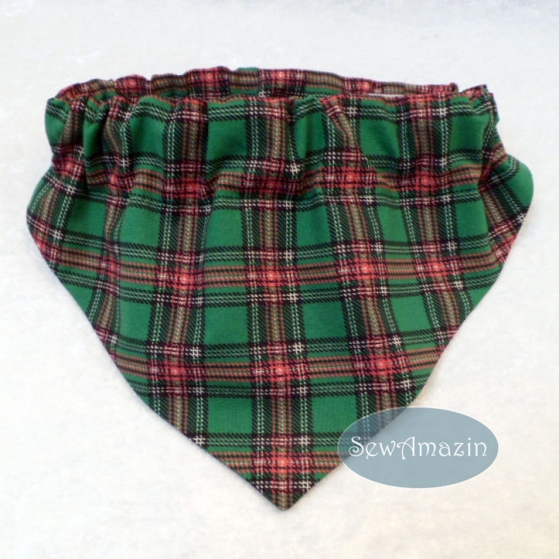 Holly:
In Celtic mythology, the Holly King ruled from summer to winter solstice, representing the darker half of the year. Ancient Celts decorated their homes with holly, believing it to be a symbol of luck. Cultures all over Europe believed holly to be a strong protective plant and it was carried into the home to ward off negative energy during the winter months. Holly was usually hung on doors and windows to prevent the entry of witches and evil spirits. Early Christians recognized a deeper symbolism in holly by associating the leaves as the "crown of thorns" and the red berries as the blood of Christ. At around the 4th Century when the church began to celebrate Christ's birth on December 25, many Christians who had adorned their homes with wreaths of holly for the winter solstice, left the wreaths to decorate their homes during Christmas, as well. Because of this, the color green and wreaths of holly became associated with the birth of Christ.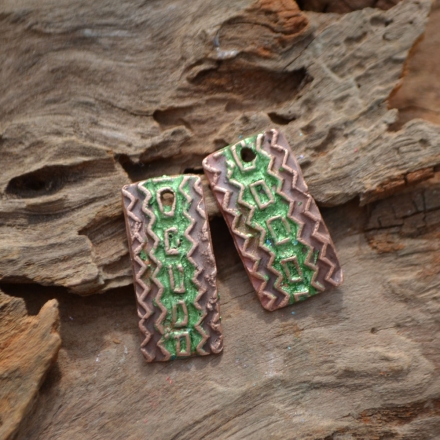 Copper and Green Rectangles, 1 Pair, Handmade by Kristi of KristiBowmanDesign
Mistletoe:
From the earliest times the green leaves and white berries of mistletoe have been one of the most magical, mysterious, and sacred plants of European folklore. The mistletoe of the sacred oak was especially revered by the ancient Celtic Druids, and the tradition of hanging it in the house goes back to them. It was believed to possess mystical powers which would bring good luck and peace to the household and ward off evil spirits. Kissing under the mistletoe is first found associated with the Roman festival of Saturnalia and later with ancient marriage rites. In Scandinavia, mistletoe was considered a plant of peace, under which enemies could declare a truce or warring spouses kiss and make-up. When the first Christians came to western Europe, some tried to ban the use of mistletoe as a decoration in churches and homes. But many continued to use it, such as the York Minster Church in the UK which used to hold a special Mistletoe Service in the winter, where wrong doers in the city of York could come and be pardoned under the mistletoe.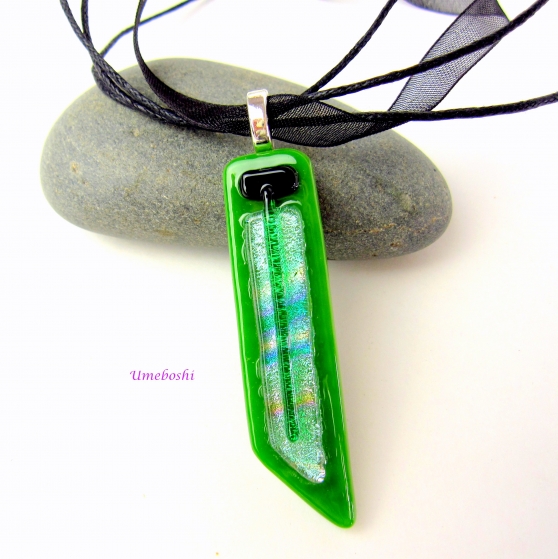 Green and Pastels "Shades of Spring" Fused Dichroic Glass Pendant Handmade by Jo of Umeboshi Jewelry Designs
Evergreen Trees:
Like the holly and the mistletoe, evergreen trees (mainly spruce, pine and fir) were ancient symbols of life in the midst of winter. Romans decorated their houses with evergreen branches. Ancient inhabitants of northern Europe cut evergreen trees and planted them in boxes inside their houses in wintertime. Evergreen branches were placed on pillows to prevent nightmares. And, when hung over a barn door, an evergreen bough was said to repel evil spirits. The smell of cut evergreens also freshened the air of ancient homes (modern science has proven the aroma of pines and firs is both relaxing and invigorating).
Not until the Renaissance are there clear records of trees being used as a symbol of Christmas, beginning in Latvia in 1510 and Strasbourg in 1521. "Paradise Plays" depicting biblical themes were used as part of the church's worship ceremony. The plays celebrating the Nativity were linked to the story of creation, in part because Christmas Eve was also considered the feast day of Adam and Eve. The Garden of Eden was symbolized by a "paradise tree", an evergreen tree usually hung with red apples. Throughout the 17th and 18th centuries, people brought evergreen trees into their homes and churches set up trees in their sanctuaries symbolizing Jesus Christ, the "true evergreen," despite the protests by some clergy. Evergreen trees can withstand a severe winter and stay green; faith in God can withstand any temptation or trial and keep the soul evergreen.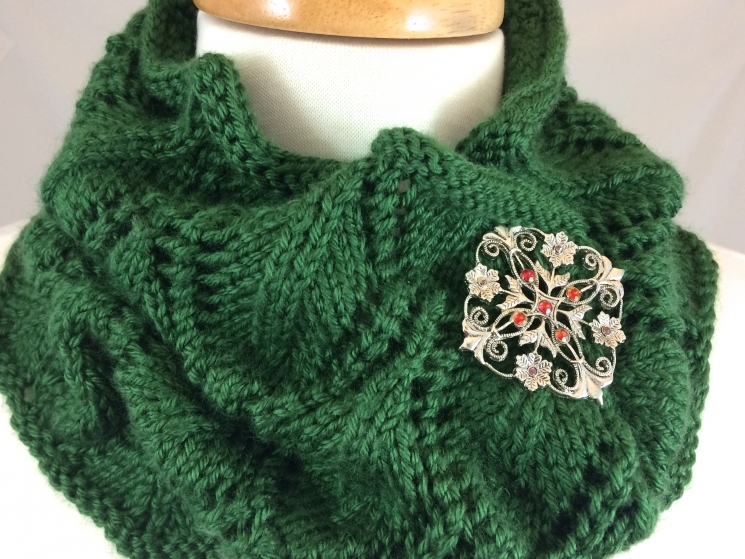 Dark Sage Green Hand Knit Neck Warmer, Shield Pattern Caron Simply Soft, Handmade by Nancy of Nancy's Knots, Lace and More
The items above and below are all artisan handcrafted with green as the major color. Each of them would make a perfect Christmas gift for even the hardest person to buy for. Enjoy!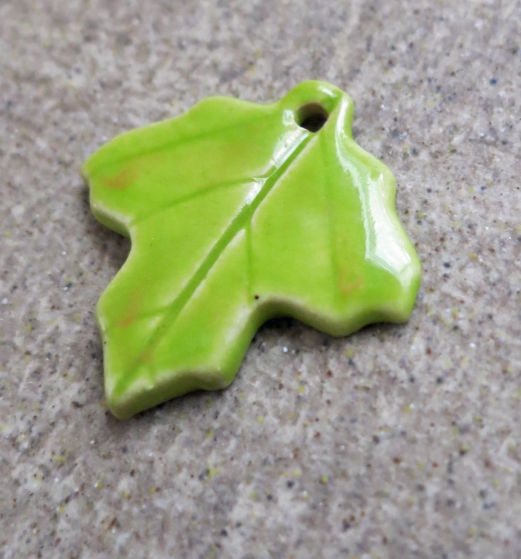 Green Maple Leaf Ceramic Pendant Handmade by Linda of Linda Landig Jewelry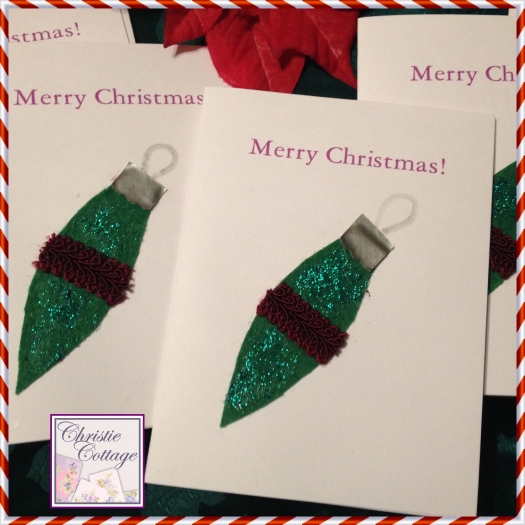 Green and Red Christmas Ornament Cards Handmade by Jackie of Christie Cottage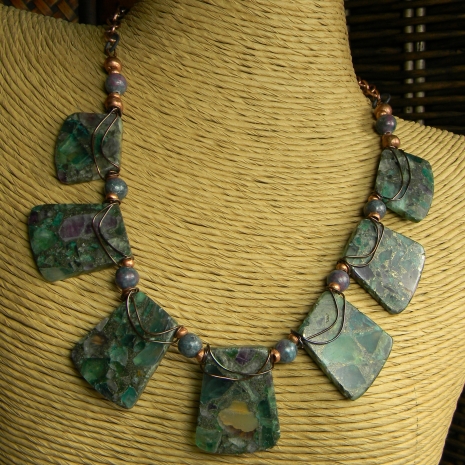 Rustic Bohemian Green Fluorite Choker Necklace Handmade by Gloria of Chrysalis Tribal Jewelry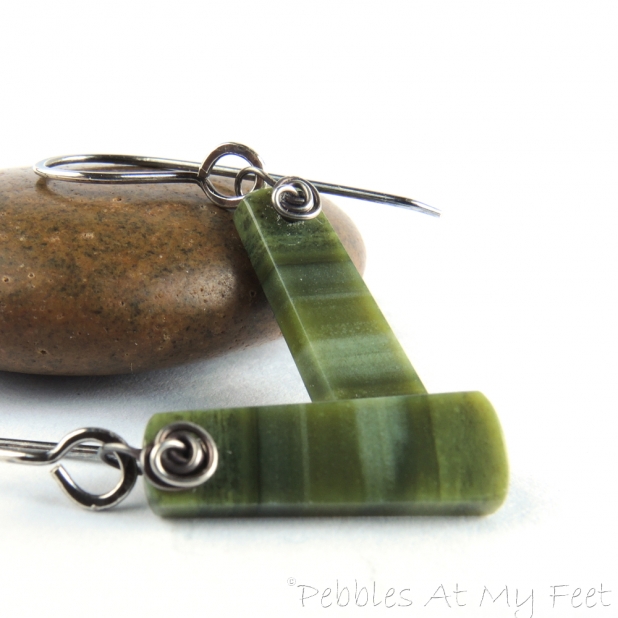 Striped Green Ricolite Serpentine Earrings with Antiqued Sterling Silver Handmade by Pamela of Pebbles at My Feet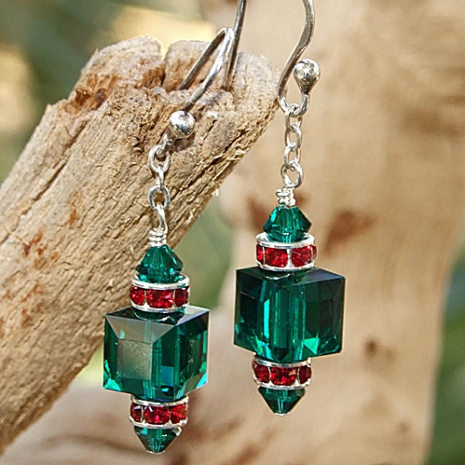 Green and Red Swarovski Crystal Christmas Earrings Handmade by Catherine of Shadow Dog Designs
I hope you enjoyed these lovely handmade green Christmas gift ideas! If you would like to make my day and the day of the artists featured, please leave a comment. And any promotion you can do will be greatly appreciated. Thanks!
My contact information:
Indiemade shop: ShadowDogDesigns
Indiemade blog: ShadowDogDesigns' Blog
Artfire studio: ShadowDogDesigns
ArtFire Blog: ShadowDogDesigns' Blog
Google+: Catherine W
Facebook: ShadowDogDesigns - Jewelry
Twitter: ShadowDogDesign
Pinterest: Shadow Dog Designs
Wanelo: ShadowDog
Amazine: ShadowDogDesigns
Rebelmouse: ShadowDogDesigns
Flickr: Shadow Dog Designs' Photostream
Beautifully Unique Handmade Jewelry
» Tagged:
artisan
,
cards
,
ceramic
,
Christmas
,
Christmas gift ideas
,
Christmas green
,
copper
,
cowl
,
dichroic
,
dog
,
earrings
,
gemstone
,
gift ideas
,
gifts
,
hand knit
,
handmade
,
holiday gift ideas
,
jewelry
,
necklace
,
ornaments
,
pendant
,
Shadow Dog Designs
,
ShadowDogDesigns
,
Swarovski crystals
,
tribal
» Share: