A Bounty of Beautiful Handmade Bracelets
Posted June 24, 2016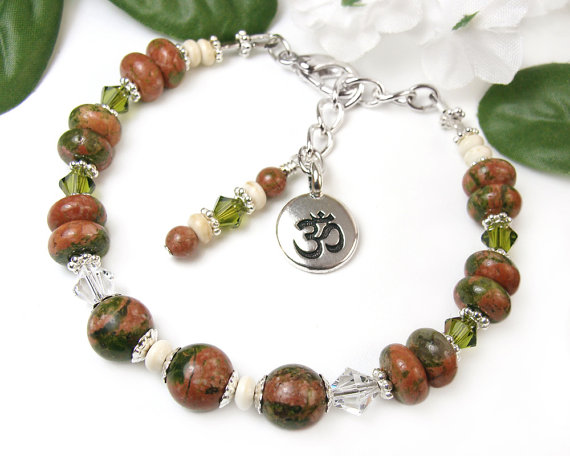 Right behind earrings, bracelets are one of the most popular forms of body adornment. The origin of the term "bracelet" is from the Greek word "brachile" meaning "of the arm." The earliest identified bracelet was discovered in 2008 by Russian archaeologist in Denisova Cave in the Atai Mountains of Siberia. A finger bone fragment was found along with other artifacts, including a beautiful bracelet created from polished green stone. The items were carbon dated to around 40,000 years ago.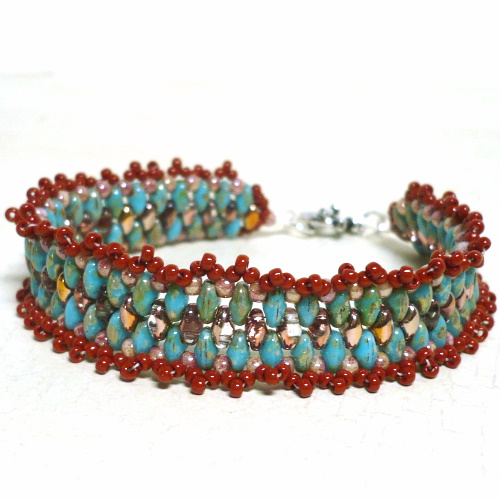 Blue Turquoise Blue and Gold Superduo Ruffled Beadwoven Bracelet Handmade by Kathy of KatsAllThat
In China, Africa and Egypt, bracelets have been found in archaeological excavations that date back over 7000 years ago. Early bracelets found in Egypt and Africa were made of stones, bones and wood ties together with plant fiber. Many that have been excavated, having survived eons, are exquisite in their artistry. Metal bracelets began to be created during the Bronze Age (starting about 3200 B.C.), first with copper and then the alloy, bronze. Around 2000 B.C., Chinese artists began crafting very intricate gold and jade bracelets. Ancient Greeks (800 B.C. - 600 A.D.) wore cuffs on the upper and lower arm as decoration. Greek soldiers sported wide leather and metal cuffs as part of their uniform and for protection, a practice which was later adapted by Roman soldiers. Wealthy Romans were particularly fond of coiled gold bangles that resembled snakes.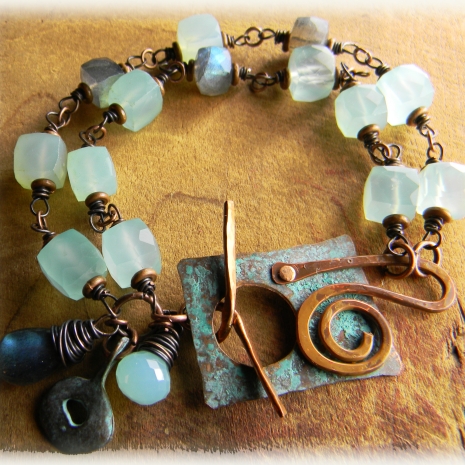 Rustic Copper Bracelet with Aqua Chalcedony, Blue Flash Labradorite Beaded OOAK Jewelry Handmade by Gloria of Chysalis Tribal Jewelry
Today, bracelets are made in a variety of materials and styles, from very simple to very ornate. Sterling silver is the most popular metal for both women and men, but industrial metals - such as silvery aluminum, grey steel, titanium and tungsten - are also popular, especially in bracelets for men. With the growing green movement, natural materials are also in demand.

With all that in mind, I decided to pull together a collection of handmade bracelets from artist friends to share here. I hope you enjoy these selections. If something catches your eye, please click on the link below the photo to find out more information.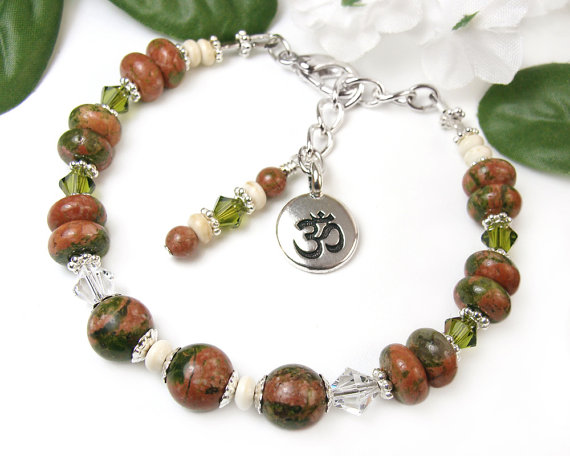 Unakite and Crystals Bracelet with Om Charm, Chaplet design, Handmade by Mary of PrettyGonzo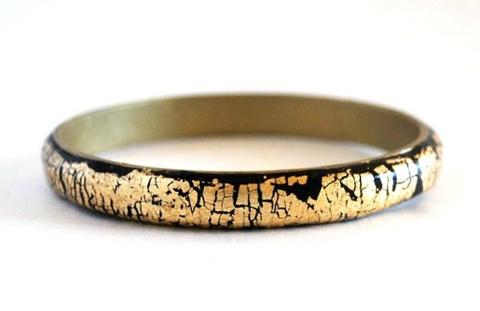 Gold and Black Polymer Clay and Metal Woman's Bangle Bracelet Handmade by Julie and Blu of Blue Morning Expressions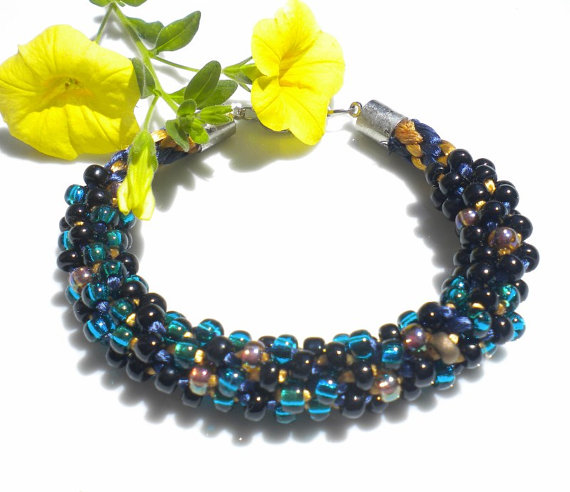 Green, Onyx and Gold Mjuki Glass Kumihimo Beaded Braided Bracelet Handmade by Pamela of MagdaleneJewels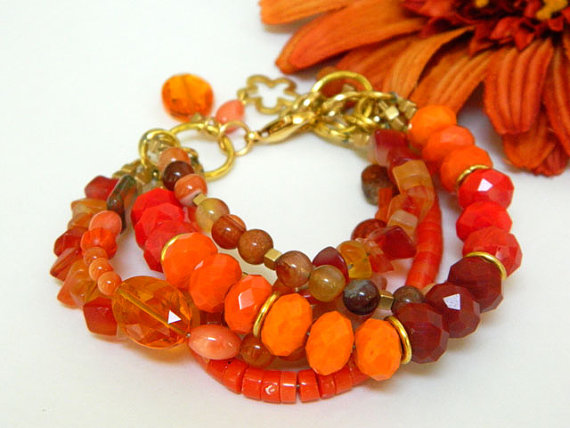 Multi-strand Carnelian and Orange Bead Boho Bracelet Handmade by Sharon of BlondePeachJewelry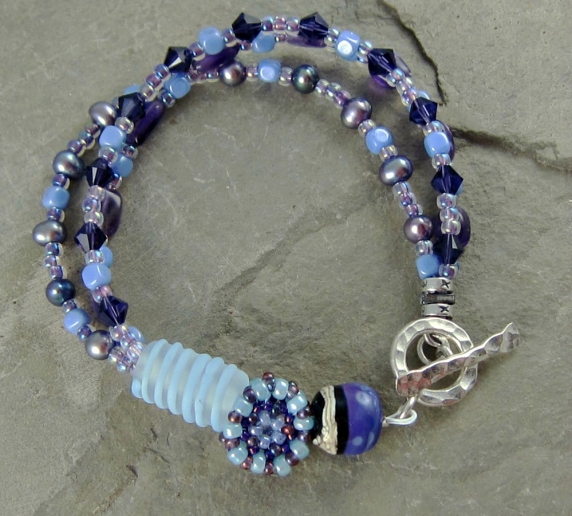 Purple Amethyst Bracelet Multi-strand Pearls Sterling Silver Art Beads Handmade by Linda of Linda Landig Jewelry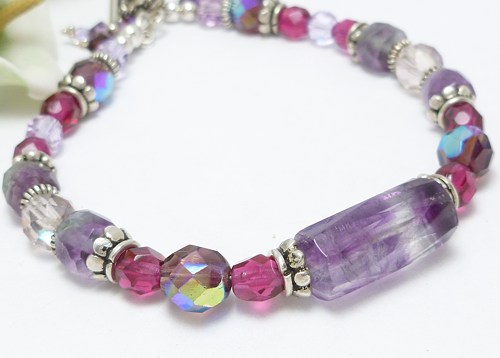 Purple Fluorite Gemstone, Fuchsia Crystals and Sterling Boho Bracelet Handmade by Diane of dianesdangles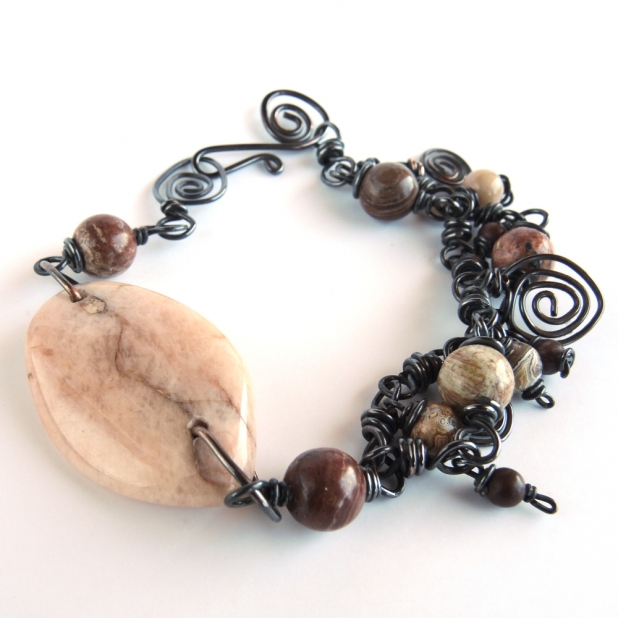 Tumbled Stone, Jasper and Agate Bracelet in Dark Antiqued Copper, Rustic Boho Style Handmade by Pamela of Pebbles at My Feet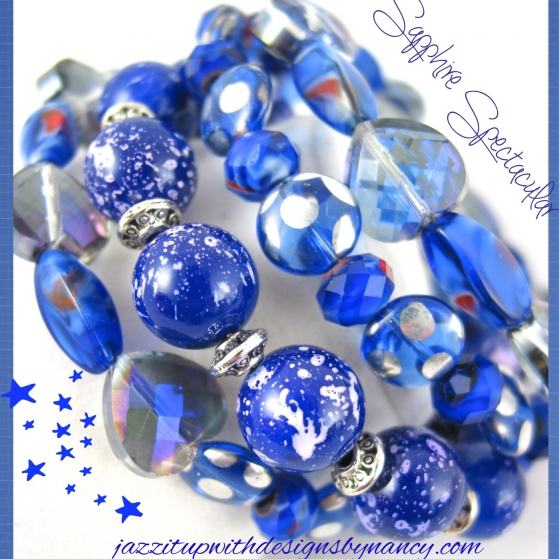 Bracelet Bangle Wrap Stack Blue Sapphire Silver Glass Beaded Handmade by Nancy of Jazz it Up with Designs by Nancy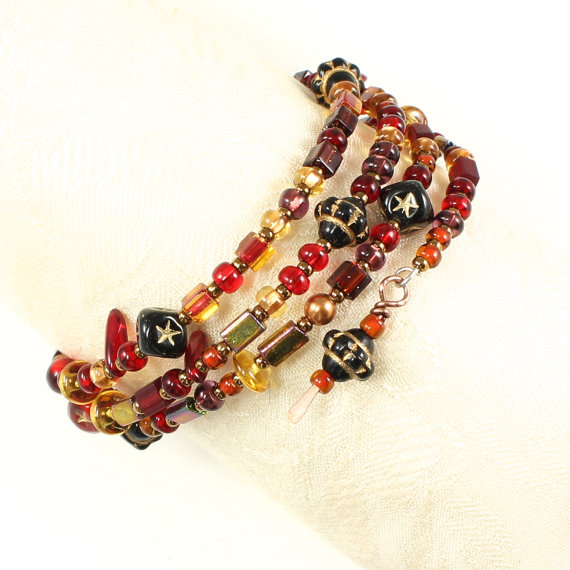 Red and Gold Seed Bead Memory Wire Boho Bracelet Handmade by Barbara of SolanaKaiDesigns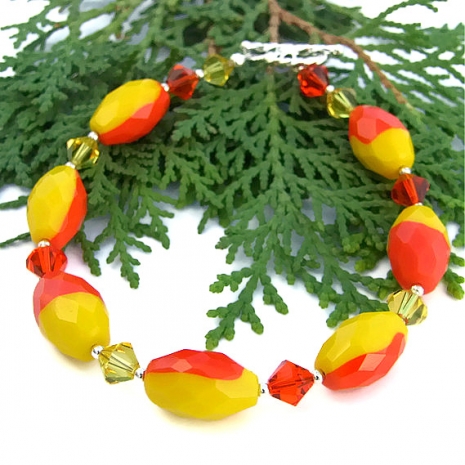 Lemon Yellow and Tangerine Orange Vintage Czech Glass Bracelet, Swarovski Jewelry Handmade by Catherine of Shadow Dog Designs
I hope you enjoyed the "Bounty of Bracelets" selections! If you would like to make my day and the day of the handmade artists featured, please leave a comment. And any promotion you can do will be greatly appreciated. Thanks!
My contact information:
Indiemade shop: ShadowDogDesigns
Indiemade blog: ShadowDogDesigns' Blog
Artfire studio: ShadowDogDesigns
ArtFire Blog: ShadowDogDesigns' Blog
Google+: Catherine W
Facebook: ShadowDogDesigns - Jewelry
Twitter: ShadowDogDesign
Pinterest: Shadow Dog Designs
Wanelo: ShadowDog
Amazine: ShadowDogDesigns
Rebelmouse: ShadowDogDesigns
Flickr: Shadow Dog Designs' Photostream
Beautifully Unique Handmade Jewelry
» Tagged:
bangles
,
beaded
,
bracelets
,
gemstones
,
handmade
,
history
,
history of bracelets
,
Indiemade
,
kumihimo
,
polymer clay
,
seed beads. Shadow Dog Designs
,
ShadowDogDesigns
» Share: