"Colours" by Donovan - Wonderful Handmade Wednesday on Indiemade
Posted October 12, 2016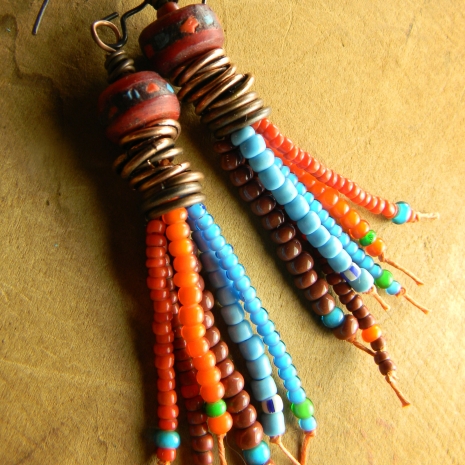 Recently, I have become enamored all over again with many of the songs I grew up with from the 60's. One of the artists I have always loved was a Scottish singer / songwriter / poet from Scotland, Donovan Leitch who is better known as simply Donovan. Donovan is widely regarded as one of the most influential songwriters and recording artists - and is still active in music today. Even the Beatles acknowledged that Donovan influenced them greatly on their ground breaking Sgt Pepper's Lonely Heart's Club Band album and the White Album with his finger style guitar playing and many of his unique chord patterns. While I love most of his songs, I have been listening more to his earlier works that have their roots in folk music. One of them, a sweet, simple and beautiful song, Colours, is the inspiration for this week's Wonderful Handmade Wednesday post.
If you want to listen to Colours, here is a version on YouTube: Colours - Donovan
I hope you enjoy the colorful handmade items shared here from talented artist friends on Indiemade: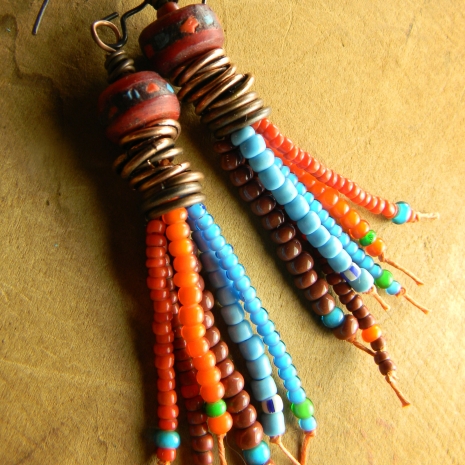 Colorful Bohemian Hippie Fringe Tribal Jewelry Tassel Earrings Handmade by Gloria of Chrysalis Tribal Jewelry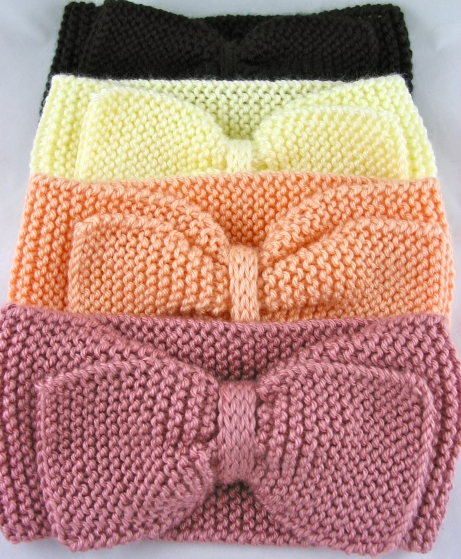 Ladies HandKnit Earwarmer Bow Caron Simply Soft Yarn Handmade by Nancy of Nancy's Knots, Lace and More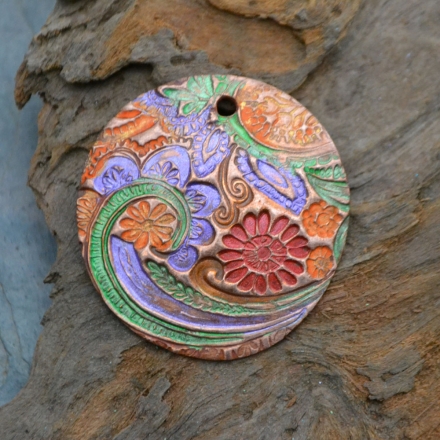 Large Flower Garden Copper Necklace Focal Component Handmade by Kristi of KristiBowmanDesign
"Le Jardin" Dichroic Glass Multicolored Pendant Handmade by Umeboshi Jewelry Designs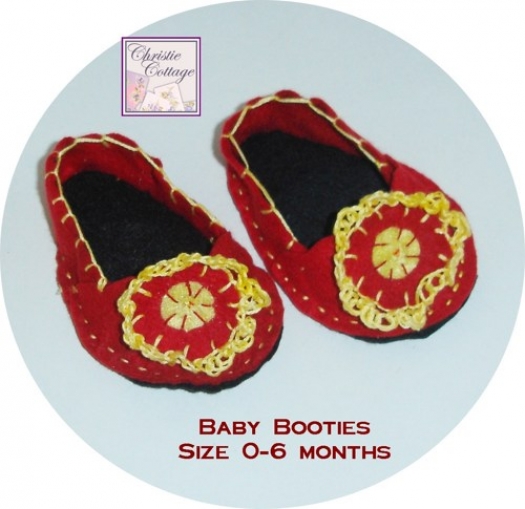 Red and Yellow Felt Baby Shoes / Booties / Slippers, with Hand Embroidery, size 0-6 Months, Handmade by Jacki of Christie Cottage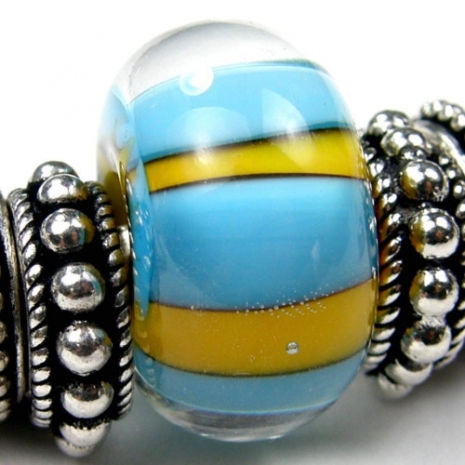 Apricot Orange and Dark Sky Blue Striped Encased Large Hole Lampwork Bead Handmade by Charlotte of Covergirlbeads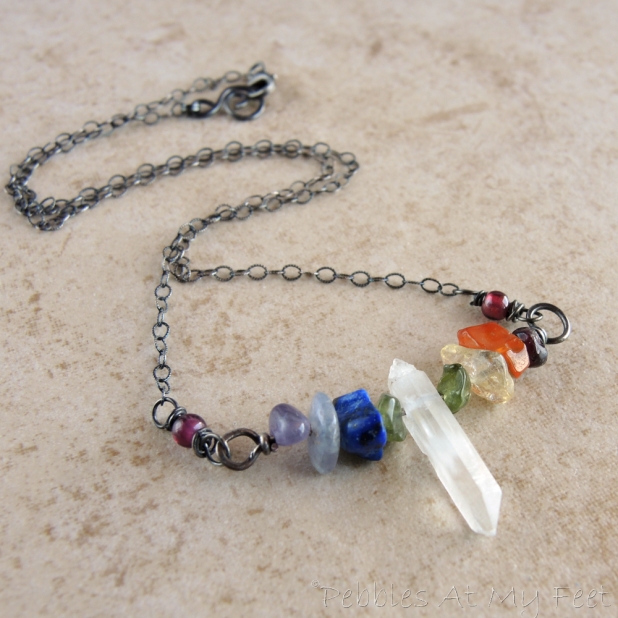 Sterling Silver Wire Wrap Rainbow Bar Necklace with Quartz Point Handmade by Pamela of Pebbles at My Feet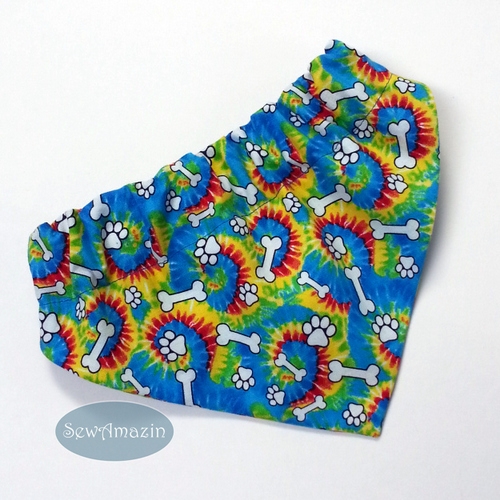 Tie Dye Paw Print and Bones Summer Dog Bandana Handmade by Donna of SewAmazin
Bold Green, Yellow and Orange Glass and Ceramic Earrings Handmade by Linda of Linda Landig Jewelry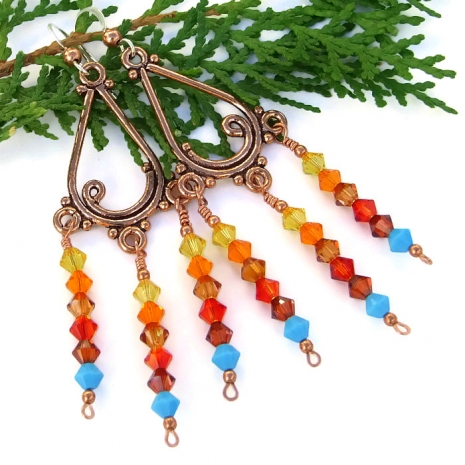 Copper and Desert Sunset Colors Swarovski Crystal Chandelier Earrings Handmade by Catherine of Shadow Dog Designs
I hope you enjoyed these colorful artisan handmade selections! If you would like to make my day and the day of the artists featured, please leave a comment. And any promotion you can do will be greatly appreciated. Thanks!
My contact information:
Indiemade shop: ShadowDogDesigns
Indiemade blog: ShadowDogDesigns' Blog
Artfire studio: ShadowDogDesigns
ArtFire Blog: ShadowDogDesigns' Blog
Google+: Catherine W
Facebook: ShadowDogDesigns - Jewelry
Twitter: ShadowDogDesign
Pinterest: Shadow Dog Designs
Wanelo: ShadowDog
Amazine: ShadowDogDesigns
Rebelmouse: ShadowDogDesigns
Flickr: Shadow Dog Designs' Photostream
Beautifully Unique Handmade Jewelry
» Tagged:
artisan
,
baby booties
,
bandana
,
Colors
,
Colours
,
copper
,
dichroic
,
dogs
,
Donovan
,
earrings
,
earwarmers
,
handmade
,
jewelry
,
knitting
,
lampwork
,
necklaces
,
pendants
» Share: