Handmade Jewelry Gift Ideas by Shadow Dog Designs
Posted October 28, 2018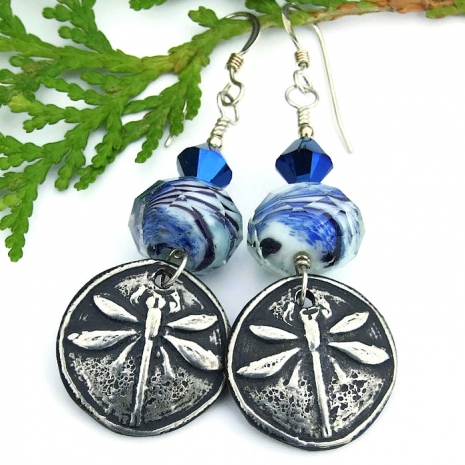 The Christmas shopping season will soon be here (if you haven't already begun your list making and your shopping!). I've been working hard to list new pairs of earrings and necklaces in my Shadow Dog Designs handmade jewelry shop and wanted to share the new creations with you. Each piece is a perfect gift for the discerning woman who enjoys wearing truly unique artisan handmade jewelry. With the exception of two of the Christmas earrings at the end of the post, all of the jewelry designs are one of a kind pieces. Just think - you or a loved one will be the only person in the universe wearing that particular piece when purchased!
If a pair of earrings or a necklace catches your eye, please either click on the photo or the link below the photo for more information and pictures. I hope you enjoy the seven beautiful new handmade jewelry pieces and the fun Christmas earrings.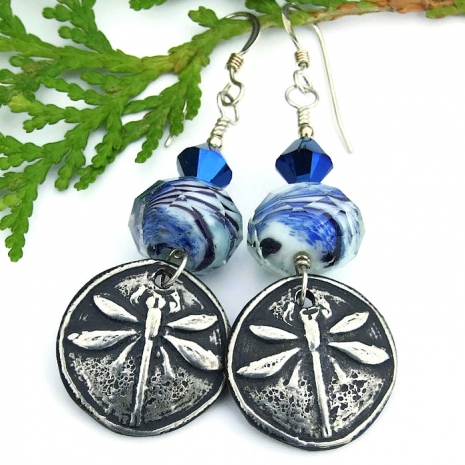 BLUE DASHER - Dragonfly Earrings, Pewter Swirling Blue Handmade Jewelry Gift Women - $40.00
INSTRUMENT OF YOUR PEACE - St Francis Necklace, Vintage Deer Dove Amethyst Catholic Jewelry Gift - $55.00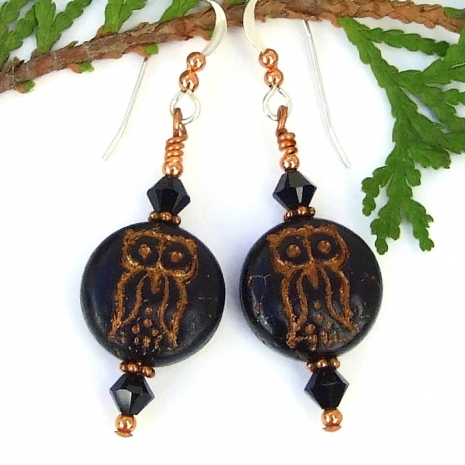 NIGHT OWLS - Black Copper Owl Earrings, Rustic Glass Handmade Jewelry Gift Idea - $20.00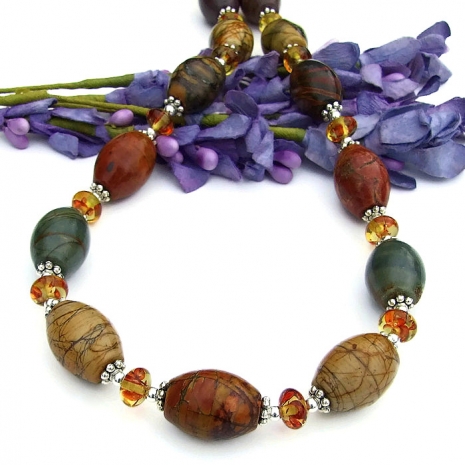 WURRE DREAMS - Red Creek Jasper and Amber Necklace, Handmade Gemstone Jewelry Gift Women - $90.00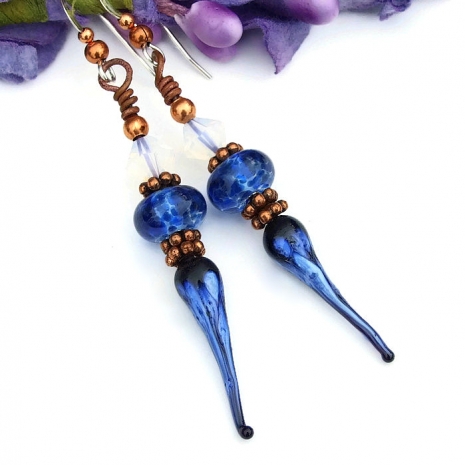 BLUE ICICLES - Blue Icicles Earrings, Boho Lampwork and Swarovski Handmade Jewelry Women - $30.00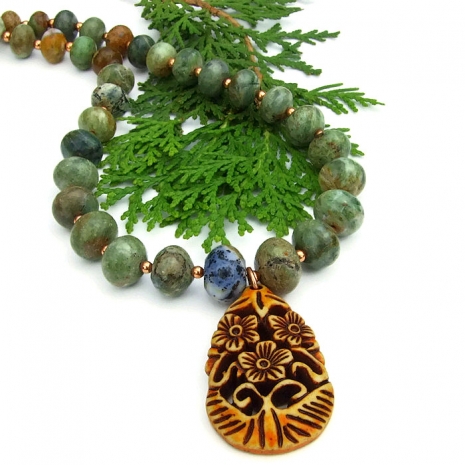 INTRIGUING - Carved Bone Flower Necklace, Green African Opal Handmade Jewelry Gift - $80.00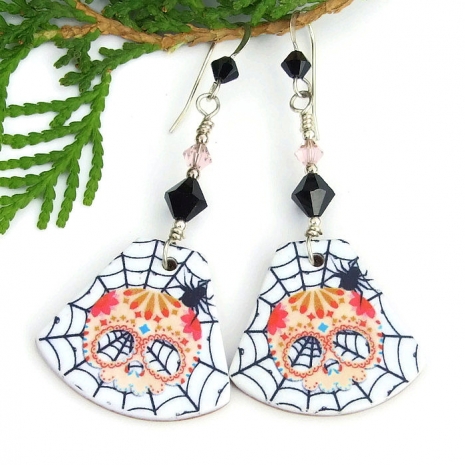 SUGAR SKULLS AND SPIDERS - Halloween Sugar Skull Spider Web Earrings, Spooky Handmade Jewelry - $35.00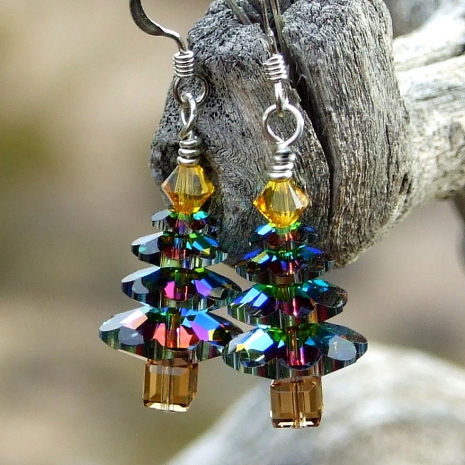 SPARKLING CHRISTMAS TREES - Christmas Tree Earrings, Swarovski Crystal Jewelry Holiday Gift for Women - $30.00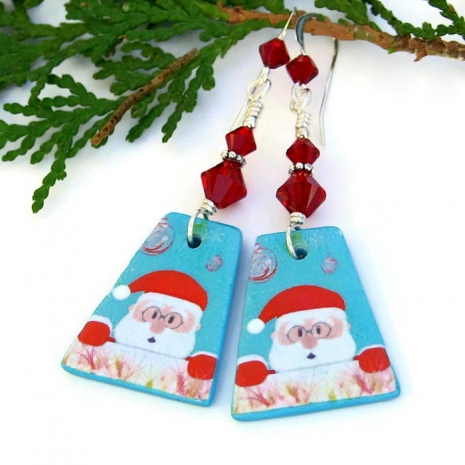 SURPRISED SANTAS - Santa Earrings, Christmas Jewelry Gift Holiday Polymer Clay and Swarovski Crystals - $35.00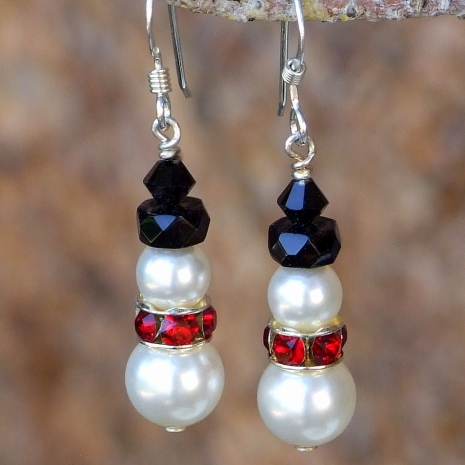 SNOWMEN IN RED - Snowman Earrings, Pearls and Red Swarovski Crystals Christmas Holiday Jewelry Gift - $20.00
I hope you enjoyed each and every one of these unique handmade necklaces and earrings - perfect for Christmas gift giving. If you would like to make my day, please leave a blog comment. And any promotion you can do will be greatly appreciated. Thanks!
My contact information:


» Tagged:
African green opal
,
amber
,
amethyst
,
artisan
,
Australia
,
black
,
blue
,
bone
,
Christmas
,
Christmas trees
,
copper
,
Czech glass
,
deer
,
dove
,
dragonflies
,
earrings
,
flowers
,
gemstones
,
gift ideas
,
Halloween
,
handmade
,
icicles
,
lampwork
,
necklaces
,
opals
,
owls
,
pearls
,
pendant
,
pewter
,
red creek jasper
,
Santa
,
Shadow Dog Designs
,
ShadowDogDesigns
,
snowmen
,
St Francis
,
sugar skulls
,
Swarovski crystals
,
vintage
,
Wurre
» Share: